Agri-finance company Agronomika Finance Corporation, agri-business company Kennemer Foods International Inc., FMO and IDH are partnering to provide a Philippine peso loan in the equivalent of USD 2 million for smallholder coconut farmers to invest in cocoa, a crop that could raise farm incomes by 400%.
More than 30,000 coconut farmers could benefit from Kennemer's inclusive cocoa sourcing model, increasing their income to levels equivalent to the Philippine average income per capita, which these farmers are currently estimated to be 80% below.
Tailor-made finance will be available to these farmers, linking their future cash flows to loan repayments, rather than traditional microfinance with monthly interest and principal payments.
The investment comes from the MASSIF Fund, which FMO, the Dutch development bank (FMO) manages on behalf of the Dutch Ministry of Foreign Affairs and IDH's innovative finance facility. With this facility, smallholder coconut farmers in rural areas of the Philippines gain access to both finance for intercropping cocoa into their farms, as well as the related planting material and inputs.
Farmers that are eligible to receive a loan will also participate in Kennemer's Cocoa Growership Program. This program enables farmers to gain access to the leading hybrid cocoa varieties as seedlings, extensive agronomic training programs, rigorous farm monitoring procedures and tools, and centralized cocoa bean drying and fermenting facilities. This combined support capacitates farmers to produce good quality cocoa beans at a high level productivity and in a sustainable way.
To receive a loan, farmers must be part of a farmer cluster and pass assessments on both the viability of the farm to grow cocoa and the farmer's ability and desire to grow cocoa. These assessments, performed by a loan officer and validated by a field technician (agronomist), include checks on the farm's access to water, shade and quality of the soil, and the farming experience, other income sources, credit history, etc.
This combined technical support and access to finance will empower farmers, transforming them into entrepreneurs with a positive operational, financial and profitable track record. This will eventually increase the comfort of local and international financial institutions to independently finance smallholder farmers and/or invest in these types of high-impact programs.
In previous years, Kennemer has achieved significant scale through its programs, establishing a cocoa sourcing network of 12,000 farmers. Kennemer customers — global confectionaries and chocolate companies — are important partners to these projects, both in cocoa growing techniques and post-harvest technologies as well as in the off-take of almost all of Kennemer's cocoa bean production.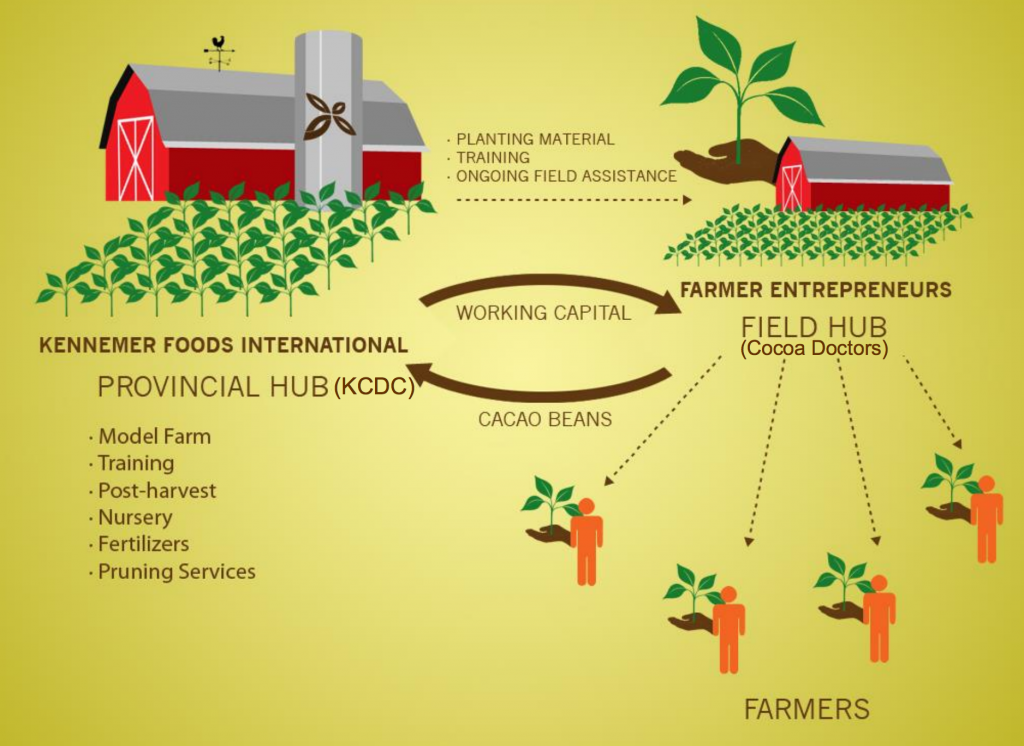 Simon Bakker, Kennemer Foods International Inc. CEO and Agronomika Finance Corporation Managing Director, comments: "Together with our partners Incluvest, FMO and IDH, we are excited to be making long-term debt financing available to smallholders. We believe this program will make a significant impact in the lives of participating farmers while showing that with the right support, smallholders can be a viable investment."
Linda Broekhuizen, FMO's Chief Investment Officer, said "We are proud to see that via this facility smallholder farmers in rural Philippines will gain access to finance for investments in their own farms, which offers them an opportunity to improve their livelihoods significantly."
Joost Oorthuizen, Executive Director of IDH said "What I find really exciting, is the approach Kennemer is taking towards greenfield development, developing farmers and farms from scratch. This kind of innovation is exactly what's needed to create real impact in the lives of smallholders."