The first phase of the Horti-Export project contributed significantly to Rwanda's horticultural export growth by expanding its market base, and its second phase will further increase such gains, sector actors indicated. They made the observations on Thursday, March 02, in Kigali, during the launch of this Horticulture Export Development project (Horti-Export) Phase 2, and the closure of its Phase 1, by IDH Rwanda.
This project phase runs for 19 months, from December 1, 2022, through June 30, 2024, and like the first one, it is funded, at a tune of €1 million (about Rwf1.1 billion), by the German Agency for International Cooperation (GIZ)'s Special Initiative "Decent Work for a Just Transition." Its implementation is led by IDH.
The Horti–Export project aims to enhance the commercialization of Rwanda's horticulture sector by supporting small and medium enterprises (SMEs), leading to export growth, and through this, the creation of employment opportunities, improved working conditions of employees and farm workers, and increased smallholder farmer income.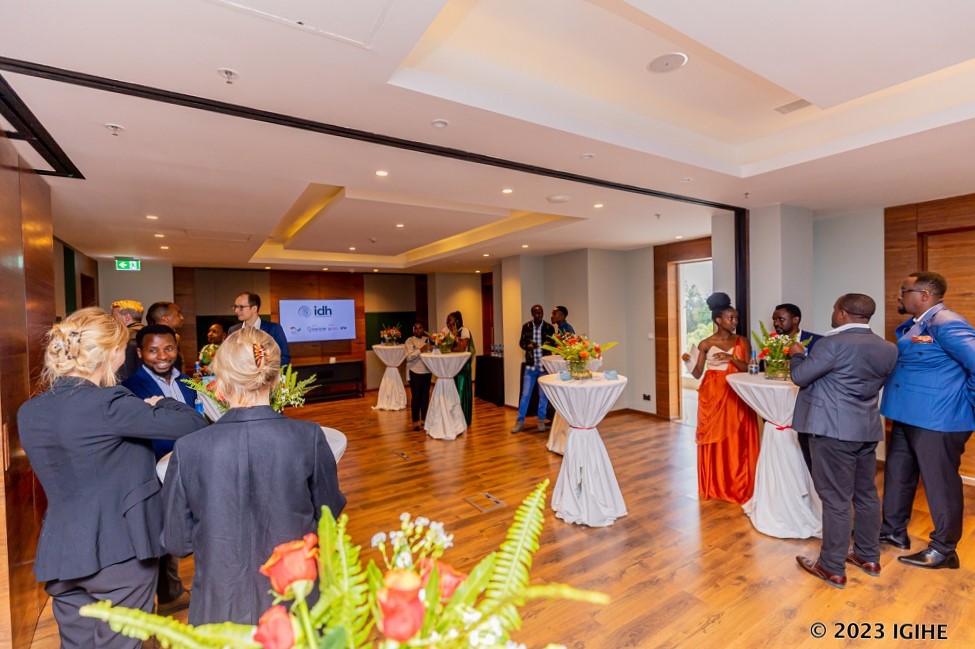 Also read: We support Rwanda to unlock its horticulture potential – IDH official
According to information from IDH Rwanda, the second phase of the project is estimated to create 650 new jobs along the horticultural value chain, 50 per cent of which are for women, and 20 per cent for youth. It is expected to increase horticulture export volume to 50 tonnes per week, by beneficiary small and medium enterprises (SMEs).
Other expected project impacts are including 2,500 additional smallholder farmers into the supply chains of selected SMEs, as well as 50 per cent increase in the annual income of 2,000 smallholder farmers.
Building on the achievements made under the first phase, Horti-Export phase two plans to secure 10 long-term and two short-term off-take deals in premium markets including Africa, Asia, European Union, and the Middle East. Also, it seeks to establish six cooperatives with the capacity to supply to the selected horticulture SMEs.
Director of Inclusive Business Development at IDH, Kebba Colley, has said that in phase 2, the focus will be on being able to stabilize the operations including production, indicating that those operations of the companies must be sustainable.
He pointed out that IDH helped mobilize premium buyers from Europe – including France, UK, and Belgium – to buy Rwandan horticultural products, which led to growing the exported quantities that were very limited as they were estimated at about 10 tonnes per week.
Discover more in Kinyarwanda: Miliyari 1,1 Frw agiye gushorwa mu buhinzi bw'imboga n'imbuto mu Rwanda
"Right now, what needs to happen, specifically, is to stabilize production. This means to ensure products comply with specifications and specific requirements of retailer and trading companies. That is the first important thing," he said, underscoring the focus of the phase 2 of the project and the need to have quality assurance, maintain supply stability, and be able to sell products at competitive prices.
Sandrine Urujeni, Chief Operations Officer at the National Agricultural Export Development Board (NAEB), said that the interventions of the project were very important to Rwanda's horticulture exports sector, which was relatively new – as it started getting attention seven years ago – through capacity building for SMEs, certification among other supports.
Most importantly, she said, the project greatly contributed to market linkages, helping Rwanda's horticulture exporters to get more foreign buyers.
"Most of the buyers we have today, have been introduced by IDH," she said, urging IDH to keep exploring its capacity.
A redacted version of this article was first published on The New Times on Friday, March 03, 2023 by Emmanuel Ntirenganya