Gender-based discrimination and violence is a significant barrier for women in families, workplaces, and communities that requires a substantial commitment by the public and private sectors for investments in prevention and intervention. IDH, with technical expertise from Breakthrough India, has conducted training on gender-based violence for around 2800 field-level staff from 17 Implementing Partners (IP) in India.
The participants were mainly the field extension workers including Field Facilitators, Producer Unit Manager, Agri-Entrepreneur, Producer Unit Manager, and Project Manager of IPs. A need analysis done with the participants prior to designing the training modules had revealed that some participants were unsure about the forms of GBV including domestic violence, sexual harassment in public spaces, and workplaces.
Through the training, the participants were made aware about gender, gender-based discrimination and violence including domestic violence and sexual harassment faced by the women at home and work. They were also informed about identifying strategies and tools within their scope, context, and spheres of influence that they can use or access to address, prevent and intervene in incidences of domestic violence and sexual harassment that people they work with may witness or experience.
The trainings were conducted on online platform in seven regional languages: Hindi, Gujarati, Marathi, Punjabi, Kannada, Telugu, and Assamese.
Speaking about her experience, one of the participants, Manisha Karwa, Field Facilitator – Ambuja Cement Foundation said, "The case studies presented in the training reflected how gender-based violence also impacts mental health of women. It helped in improving the understanding of these issues, which is important for the field staff as being directly connected to the community, we can create greater awareness at the community level."
Sunil Saindane, IP Co-ordinator at Lupin Foundation, stated, "The training was good orientation for the team members about gender-based discrimination and violence issues.  FFs now have a basic understanding of the topic along with the judicial procedures to prevent or report such GBV case, if identified on the field. Also, this has supported capacity building of the staff to behave in community and among team members by understanding the concept of gender discrimination".
Wall-paintings to create awareness at village level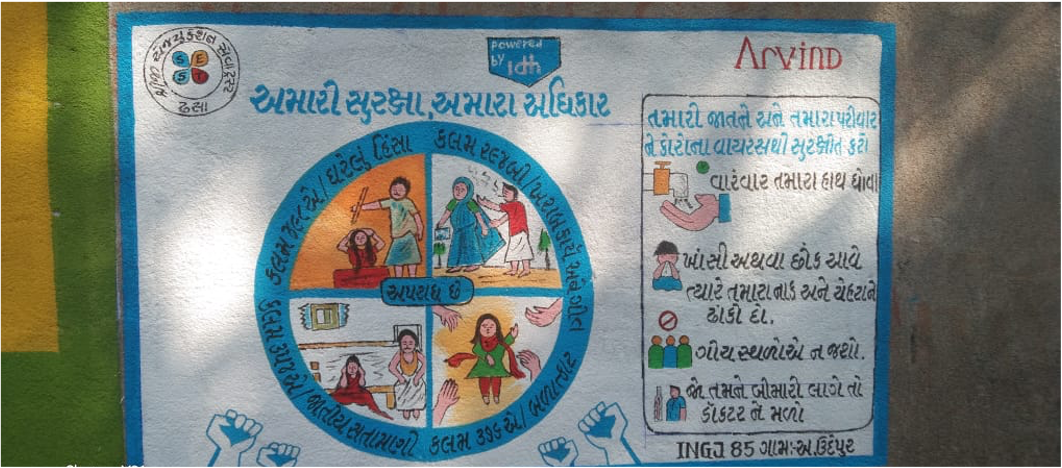 IDH has also led a wall-painting exercise in Growth & Innovation Fund (GIF) project area villages to increase awareness on Gender-Based Violence. Supported by the GIF Implementing Partners, the wall-paintings have been done in 7,331 villages across seven states, to create awareness on women's rights. The paintings have informational message in regional languages and have been done in prime village locations to create maximum impact.