The Nature Conservancy Global Director of Regenerative Food Systems will share her experience in sustainable development and especially for the better environment agenda
Saswati Bora, Global Director of Regenerative Food Systems at The Nature Conservancy (TNC) has been appointed to the IDH Supervisory Board from the 1st of August 2023.
She joins latest newcomer to the Board Reginaldo Ecclissato from Unilever and other committed members, and is welcomed by chair Magdi Batato, Executive Vice President and Head of Operations at Nestlé.
"I'm looking forward to working together with Saswati. There is a compelling business case for companies to be a force for good. Together with Saswati's knowledge, we, as a Supervisory Board, can support IDH to enable business to be exactly that, a force for good", said Magdi Batato.
The IDH Supervisory Board contributes to IDH's development as a global organisation and systems change agent, and members share their valuable insights and advice for IDH's mission towards market transformation.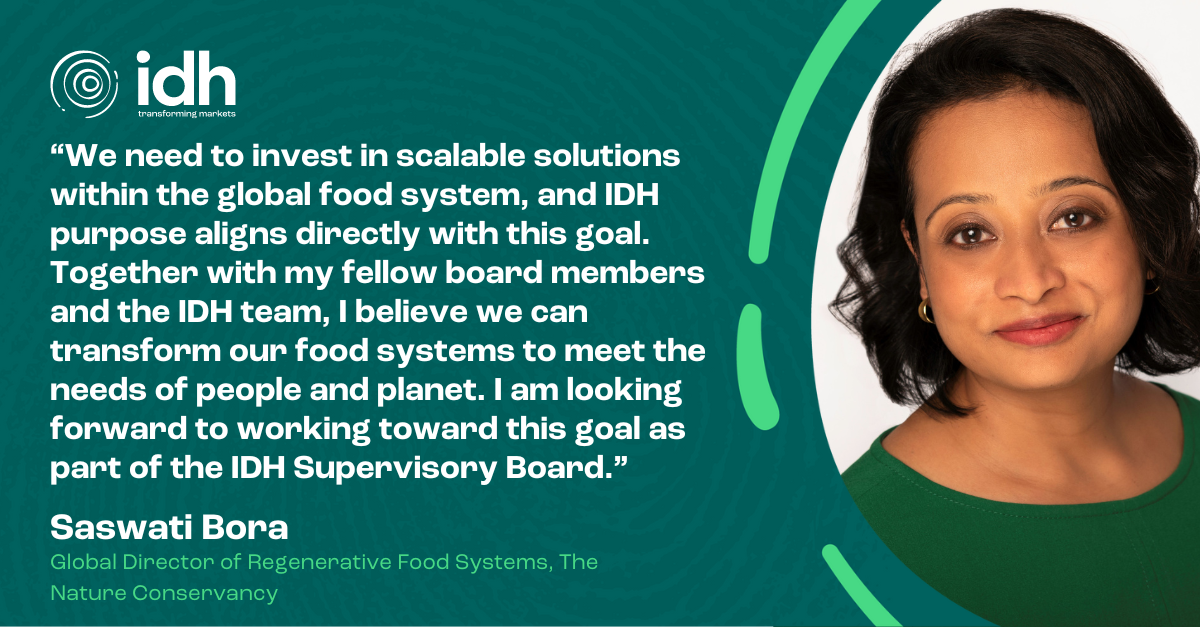 At TNC, Saswati leads the development of an emerging set of regenerative foodscapes as a crucial part of accelerating the transition of food systems from degrading and extractive to productive and restorative for nature and people. She joined TNC in 2021 as the Global Director for Regenerative Food Systems. Prior to that, she was the Head of Food Systems Innovation at the World Economic Forum (WEF), where she developed WEF's global programs on innovations and incentives in food systems transformation as well as regional initiatives in India. Saswati was born and raised in the northeastern state of Assam, India.
"It is great news that Saswati Bora decided to join the Supervisory Board of IDH. Her experience and track record in environmental sustainability and vision for transforming food systems is a valuable contribution for IDH", said Daan Wensing, CEO and member of the Executive Board at IDH.
IDH seeks to transform markets through collaborative innovation, convening and investment in inclusive and sustainable solutions that enable businesses to create value for people and planet. To achieve this, IDH brings together coalitions of committed stakeholders from across global value chains towards joint visions and program agendas for sustainable trade.
IDH is steered by the Executive Board and Global Management Team, supported and advised by a Supervisory Board and Impact Committee. The Supervisory Board of IDH guards the policy and functioning of the IDH office. It also oversees the principles of IDH, decides on accepting new improvement programs, and consolidates annual plans and reports. The Board comes together three times a year.