The Land Degradation Neutrality Technical Assistance Facility (LDN TAF) supports Mountain Hazelnuts, a social enterprise producing premium quality hazelnuts in Bhutan. The LDN Fund is providing long-term financing to Mountain Hazelnuts to scale its operations further. The LDN TAF further strengthens the environmental and social impacts of the innovative hazelnut land restoration company, therewith also reducing investment risk.
The Land Degradation Neutrality (LDN) Fund, managed by Mirova, has committed to provide $9 million of debt to further scale  the operations of Mountain Hazelnuts, a triple bottom-line hazelnut production company in Bhutan which supplies high-quality hazelnuts internationally. Mountain Hazelnuts takes a systemic approach to creating reliable income generation opportunities for Himalayan smallholder growers, while restoring ecosystem health and supporting community cohesion. The company is planting 10 million hazelnuts trees on degraded or fallow land, and through that contributes to halting land degradation in Bhutan. More than 15,000 Himalayan smallholder families and community organizations such as nunneries and monasteries will benefit from the initiative, plus many thousands more citizens who participate along the hazelnut value chain. Notably, an estimated 8 metric tons of CO2e will be sequestered by the orchards.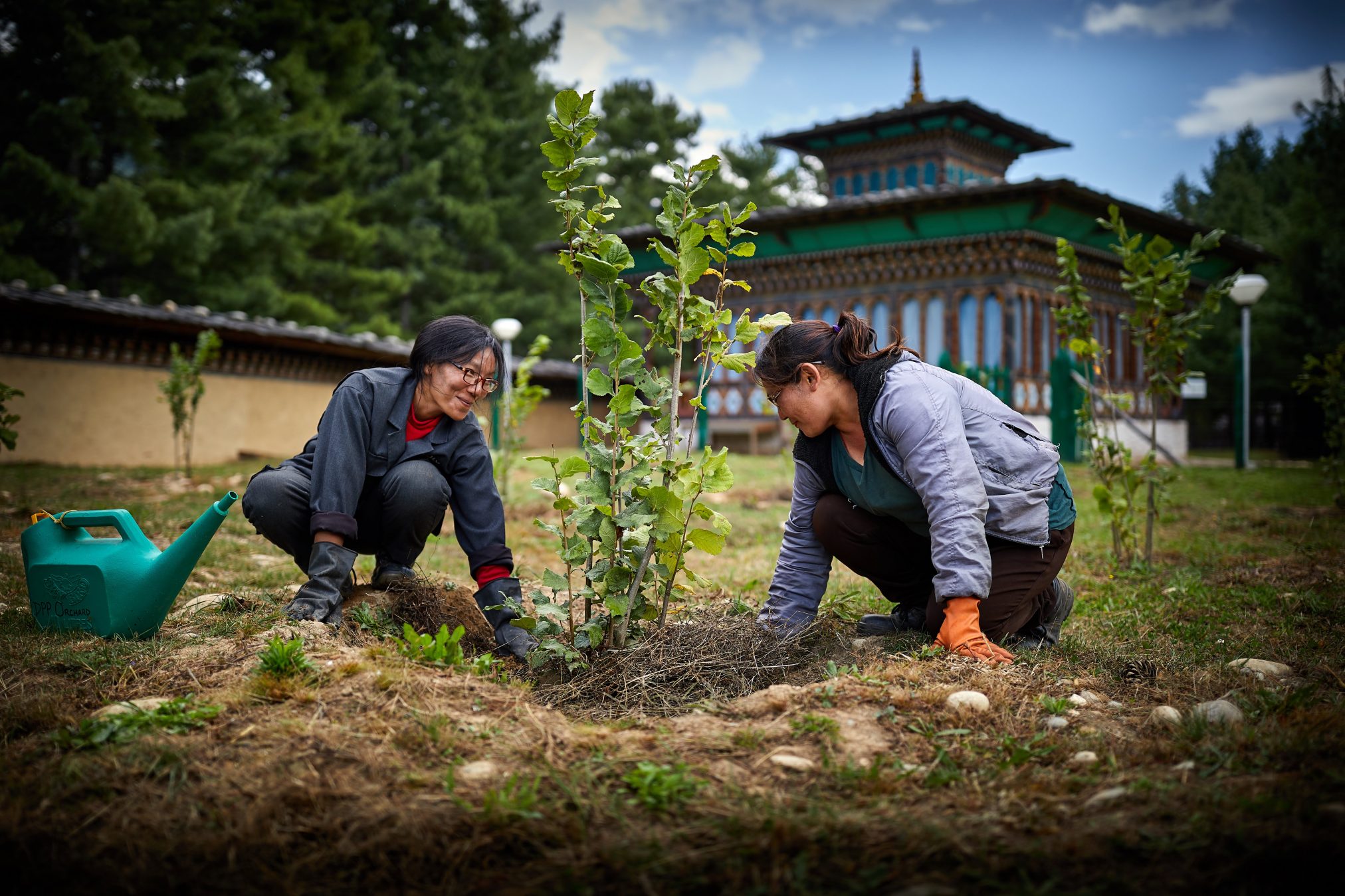 © 2018 Bryan Watt
The support provided by the LDN TAF is designed to increase Mountain Hazelnuts' technical and operational capacities, and to scale impact for hazelnut growing communities. The TA focuses on increasing grower income through hazelnut orchard and yield optimization, crop diversification, access to small mechanized equipment and post-harvest value addition opportunities. Access to rainwater irrigation will increase the growth of hazelnut trees, providing predictable water supply in areas that are suffering from increasingly unpredictable weather patterns. Furthermore, Mountain Hazelnuts, in partnership with the Loden Foundation, will establish a funding window (the Loden Hazelnut Program) dedicated to supporting new ventures along the hazelnut value chain, thereby contributing to the stimulation of entrepreneurship across Bhutan. The Program especially targets female entrepreneurs.
The combination of robust income generation opportunities for hazelnut smallholders, the expanding operational efficiency of Mountain Hazelnuts, and the increasingly strong hazelnut value chain form the foundation to achieve a significant positive contribution to Land Degradation Neutrality in Bhutan in the coming years.
Find out more about the LDN TAF and other projects.
Find out more about Mountain Hazelnuts.