A new report published by IDH highlights the insights into IDH contribution to public good impact. The first publication of the 2016-2020 series 'How we're making a difference' shows the evidence so far on the successes of the IDH approaches. Early results indicate that IDH is on the right track to show impact by 2020 within its sector and landscape innovative approaches.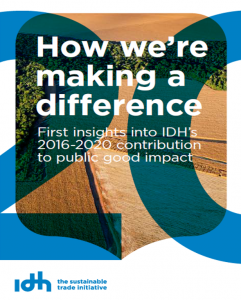 The core of IDH's work is to create key changes at the field but also beyond the field, through changing sector governance and business practices. With the help of Wageningen University & Research and KPMG, IDH has developed a novel mechanism to collect evidence of IDH 2020 impacts, by measuring how and to what extent IDH interventions are successful.
This first report highlights the different approaches IDH uses within its five impact themes, which include: Smallholder inclusivity, Mitigation of deforestation, Living wages and working conditions, Responsible agrochemical management, and Gender equality and empowerment.
As IDH has been working with smallholder farmers since the start, strong evidence has already been gathered in relation to the work on smallholder inclusivity. In this area, Service Delivery Models have been and will remain central to the strategy for improving smallholder farming. IDH addresses the critical elements needed to help farmers become entrepreneurs, leading to a paradigm shift in the way companies deal with smallholder farmers: seeing them as potential business partners rather than receivers of development aid.
To mitigate deforestation, IDH has recently started convening Production-Protection-Inclusion (PPI) compacts, and as this is a new approach the full impact of IDH interventions will be measured in the upcoming years.
IDH interventions to secure living wages and better working conditions are also relatively new, but the activities supported by IDH have already led to better worker-management dialogue within the apparel sector, and to the first collective bargaining agreement in the history of the tea industry in Malawi.
Early evidence from IDH's prototype interventions suggests data-driven monitoring and knowledge sharing at farm level is already helping to improve pesticide management. This often leads to higher profitability, and although little evidence is available, the impact of improved agrochemical use on the ecosystem, worker health and food safety is likely self-evident.
The newest addition to the IDH impact themes, gender equality and empowerment, became a focus area at the end of 2016, and several programs, including Tea, Apparel and Fresh & Ingredients, have already designed their intervention strategies. The first evidence of IDH's contribution to public good impacts in relation to this impact theme will be reviewed in the next reports.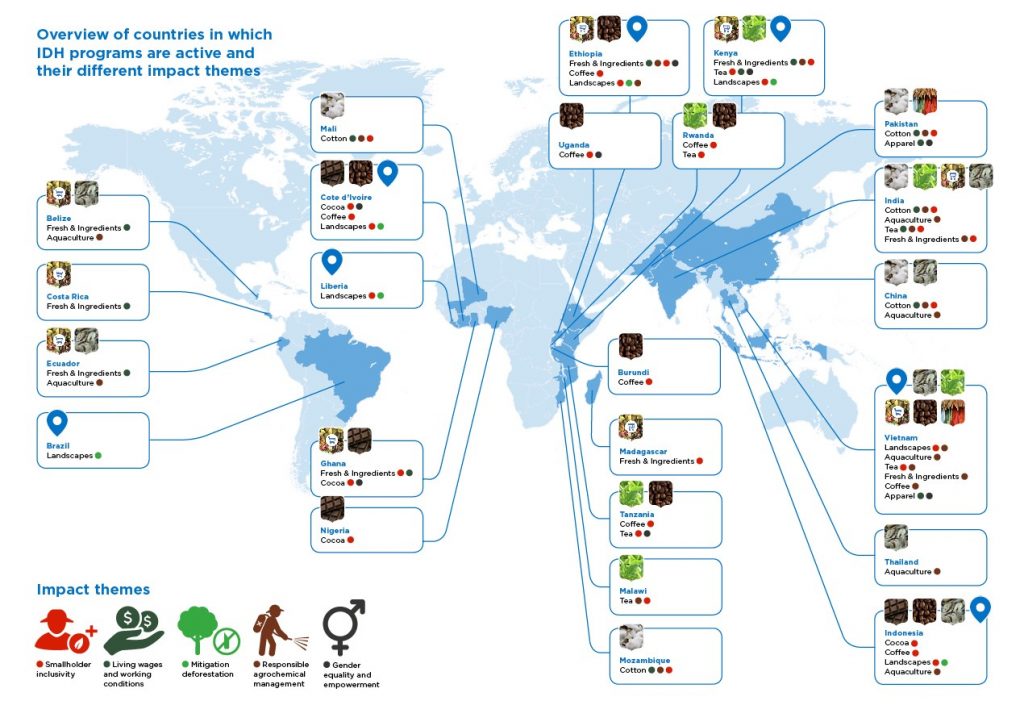 Assessing IDH's contribution to public good impact is methodologically challenging, as IDH works in many sectors and landscapes across more than 50 countries. Moreover, IDH strategy involves creating systemic change in five impact themes across three mutually reinforcing result areas: sector governance, field-level sustainability, and business practice.
This first report is based on an advanced methodology to measure the plausibility of IDH approaches, which includes state-of-the-art intervention logics, and evidence gathered from different sources including literature reviews of IDH activities and similar approaches (384 documents reviewed), sector surveys of program stakeholders and engaged outsiders (230 respondents), and 28 interviews with staff and partners.
Download the first report 'How we're making a difference' for many more insights.
IDH will be holding a webinar about measuring impact
Tuesday 5 September 2017
3pm CET