Italy is the latest country to sign the Amsterdam Declaration that pledges countries to promote the use of 100% sustainable palm oil by 2020.
The Amsterdam Palm Oil Declaration supports the Commitment to Support which was instigated by IDH, the Sustainable Trade Initiative and MVO – The Netherlands Oils and Fats Industry, united in the ESPO-project in December 2015.
The Italian environment minister Gian Luca Galletti signed the Amsterdam Declaration on 6 June 2017.
Minister Gian Luca Galletti: "With this sign we want to enhance a real commitment to the environment that cannot end up in the cauldron of generalizations, which damage the image of companies and alter the competition. Big national companies have been working responsibly for a long time, obtaining also authoritative certifications for their palm oil supply chain to take place in a sustainable way".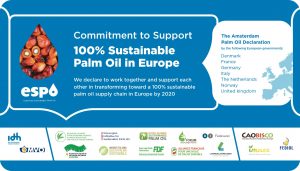 The Amsterdam Declaration is a commitment signed by the Governments of Denmark, France, Germany, the Netherlands, Norway, the United Kingdom and now Italy, to promote a fully sustainable palm oil supply chain at European level.
European private sector organizations joined forces for the first time in December 2015 to ensure a fully sustainable palm oil supply chain in Europe by 2020 by signing the Commitment to Support. In response, the governments of five key European Union countries declared their support towards the project by signing the Amsterdam Palm Oil Declaration during the EU and Global Value Chains' high-level conference on 7th December 2015. This was the first time that different countries in Europe spoke with one voice with regards to sustainable palm oil. In 2016, Norway added its name to this list.
In close collaboration with the European Palm Oil Alliance (EPOA), IDH and MVO work together with various national palm oil initiatives, mainstream palm oil certification bodies and the umbrella EU associations.
Both EPOA and ESPO highly appreciate the support of the Italian government.