On September 9, the IDH held a webinar on the Verified Sourcing Area model, which had countries of Latin America as a priority audience. The purpose of the event, held in Portuguese, Spanish, and English, was to provide details about the VSA, considered a market approach underpinned by an innovative tool model.
By means of a platform, the VSA connects buyers and investors to multi-stakeholder alliances interested in the sustainable development of a territory. Stakeholders agree locally on goals and priorities for conservation, working conditions, better land use, and livelihoods. These alliances are formed by farmers, government, the private sector, and civil society, which constitute a local Compact. Companies and investors can support these Compacts, through direct financing to projects, support for local governance models, technical assistance, and commitments for the acquisition of commodities. With this, they are able to monitor the progress in the territory in relation to the goals set and fulfill its sustainability commitments.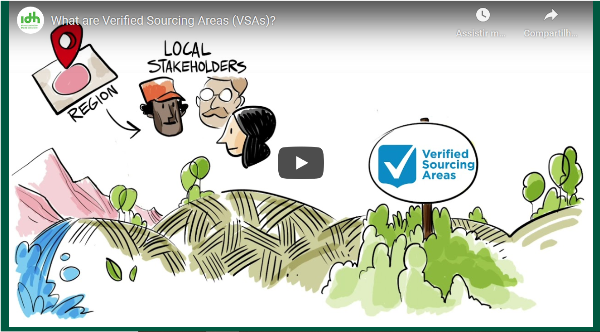 The system was developed taking into consideration the Sustainable Development Goals (SDOs), which cover systemic issues such as poverty and deforestation, both within and outside the supply chains.
The Verified Sourcing Area model aims to provide a market mechanism that allows responsible sourcing and sustainable development at scale, by connecting sourcing jurisdictions directly to markets. The VSA model is an inclusive sustainability model, consisting of various commodities, which strengthens the involvement of the local government and creates a pre-competitive space for buyers.
The VSA online platform works as an interactive hub for farmers and buyers committed and provides visibility and transparency on sustainability applied across entire jurisdictions.
The IDH works with landscape programs in about 10 countries, Brazil and Colombia, in Latin America, with the Produce, Preserve and Include (PPI) Compacts approach.
The video of the event is available here.