The Beyond Chocolate Steering Committee has found a new chairman in the person of Leonidas CEO Philippe de Selliers. Starting from March 2020, Philippe will be the one convening the steerco meetings and Representing the Steering Committee towards the stakeholders within the "Beyond Chocolate" partnership and others interested in the Belgian chocolate sector. A challenging and interesting task that Philippe is greatly looking forward to.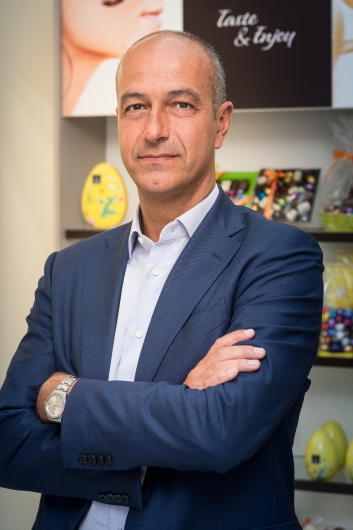 Professional Background
After obtaining his master's degree in Commercial & Finance at ISC Saint-Louis, Philippe started his career as a sales representative for Mars. After six years, he made the change to Coca-Cola enterprises where he eventually became Vice President Field Sales & Logistics Belgium-Luxemburg. From there, he moved to Van Marcke, becoming COO of the specialist wholesaler – a market leader in Belgium.
Although initially planning on taking a step back from the busy life of a businessman to a more relaxed lifestyle, a call from Leonidas changed his mind. He decided to accept the offer of becoming the new CEO of Leonidas. He has now been working in this position for 3 years, making successful changes that result in the creation of a lot of moments of happiness and excellent annual results. What's the secret of the success in his role as CEO? 'My passion for people and the products,' Philippe reveals.
The future of Belgian chocolate
Philippe is passionate about Belgian chocolate and its related quality. Therefore, he is determined to keep Leonidas a truly Belgian company with 100% of its chocolates produced in Belgium using knowledge passed down in Belgium for years and years.
Creating top quality chocolates which evoke moments of happiness is Philippe's priority. An important part of this is ensuring that the production of our most-beloved export product does not have a negative impact on people or planet.
'I am a great believer in sustainability for future growth. I am truly convinced that protecting our people and planet does not mean being less innovative or compromising our way of life. On the contrary it will only enrich people's creative thinking.  You need to be well aware that consumers are waiting and expecting from us, the industry, to lead by example.  Their mentality and priorities have evolved into less impact and more fair conditions for all. It is therefore our joint responsibility, for the business as well as from human perspective, to ensure that all decisions have a positive impact on everyone involved (and this from sourcing ingredients over manufacturing and distribution to consumption).  Everyone involved in the cycle deserves his/her moment of happiness.'
Leonidas is part of CHOPRABISCO, the Belgian Royal Association of the Chocolate, Praline, Biscuits and Sugar Confectionery Industry that was one of the first to sign the Beyond Chocolate Partnership.
What convinced a man with such a busy agenda to accept the role of Steerco chairman?
'Well, it is my personal conviction to strive for this win-win relationship for each and everyone involved in the process of chocolate. This is the reason why I was immediately attracted and convinced by the Beyond Chocolate initiative.  It is a great initiative since it represents the ideal combination of long-term sustainability and future growth, ensuring a long and bright future for qualitative Belgian Chocolate. I am very proud to be part of this initiative.'
'Obviously it will take some time for me to get to know everything about and everyone within the partnership, but I am motivated to do so. My hope is that I will be able to convince every stakeholder to be ambitious and involved in the goal to reach all the objectives Beyond Chocolate has.'
Beyond Chocolate partners will see Philippe in action for the first time during the Beyond Chocolate General Assembly the 28th of May where he will preside the meeting.