This article was originally published on P-plus in Dutch and was translated by IDH.
A fund that reduces the risk of investors, so small tropical farmers can finance their business with better seeds, better plants and better financial planning. At its 10-year anniversary IDH, the Sustainable Trade Initiative launched the Farmfit Fund. Her Majesty Queen Máxima of the Netherlands, in her role as the UN Secretary-General's Special Advocate for Inclusive Finance for Development (UNSGSA) attended the morning breakfast meeting and gave a speech on inclusive finance for smallholder farmers during the opening of the event. The Queen said in her speech that she thinks the work IDH does is 'amazing'.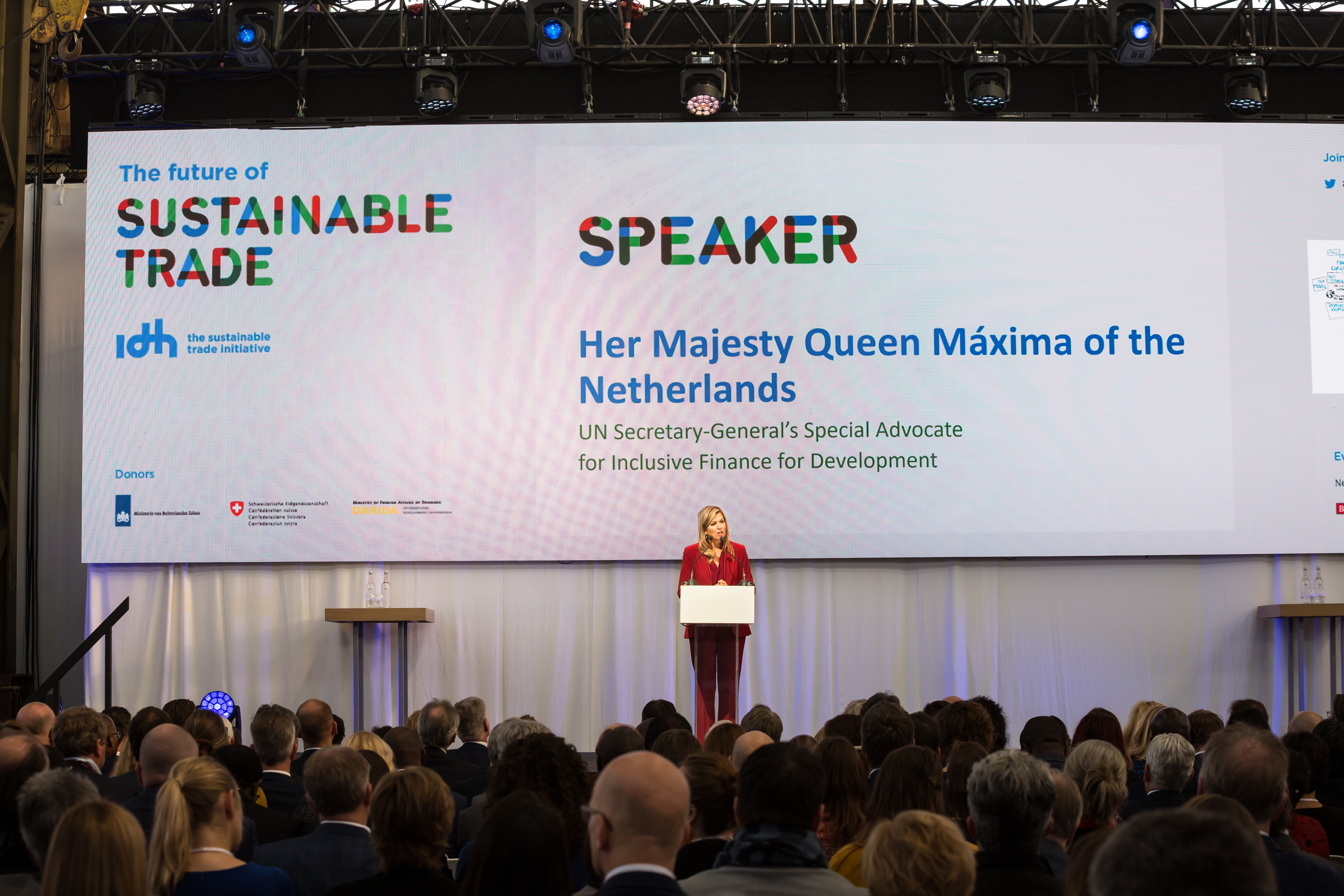 © Jonathan Perugia/Gaia Visual Ltd
The highlight of the breakfast meeting was the launch of IDH's new Farmfit Fund. This fund reduces the investment risk of financing institutions. This enables small-scale farms in developing countries to get a loan.
Financing institutions generally see this group as a high risk, because smallholder farmers often do not have sufficient collateral and credit history, which are necessary for the loan. In addition, they often have irregular income due to fluctuating yields from the harvest and market prices.
100 million euros are available in the Farmfit Fund. The fund is supported by, among others, USAID (United States Agency for International Development), the Dutch Ministry of Foreign Affairs, JDE (parent company Douwe Egberts), Mondelez and Unilever. David Nabarro, Special Adviser to the UN secretary-general on the 2030 Agenda for Sustainable Development, was the moderator of the meeting. In addition to Queen Máxima and Minister Kaag, CEOs from multinationals and financial institutions took part in the discussion.
In her speech, Queen Máxima addressed the importance of value chain finance. This is the financing of activities in the chain of products and services in a production or delivery process. At every step in the process, the value of the products and services is increased. The role of technology in agricultural financing was also an interest of Queen Máxima. As examples she mentioned the role technology can play in building a credit history for farmers and how technology can provide insights into the operational management process for farmers, buyers and financial institutions.
About the working group she participated in, the Queen said: "It is really my hope that the findings can encourage partnerships that will develop new business models and scale up the most effective solutions."
Finally, Máxima said about the jubilee event: "10 years of growth, 10 years of making a difference in its field, 10 years of upscaling quality initiatives. The first time I heard about IDH was flight from Tanzania, when I met this man Joost Oorthuizen and his passion for his work was so contagious – so here I am. Like all of you probably. I would like to congratulate IDH on this amazing progress."
The full speech of Queen Máxima can be read here.