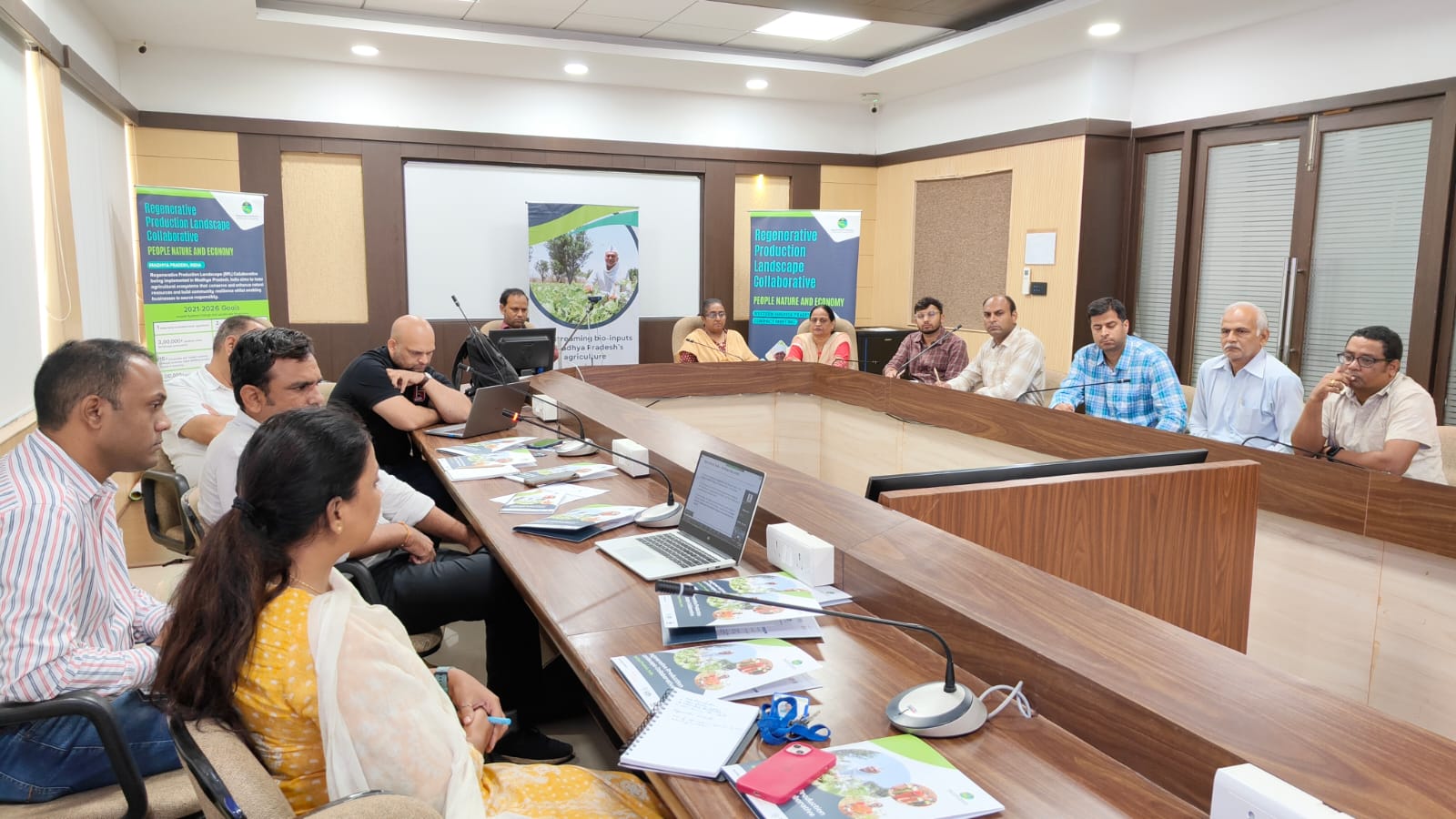 On September 26, 2023, Regenerative Production Landscape Collaborative (RPLC) convened its second Western Madhya Pradesh Compact meeting in Bhopal, Madhya Pradesh, India in which more than 35 stakeholders, from the private sector, government, CSOs, and NGOs, participated.
The participants included representatives from the Department of Farmer Welfare and Agriculture Development, Madhya Pradesh, Laudes Foundation, IDH, Action for Social Advancement, Centre for Advanced Research and Development, The Nature Conservancy, Organic Cotton Accelerator, Jan Sahas, Samarthan and AKRSP-India. Additionally, private sector partners, including Inditex, IKEA, Jayanti Herbs & Spice, and H&M Group, and research consultancies Cognisphere, and IORA, also attended the meeting.
The meeting was chaired by Rashmi Varghese, Deputy Director, Department of Farmer Welfare and Agriculture Development, and lead for the Natural Farming programme, Government of Madhya Pradesh. She recognized the work done by the Collaborative and provided her suggestions on bringing positive behavior change among farmers towards shifting from synthetic inputs to natural and organic inputs. She emphasized on the benefits of crop diversification for regenerative and sustainable landscapes and shared her vision of taking flagship programs of the Government of Madhya Pradesh closer to the farmers.
During the meeting, the participants discussed program goals and findings from a baseline study conducted by the collaborative on sustainable production, landscape protection and restoration estimates of GHG emissions, soil and gender inclusion analysis in Western Madhya Pradesh. Following this, a consensus was drawn on the compact targets, which will guide collective action in the region.
RPLC works in eight districts of the Western Madhya Pradesh compact – Dhar, Jhabua, Ratlam, Alirajpur, Barwani, Burhanpur, Khandwa, and Khargone. This program is rooted in IDH's Production, Protection, and Inclusion approach, dedicated to creating a better environment and better income opportunities for the farmers in the region.