The Wider Tai Forest Landscape in Côte d'Ivoire is facing numerous challenges including deforestation, intense heat, irregular rainfall, to name a few.
As Cocoa farmer, Bébé Christine puts it, "deforestation is the primary reason behind the poverty of our lands, intense heat, irregular rainfall, the absence of clean drinking water in wells, and so on. These phenomena have a very negative impact on our life in the village."
Bébé Christine joined Ecookim (a cooperative based in Côte d'Ivoire) wanting to make a difference and improve the life of her fellow farmers in her village.
"After receiving training in the field and during village awareness campaigns, I realized that I need to adopt good agricultural practices and plant trees in my field to improve my cocoa production and diversify my income" she said.
In late September 2023, 388 trainers were trained in agroforestry, the forest code, and land certification. Furthermore, the use of brigades has accelerated planting and increased farmers' enthusiasm for agroforestry. Such initiatives are encouraged in future agroforestry projects. Up until today, 8,900 producers are adopting agroforestry, and the number of seeding planted for agroforestry is 451,103. Reforestation was also at the heart of this transformation. An incredible 90373 reforestation tree are planted and alive following the first year of the project. The real turning point was the arrival of coaches into their fields. These mentors and their guidance were met with genuine excitement from the farmers. Their presence symbolized the dedication of the cooperative and its partners in a quest to improve the lives of cocoa producers through the enhancement of their cocoa cultivation techniques.
To sustain agroforestry efforts and build upon their achievements, Ecookim in collaboration with IDH's ISLA program and the LDN Technical Assistance Facility identified a market-based approach as the ideal solution, involving premiums from private sector partners and cocoa buyers to pre-finance the transformation of the value chain. This innovative approach not only fosters independence from grant funding but also offers flexibility in negotiations with Ecookim's buyers.
However, these efforts came with their fair share of challenges. Most cocoa producers are aging, and the unavailability or high cost of labor poses a significant challenge to the successful implementation of agricultural guidance. Another challenge is land registration. In many cases, land ownership remains informal, governed by customary law. Cocoa farmers typically lack official documents, such as certificates or land titles, to prove their ownership of plots and the associated trees. Formalizing their land rights became crucial to enable cocoa farmers to recognize the value of forest trees from both agronomic and economic standpoints.
Being a part of this project empowered farmers just like Bébé Christine who is no longer in doubt about using agroforestry because "the project will provide [her] with a land certificate through which [she] will be able to assert ownership of the trees to the forestry authorities."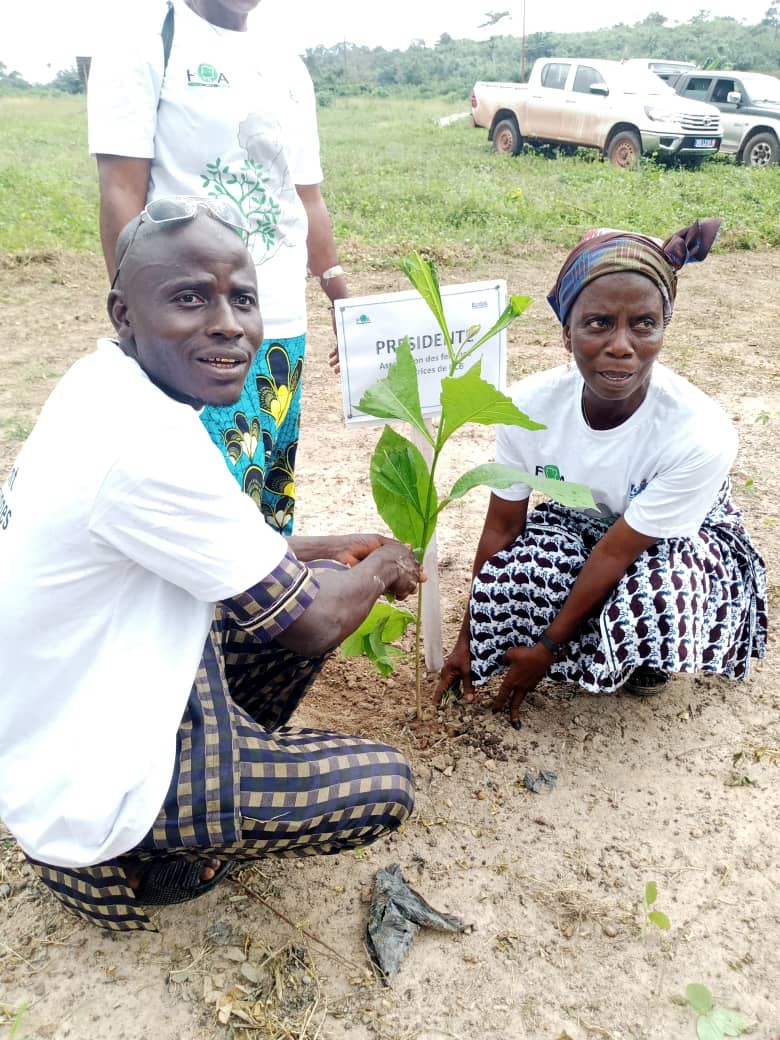 As this journey continues to unfold, the cocoa farmers dedication to adopting agroforestry alongside the partners commitments to enhancing their livelihoods turns this project into a recipe for success.
Background Information
IDH is supporting agroforestry and reforestation activities in 22 cooperatives of Ecookim network through improving its investment readiness with Technical Assistance support.
The project aims to provide cocoa farmers with access to finance, encourage cocoa farmers to adopt sustainable practices, particularly agroforestry by providing them with land certification.  For farmers to perceive their forests as a driver for economic opportunities, it is essential to support them in the formalization of land rights. The project is implemented through a gender lens, Ecookim has dedicated funds women's groups training and providing income opportunities for females.