By Sarah Roberts, Executive Director, Ethical Tea Partnership & Jordy Van Honk, Program Director Tea & Landscapes Africa, IDH, The Sustainable Trade Initiative
It was a great pleasure for us to host over 200 people from across the globe at our recent TEAM UP event in London, all sharing one common goal: to make the tea sector more sustainable for the future.  As usual we had strong representation from all areas of the supply chain – producers, brands and retailers. There was a strong mix of high-level speakers from across the value chain alongside NGOs and thought leaders, enabling us to discuss the challenges we face as a sector very effectively. We were also pleased to welcome Solitaire Townsend, Co-founder of Futerra, as our Facilitator.
The result was a lively and dynamic debate with a highly engaged and committed audience who really added to and shaped the conversation. Seven interactive sessions enabled discussions on how to move forward on key issues such as housing, sanitation and agrochemicals. In the coming weeks, we will be reflecting on these more and reporting back to you on next steps.
In the meantime, we wanted to share with you a few of the key personal reflections that immediately struck us as we left London:
There is now a strong momentum for building a collaborative approach to resolve global industry issues. Producers, packers and government can unite further and there is also potential to unite industry and government in a deeper, more ambitious level of collaboration in the world's key tea producing countries.
Raising the level of ambition by industry and government in making the tea sector structurally more sustainable is key. New ways of working are required to address long standing issues relating to poverty and improving infrastructure and services in tea communities. Ensuring government is included as a central part of any new strategy is crucial to success.
Clear goals and effective collaboration across the value chain and within government will unlock increased financial investment to build a sustainable tea sector.
The sector needs to continue to focus on several key social issues, including moving to living wage for workers on tea farms, whilst ensuring the industry remains sustainable, plus building on initial progress to improve gender equality in the sector and reduce gender-based violence.
Taking a landscape approach is an effective way of moving towards a more sustainable industry, bringing together the right partners and finance to tackle long-term issues such as deforestation and climate change.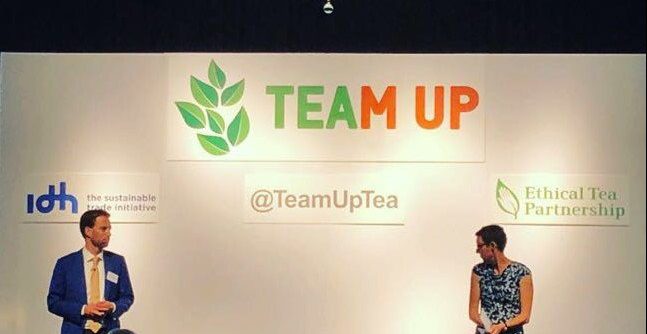 ETP and IDH are committed to continuing to convene partners from across the supply chain to go further and faster together to achieve sustainable systemic change and outcomes for the industry, its workers, farmers and their communities. The recent launch of the Improving Lives Commitment to help women, children and families in Assam shows the new strengthened appetite to drive further commitment and change in the future.
We have been inspired by the outcomes of this recent event. We believe that the time is right and the sector is ready to move forward to a new phase of deepening collaboration, working more closely together for a more sustainable tea sector. IDH and ETP will take this forward.