Today is International Tea Day — the perfect excuse to brew yourself a fresh cuppa. When you sit down to enjoy it, we invite you to join us in reflecting on the true purpose of this day: raising awareness for the impact of tea trade on workers, smallholders, and consumers. Throughout 2017, IDH has been working closely with its partners and donors to this end, and we are proud to share with you some of our key achievements — as well as looking ahead to our plans for 2018.
What have we accomplished?
In India, we continue to make bold progress with our multi-stakeholder trustea program, set up to promote domestic sustainable tea, as well as the IDH-supported ETP-UNICEF partnership, focused on making women less vulnerable and improving the livelihoods of community workers.
Critical mass of over 500 million kg trustea verified volume
Over 40% of total Indian tea production verified against the trustea sustainable tea code
Reaching 500,000 workers and 36,000 small tea growers to foster a culture of sustainable tea
Engaging 33,000 girls in adolescent girls' groups to promote safety
Training 30,000 community members for improved livelihoods
In Malawi, as part of the Malawi Tea 2020 program, a unique price discovery model has been developed to enhance sustainable procurement practices of tea buying companies to enable a living wage to be paid, under leadership from Oxfam and IDH.
Despite high inflation the living wage has not deteriorated (gap remains at 43%)
$6.3 million invested by the estate sector in energy efficiency and environment
50 Farmer Field Schools (FFS) up and running
1,500 Farmer and 173 Village Savings and Loans groups established
These activities led to increased yields and quality, and overall greater resilience and ability to invest in the future with 73% of the farmers creating new sources of income.
In Kenya, IDH has been working with partners in the tea industry to address gender and gender-based violence by establishing national platforms and roadmaps. At Team Up Africa in Nairobi, IDH shared its learnings from landscape work in the Mau Forest with the tea sector, and organized a plenary session around integrating gender into the tea supply chain.
Gender Empowerment Platform established launched at Team Up Africa
Roadmap for plantation management kicked off to address gender based violence
Implementation of field-level projects to reduce gender-based violence through awareness, financial literacy training, women in management & leadership positions, and safe spaces
In Tanzania, Rwanda, and Vietnam, IDH is working with its partners on addressing issues related to smallholder profitability, good agricultural practice (GAP) and responsible use of pesticides. This includes the Seeds of Prosperity program, aimed to improve the nutrition and health of tea farmers, workers, and their families in the tea supply chain in India, Kenya, and Tanzania and through food fortification in Malawi (click on the video below for more information).
Farmer Field Schools (FFS) set up in East Africa, with 3000 farmers currently in running FFS
32 agri-teams established till date in Vietnam where spraying responsibility is institutionalized at factory level
50,000 beneficiaries of better health and nutrition through Seeds of Prosperity program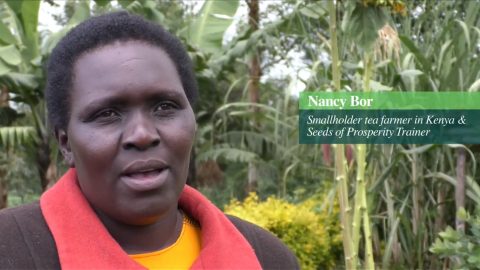 Where are we going?
Living wage 
In 2018, we will continue to coordinate action with international buyers, civil society, and local governments in Malawi to realize a living wage for workers and living income for smallholders. In India we will continue to address wages through trustea and we will scope the possibilities of conducting a living wage benchmark study in Assam.
Smallholder profitability
We will focus on rehabilitating and strengthening smallholder tea farmers across East Africa (Tanzania, Malawi, Rwanda and India) and work on health & safety in Asia. We will conduct a number of Service Delivery Model analyses (SDM) in Tanzania, Rwanda and India. The SDMs will help to gain deeper understanding and analyse how services are provided to farmers and to further improve these models making them future proof.
Gender
Through the Gender Empowerment Platform in Kenya, we will work with the Kenyan tea industry to address gender issues with a focus on increasing activities on the ground and driving a shared agenda on safe spaces. We also plan to organize a cross-learning workshop in East-Africa between the tea and flowers sector to share best practices and learnings.
Journey ahead
Transforming the tea industry is a journey — one we can definitely not undertake alone. We would like to thank all our partners for their perseverance, commitment, and contributions over the last year. Let's work together to make 2018 even better!
And make sure to save the date: Tuesday 19 June 2018 in your calendars for Team Up London to bring the tea sustainability agenda to the next level!