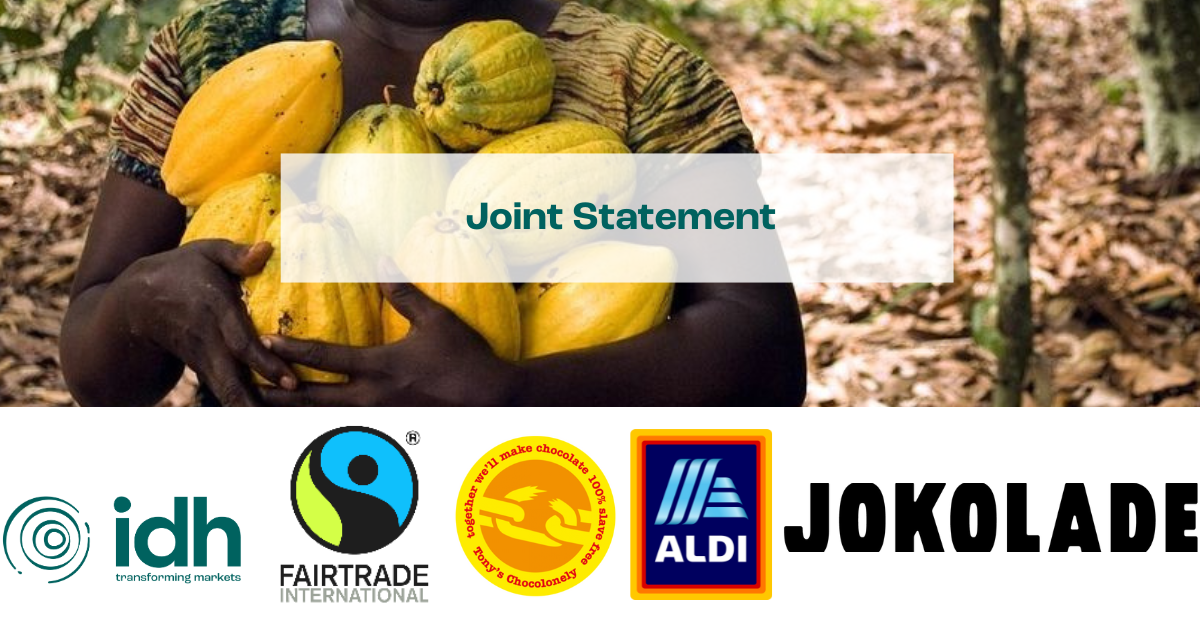 Earning a living income¹ remains a challenge for cocoa farming households in West Africa.
Without a living income, cocoa farmers remain in poverty, which drives other human rights and environmental issues including child labor and deforestation. While poverty is complex and has no single solution or single actor to solve it, there are responsible sourcing practices that companies can immediately implement to reduce living income gaps of smallholder cocoa farmers. A leading example of responsible procurement which provide a credible and scalable model to enable a living income is with the Tony's Open Chain 5 sourcing principles.
Combined strategies enhanced by fair prices for cocoa
Data gathered over recent years by different actors²  shows that single interventions focusing on cocoa productivity alone are having little impact on incomes. Instead, combined investments in productivity and diversification interventions as well as the use of certification premiums and cash transfers can have a positive effect on reducing living income gaps if combined with higher prices.
Over the past year Tony's Open Chain has been gathering new insights which led to its first living income estimation in 2021-2022 that 37.6% of cocoa farming households in its long-term partner cooperatives³ had closed or exceeded the gap to living income.⁴
Tony's Open Chain Living Income Analysis shows that premium payments including the Living Income Reference Price (LIRP) calculated by Fairtrade and paid by all Tony's Open Chain mission allies⁵, contributed 21.4% of income earned by cocoa farmers on average through cocoa in 2020-21.
This was reinforced by Fairtrade's farm record data from the same partner cooperatives and harvest season – cocoa farmers received 6-15% more cash income due to the LIRP payment (depending on volumes sold at LIRP level) and 11-20% more when including in-kind income.
Value distribution through improved purchasing practices
Beyond specific investments, the supply-demand relationships and purchasing practices adopted by companies shape how value is distributed down to farmers. Long-term relationships with cocoa farmers and farmer organizations are key to provide stability and predictability in off-take of volumes and premiums which enables partner cooperatives and cocoa farmers to make long-term investments and improve traceability systems.
Experiences with these purchasing practices by Tony's Open Chain and others (eg: Colruyt, Puratos, Galler) show positive results in more professional, independent and farmer led partner cooperatives that are ultimately better placed to provide tailored and adequate services to all their members including for those for whom cocoa alone is not viable.
Change is driven by scale
Unlocking real change can only be done through scale and volumes. Increasing the offtake of cocoa sourced through responsible procurement practices is key to scaling impact on living income and improving efficiencies along the supply chain. Simulations show that if all cocoa is sold through Tony's Open Chain at LIRP level (and all premiums go directly to cocoa farmers), the average living income gap reduces significantly, and the median household income is around $6,000 USD/year. This is validated by the Fairtrade farmer field record data — when simulating for 100% sales at LIRP level (i.e. cocoa farmers receive the full amount of US$ 2.20 per kg of cocoa)⁶, the average income would be US$ 6,360 (median US$ 5,108).
Scale is driven by collaboration
Tracking how company actions move the needle in reducing the living income gaps of cocoa farmers requires investments and alignment to monitor progress and share learnings. Credibility does not come from one company alone but from more systemic efforts involving alignment among multiple sector partners.⁷
The IDH Living Income Roadmap provides the framework to guide company action and verify progress in closing living income gaps in supply chains. In line with the IDH Living Income Roadmap and Fairtrade's Living Income Strategy, the Tony's Open Chain 5 sourcing principles model provides a useable and credible model that allows companies to play their part in making a living income a reality for cocoa farmers and contribute to the sustainable transformation of the cocoa sector in the process.
Sources
¹ Living Income is the net annual income required for a household in a particular place to afford a decent standard of living for all members of that household. Elements of a decent standard of living include food, water, housing, education, health care, transport, clothing, and other essential needs including provision for unexpected events (Living Income Community of Practice 2020)
² Cocoa Barometer 2022; Towards a Living Income for Cocoa Farmers in Ghana: Assessing companies' efforts to date (openrepository.com); Other research studies/analyses that have been referred to (i) two types of daily farmer record keeping: Farmer Field books deployed by Barry Callebaut and Agri-Logic with IDH, and Fairtrade International's Farmer Field Records; (ii) Income surveys: Fairtrade's household income surveys and the West Africa Cocoa Programme survey; (iii) Tony's Open Chain's Living Income analyses
³ Data from three of Tony's long-term partner cooperatives (ECAM, ECOJAD, KAPATCHIVA) in Côte d'Ivoire.
⁴ According to the Fairtrade farm record data, 24% of farming households in Tony's Open Chain's long-term partner cooperatives earned at least a living income in 2020-2021.This is lower than the findings from the Tony's Open Chain's own analysis and the difference is largely driven due to a different methodology for collecting household size data.
⁵ Tony's Chocolonely; Albert Heijn (Delicata), Aldi (Chocochanger), Jokolade,; and joined in 2022: Ben&Jerry's; Vly Foods; Flower Farm; PLUS, KoRoSource
⁶ This was the LIRP for the 2021/22 season. In October 2022, the LIRP was updated to $2.39 in Côte d'Ivoire for the 2022/23 season. More information can be found here.
⁷ Together with Fairtrade, Ben&Jerry's, Barry Callebaut, Tony's Open Chain and IDH, initial efforts are being made to align how key actors are tracking progress in order to support collective credibility as they move forward to make living income a reality for cocoa farmers.