Indonesian start-up in Jogjakarta to accelerate their work on shrimp diseases by integrating aquatic epidemiology to predict diseases
JALA, the University of Prince Edward Island and IDH, the Sustainable Trade Initiative launched a project to improve the survival rates of shrimp in Indonesian farms. By integrating and analyzing production data with disease-related data from Indonesian shrimp farmers IDH and JALA expect to identify factors associated with disease outbreak as to reduce disease occurrence. If more shrimp survive, less feed is wasted, natural resources are used more efficiently, and shrimp farming becomes more profitable.
The problem
Over 90% of shrimp farms in South East Asia have at least one dormant disease living in the water. Outbreaks result in loss of income, waste of inputs, water pollution and the excessive use of antibiotics. Some of the types of shrimp diseases in Indonesia include White Spot Disease, White Feces Diseases, and Hepatopancreatic Microsporidiosis (HPM). These diseases costs farmers billions of dollars globally every year.
Data for disease reduction
JALA is a data services company for aquaculture, empowering shrimp farmers to increase their yields through data-driven farming. The company provides a water monitoring tool and a farm management, and decision support system so that farmers can improve their decision-making based on their own circumstances. The company aims to increase farm productivity and bring sustainable and profitable shrimp farming to a higher level.
Liris Maduningtyas, the CEO of JALA, explains: "Currently, shrimp farmers are not sure whether water quality data correlates to a certain disease or not. I believe that if we can get more farmers using JALA, and if we can analyze more data, we can sooner learn about correlations. Data-driven disease prevention will no longer be a plan, it will be a reality."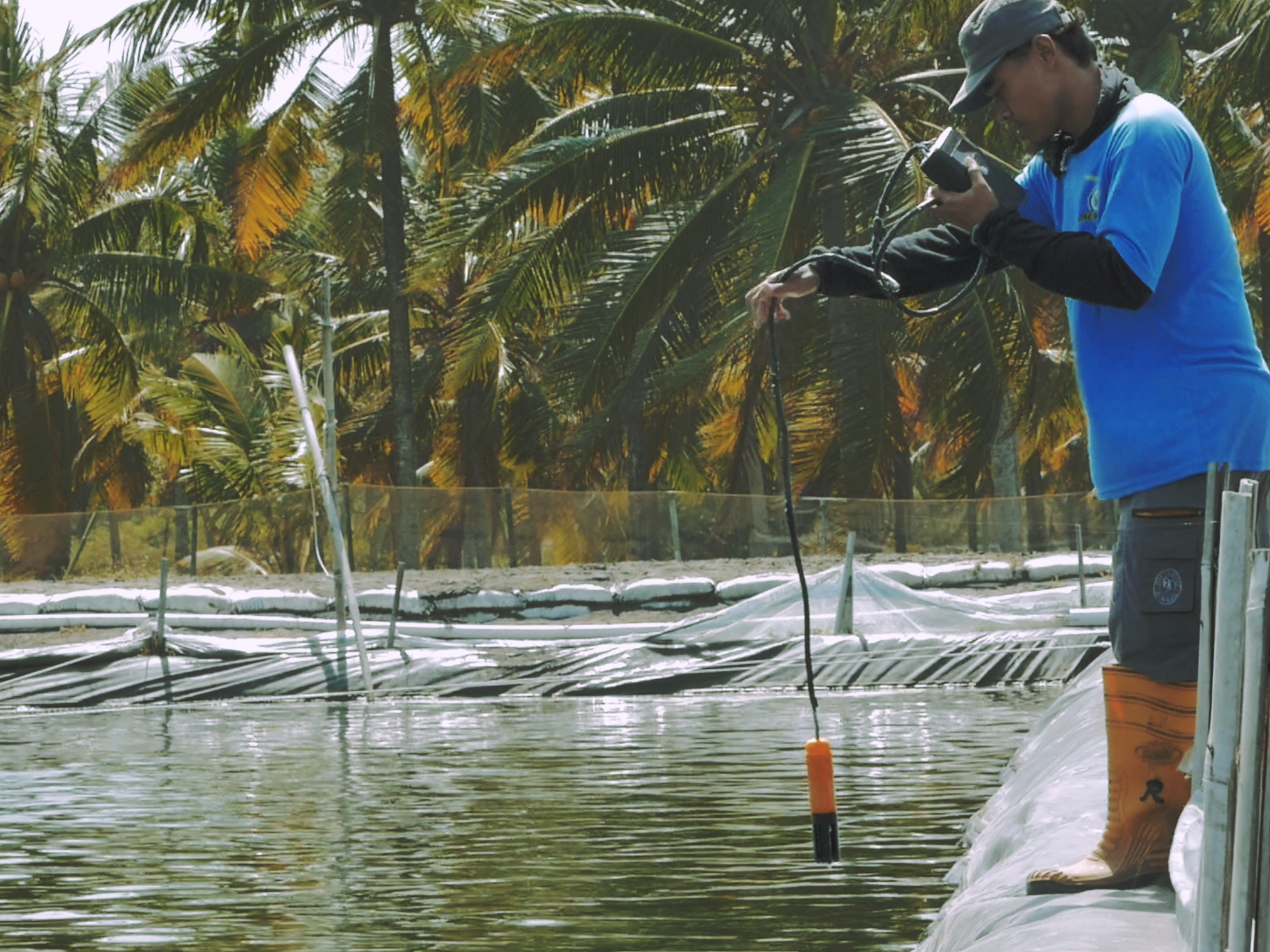 JALAs first customer, Mr. Roni, is testing the water quality by using JALA's device
Epidemiology
The project helps farmers to better understand diseases and how to fight them. Data is analyzed by aquatic epidemiologists to identify potential routes of disease spread in populations. Epidemiology makes you better understand risk factors: when you know which practices affect the potential introduction of disease agents, you have more information to prevent or limit the impact of diseases.
Dr. Krishna Thakur, from the University of Prince Edward Island, explains: "Individual farmers have information limited to their own farm, and it is almost impossible to tell if events in one cycle will happen in future cycles. Epidemiology investigations applied to many farms and through multiple production cycles can help identify practices or conditions that are related to disease occurrence, providing all participants with information for decisions that improve overall survival and productivity."
Investment angle
Flavio Corsin, the Program Director Aquaculture at IDH, having 22 years of experience in aquatic epidemiology himself, explains: "the beauty of adopting a data driven approach to controlling diseases is not only that risks for outbreaks can be reduced, but also that risks can be quantified and a track record can be established, hence making investors more comfortable in investing in those farms. Better management, less diseases and easier access to investment: 3 birds with one stone"
On JALA
JALA provides an IoT solution and data-driven farm management for shrimp farmers. The IoT monitoring devices give farmers real-time water quality readings including pH, oxygen levels, temperature, salinity, and TDS.
JALA machine learning provides insights to help farmers increase output, manage costs, and make the right decisions if things go wrong. Farmers can access all of this from their mobile phones.
JALA focuses on delivering data service to farmers. Currently 2000 shrimp farmers use JALA apps to track and monitor 5000 shrimp ponds across South East Asia.
On IDH, The Sustainable Trade Initiative
IDH brings together businesses, companies, governments and NGOs to combine their interests and power in sustainable production and trade of tropical commodities. We convene, (co-)finance and manage large programs to accelerate transitions toward sustainability. Headquartered in the Netherlands and funded by different governments and foundations, IDH delivers scalable, economically viable impact on the Sustainable Development Goals. IDH operates globally in 12 different industry sectors ranging from coffee and tea to cotton and soy and encourages joint investment in innovative models to realize long-term solutions for environmentally and socially sustainable production.
Since 2010, IDH is orchestrating change towards responsible aquaculture. We co-founded the ASC together with WWF and accelerated ASC certification. We upgraded 630.000 MT, an equivalent of 250 Olympic swimming pools, of tilapia, shrimp and pangasius production towards sustainability.
On UPEI
The University of Prince Edward Island prides itself on people, excellence, and impact and is committed to assisting students to reach their full potential in both the classroom and community. UPEI has a strong reputation for academic excellence, research innovation, and creating positive impacts locally, nationally, and internationally.