China is the world's largest producer of Tilapia (32% of global production) the second most farmed food fish species in the world that is playing a key role in food security, thanks to its low costs and high efficiency. Tilapia production is centered in the southern provinces, especially Guangdong and Hainan, that together account for more than 50% of Chinese tilapia production. IDH partners with the tilapia industry in Hainan in a project that aims to increase efficiency.
For tilapia to play a key role in food security, aquaculture feed and disease management are vital. A single disease (streptococcus) is responsible for about one billion US dollar annual losses globally. A newly detected pathogen, Tilapia Lake Virus, is threatening production in an increasing number of countries.
The IDH Aquaculture Program pilots projects as to learn how to reduce disease occurrences and to improve feed efficiency. We believe this can be done by strengthening partnerships and by adopting technology.
Project in Hainan, China
In China, IDH is partnering with China Blue, ProGift, Xiang' Tai, Joann IT, Yu2Le, The Fishin' Company, and the Hainan Tilapia Sustainability Alliance in a three-year project in Hainan Province. The aim of the project is to increase partnerships and implement the use of farm data to control diseases and improve feed efficiency. We build an information system that includes data from value chain players, as well as data from automated sensors placed in tilapia ponds. This data is analyzed by scientific institutions, and the value-chain players receive feedback and advice on how to improve feed and disease management. This leads to improved practices, and increased domestic and export market access. We link financial institutions to the project, so that they better understand risk levels of aquaculture producers.
Lessons learned in 2018 
In 2018, the project strengthened collaboration and increased the use of data and technology. Farmers purchased a 24-hour sensor that measures dissolved oxygen levels and water temperature. The sensor is connected to an app in which farmers manually record daily practices, including feeding, water management and disease treatment. This reminds and warns farmers on whether the water in their ponds requires action.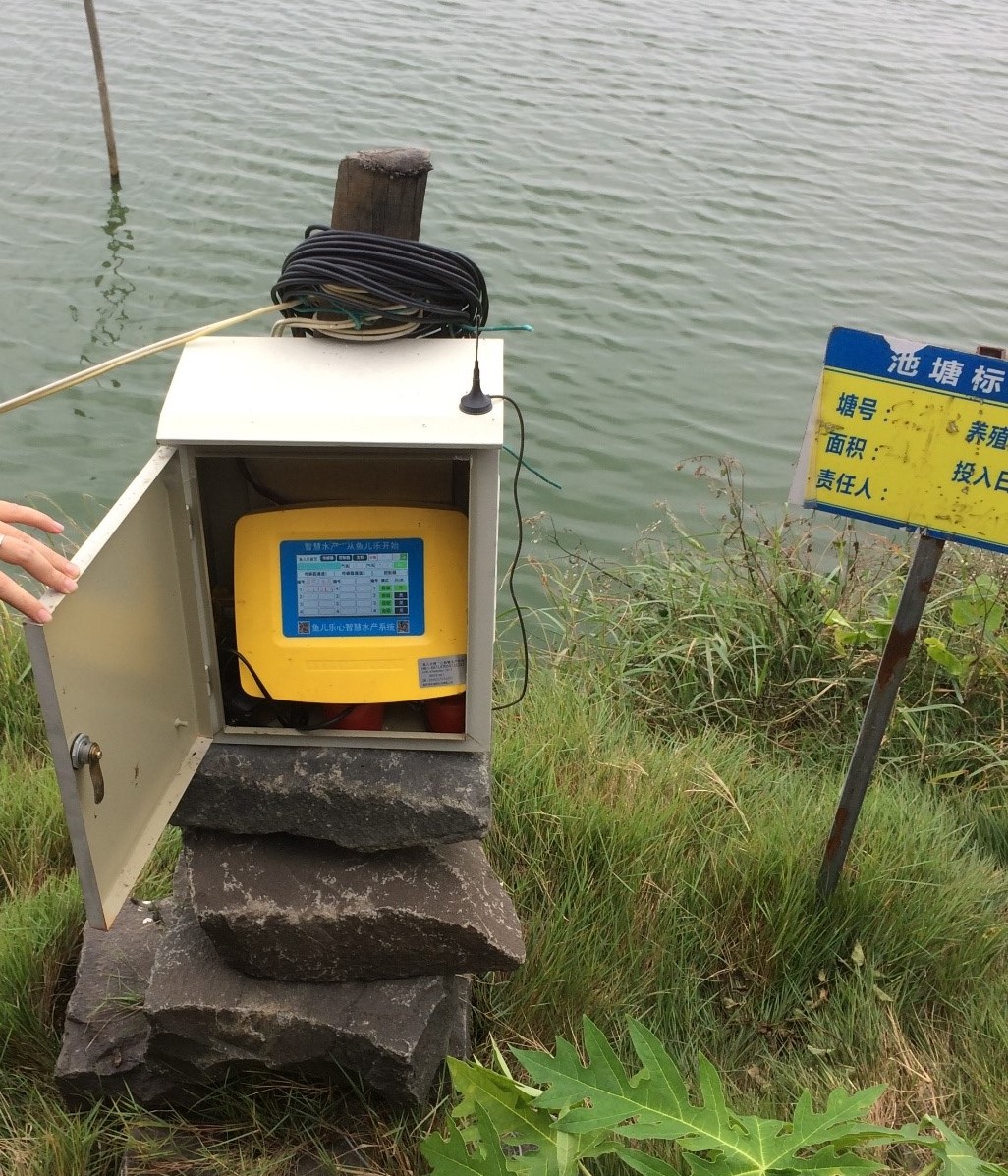 A working group was established that conducted bi-weekly and monthly on-site inspection. The project convened 8 parties of the value chain on an agreement. All stakeholders receive performance and growth data. Such data help their business: the hatchery now knows how well its fingerlings grow; and the processing plant can reduce costs for sampling because they knew there were no antibiotics used.
The first year of the project was challenging. The Internet of Things system (the sensor and the app) did at first not fit the open and tropical environment in Hainan. Although the selected system was the best option available in China's market the IOT system faced many problems: the sensor was too sensitive, the wireless connection broke and the unstable electricity led to failures. This discouraged farmers, as the data was not accurate.
We learned that technology company should not only train farmers on how to use their equipment, but also adjust their equipment to different circumstances, such as tropical storms and unstable electricity supply. Furthermore, receiving data on the water temperature and dissolved oxygen is one thing, putting this information into management actions that increase the health of the fish is another. This requires a translation of the raw data into practices on how to farm fish, and the technology companies did not necessarily have this knowledge available.
We also learned that this approach, although it was adopted to a limited number of farmers, led to results. The farmers involved in the project improved their feed efficiency from 1.55 to 1.35, and their survival rates increased from 65% to 84%.
Learning Event in November 2018
In November, a learning event was organized in Hainan which brought together stakeholders from the Hainan aquaculture sector, government officials, technology companies, and financial institutions, who discussed data-driven management for a sustainable tilapia industry. The participants showed a strong interest for data-driven management.
The conference showed that the problems in the project are common. Mr. Yang Honglei of the Hainan Seafood Alliance Trading Co., Ltd. underlined that the bottlenecks for the Hainan Tilapia industry to move towards a data-driven approach is the lack of well-developed sensors and a lack of interest from farmers. Professor Lin Shiwei of Hainan University said that the problems of the equipment for these technology solutions are widespread.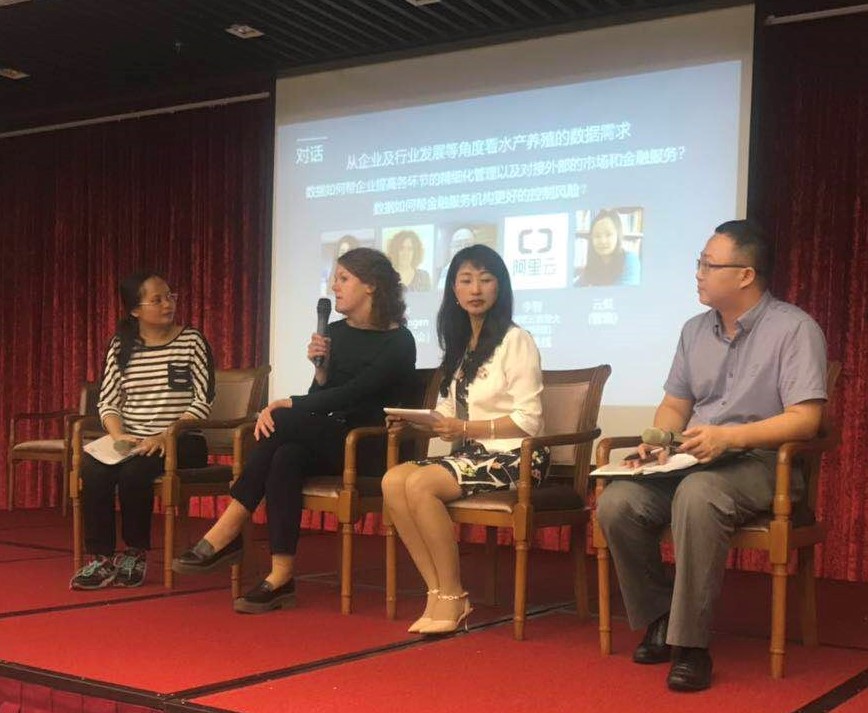 IDH introduced technology companies active in the aquaculture industry, to present their solutions to the Chinese participants to encourage cross-learning. The Canadian company XpertSea introduced their hardware and software, that uses artificial intelligence and integrates big data as to help farmers improve their farming practices. The Indonesian company JALA, which combines water quality sensors with a data platform for the Indonesian Shrimp industry, showed that overall yields of shrimp can be increased by 20%. FairAgora explained that trust of farmers remains critical for collecting data. The participants of the conference were inspired by seeing innovative services of technology companies outside of China.
The financial sector showed their interest in the topic. China Pacific Property Insurance explained that insurance companies are facing high risks. They see the potential of data for developing better insurance products. The crowd was also inspired by a system applied in animal husbandry of Alibaba Cloud ET. This system uses big data to provide access to finance without using collateral. Zheng Wei, a senior commissioner at Hainan Bank mentioned that data can provide credit ratings.
These lessons will be integrated into the project in Hainan and elsewhere as to drive the aquaculture sector towards more efficient use of natural resources.