On May 10th 2023, the IDH Ghana team organized a high-level "Consultative Meeting with Ahafo Regional House of Chiefs and Key Stakeholders" to discuss the critical components of land title documentation and tree registration for small-holder cocoa farmers. Representatives of the IDH core donor of the Swiss State Secretariat for Economic Affairs (SECO) and the Swiss Embassy to Ghana joined the meeting, showcasing their support for the ongoing work.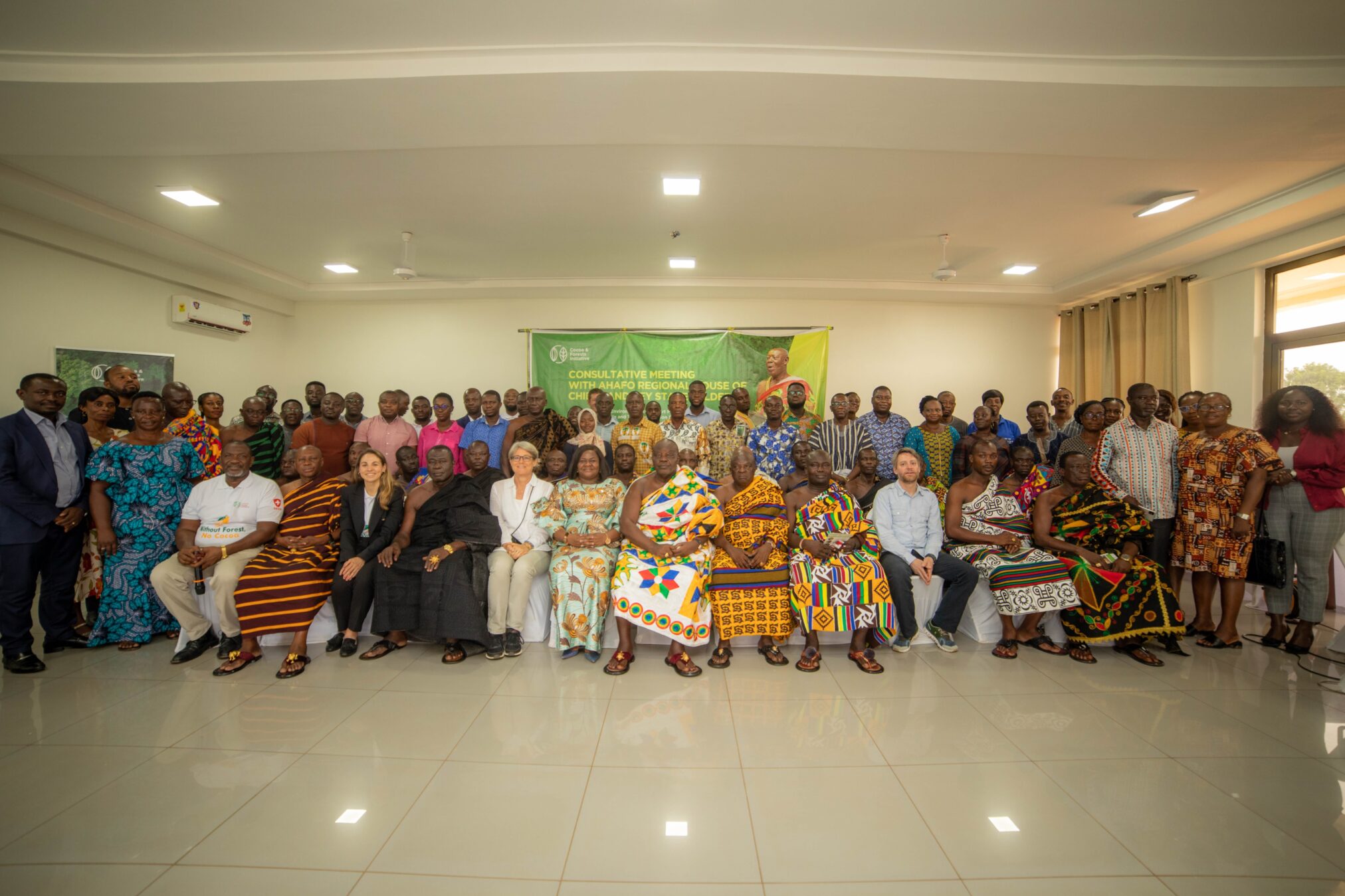 © istar
The event was a critical milestone of the "Cocoa and Forest Initiative (CFI)", established in 2017 and carried out in close collaboration with the Ghanaian Ministry of Lands and Natural Resources (MLNR), together with World Cocoa Foundation (WCF) and 34 private sector signatories.
The IDH Ghana team convened an interactive session with over 100 participants, including the Regional House of Chiefs of Ahafo where members of the CFI Secretariat, the Ministry of Lands and Natural Resources, Resource Management Support Center (RMSC), Forestry Commission (FC), as well as Meridia, service provider, and high-level landscape actors including COCOBOD, Lands Commission, Office of the Administrator of Stool Lands, and district assemblies.
Creating an enabling environment to support farmers in maintaining land rights and tree registration documentation
The objective of the meeting was to create an enabling environment to operationalize land and tree ownership rights to support farmers in maintaining land rights and tree registration documentation. The facilitators focused on balancing the rights of farmers with access to and benefits of use of off-reserve timber trees and the need to curb the destruction of such trees for farming or unauthorized activities.
The Ghana Resource Management Support Center is working towards a tree registration manual/guide to enhance the understanding and sensitization of the tree registration process. The Center also completed the development of a software and a platform to digitalize the registration process.
Meridia, a land right documentation service provider, shared their experience in supporting other traditional jurisdictions in Ghana to work with Traditional Authorities to enable farmers to acquire land right documentation to enable farmers to own the plot of the cocoa farms and both the cocoa and economic tree stock in it.
The next milestone for CFI by convening key partners and stakeholders of the Ahafo region
During the open dialogue, several participants expressed the need to devolve management and use rights of off-reserve timber trees to include both planted and naturally grown trees on farm. The Paramount Chief and President of the Gaoso Traditional Council Nana Kwasi Bosompra indicated that the policy of on-farm tree ownership continues to be a major concern of smallholder farmers and urged the government to reconsider the policy so that the farmers have full ownership of trees located on their farms, regardless of their origin.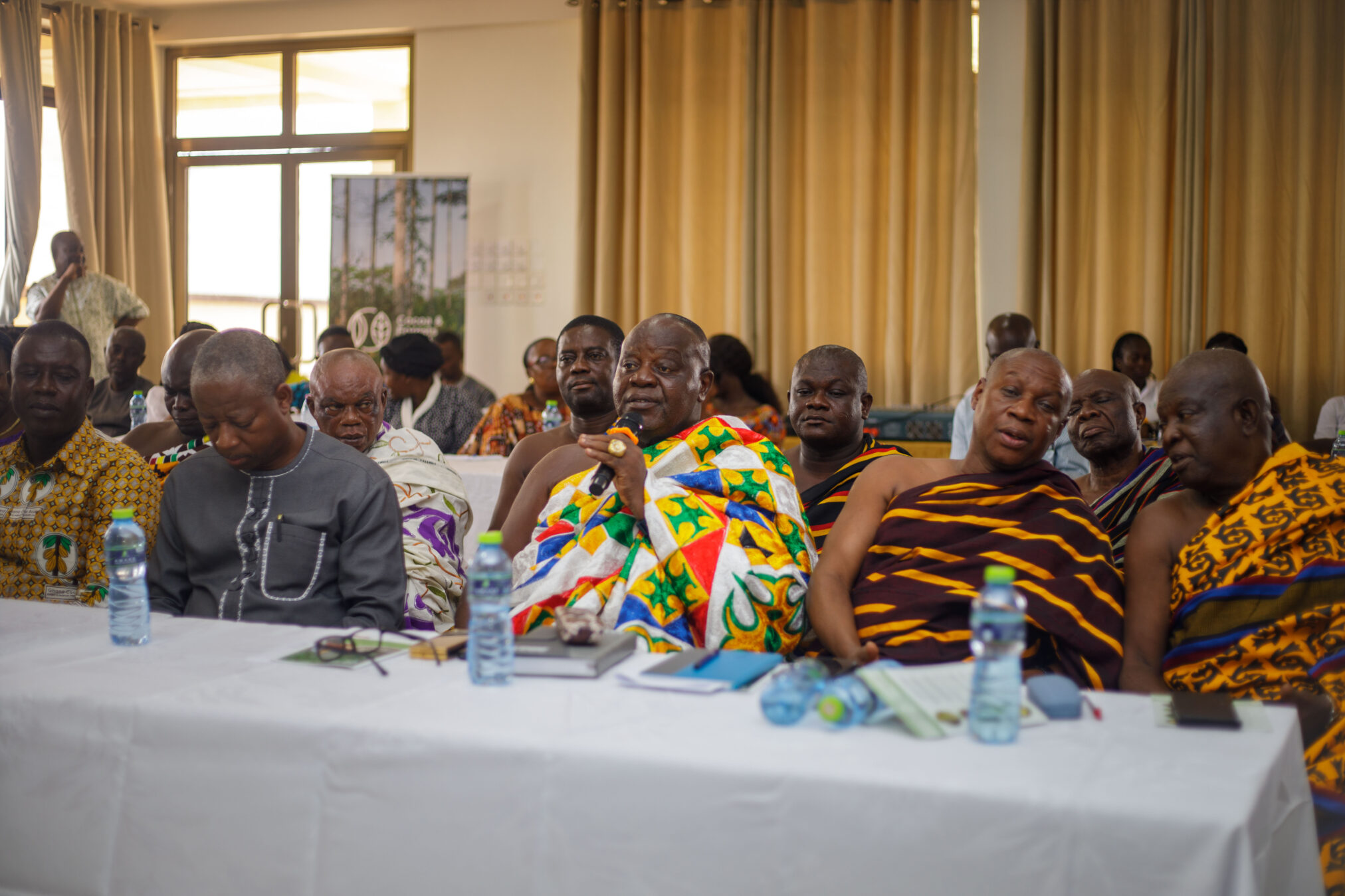 © istar
Dynamic Agroforestry approach with great potential to transform cocoa production in Ghana
In the afternoon, a group of partners joined the CFI/IDH and SECO delegation to visit a Dynamic Agroforestry (DAF) project in DadiesoAba, a community within the Asutifi-Asunafo Hotspot Intervention Area, which suffers from mono cocoa cropping. The field visit showed an innovative approach to maintain a high-yield cocoa agroforestry system where cocoa is cultivated sustainably while ensuring complementary income and food security for the farmer.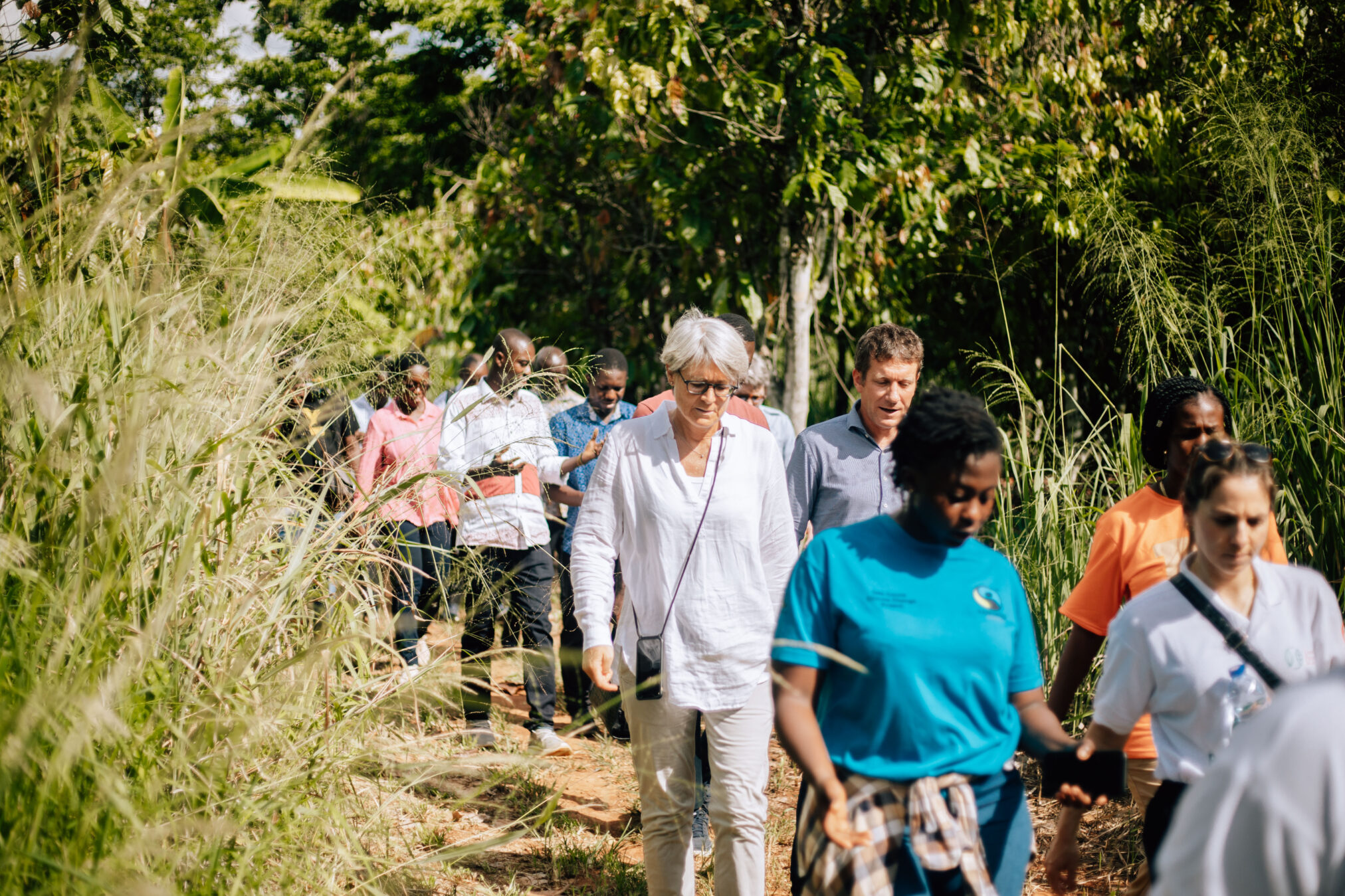 © istar
Feedback on a successful day of visits and dialogue
The evening was concluded with a networking dinner with attendance of the SECO delegation and Swiss partners including Barry Callebaut, Lindt, Halba, South Pole and Nestlé, and local representation of FairTrade Afric, International Trade Center (ITC), WCF and United Nations Development Programme (UNDP).
The Deputy Head of Cooperation of the Swiss Embassy to Ghana, Anne Schick, praised the long-standing relationship between SECO and IDH in Ghana: "Over the past 10 years, we were able to build strong working relationships with IDH, especially creating awareness and community to drive engagement on tree ownership and land rights documentation to support farmers. We are very pleased to see how far we have come."
Martin Peter, Program Manager at SECO HQ, shared his appreciation of the field visit and the opportunity to have an insight into CFI/IDH activities on the ground.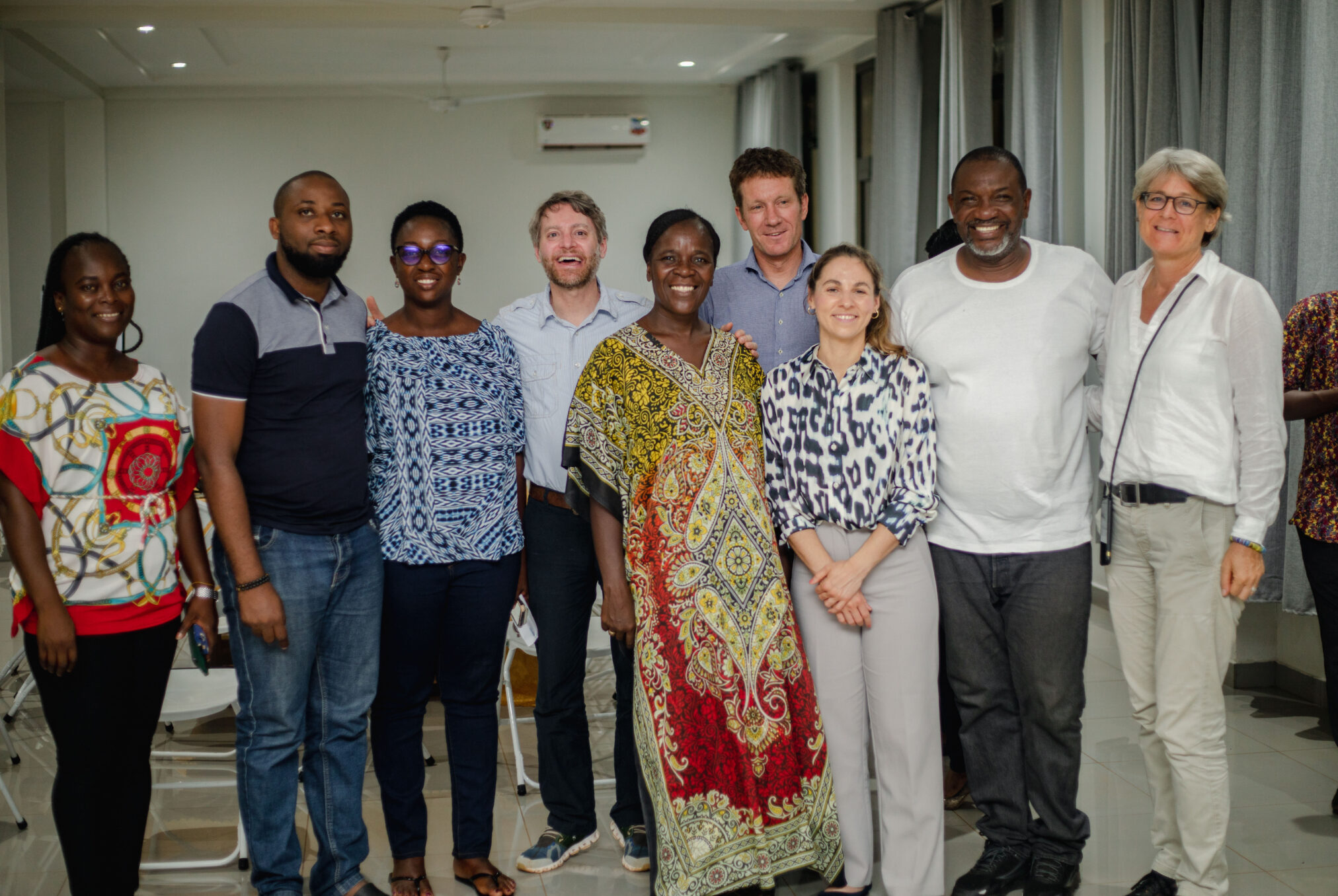 © istar
In March 2023, the CFI Initiative celebrated its 6th year of successful collaboration with three interlinked thematic areas:
Forest Protection and Restoration: Conservation of National Parks and different forest landscapes as well as restoration of degraded forests.
Sustainable Cocoa Production and Farmers Livelihoods: Intensification and diversification of livelihoods in a sustainable manner to increase farmers' yields and income while decreasing pressure on forests.
Community Engagement and Social Inclusion: Safeguarding the social involvement and empowerment of cocoa-growing communities and civil society in forest land and other natural resource management and governance.
For more information, please see the link to the CFI 2021 Annual report.
The work carried out by IDH Ghana, supported by SECO, IDH's core donor and a strategic donor to CFI, ties closely to IDH's mission and vision to convene stakeholders to sustainably transform markets.
In addition to the cocoa portfolio, IDH Ghana has partnered with Mastercard Foundation under its Young Africa Works program to implement the Grains for Growth program to strengthen Ghana's grains value chain, creating jobs and improving livelihoods with a focus on women and youth empowerment in Northern Ghana. For more information click on the link  Grains for Growth Programme.