The smart agriculture interventions that IDH, JDE, and its partners carried out in recent years through in Vietnam through its Landscape Program have helped decrease greenhouse gas (GHG) emissions from coffee farms, according to a study by the USAID Green Invest Asia project in collaboration with Agri-Logic.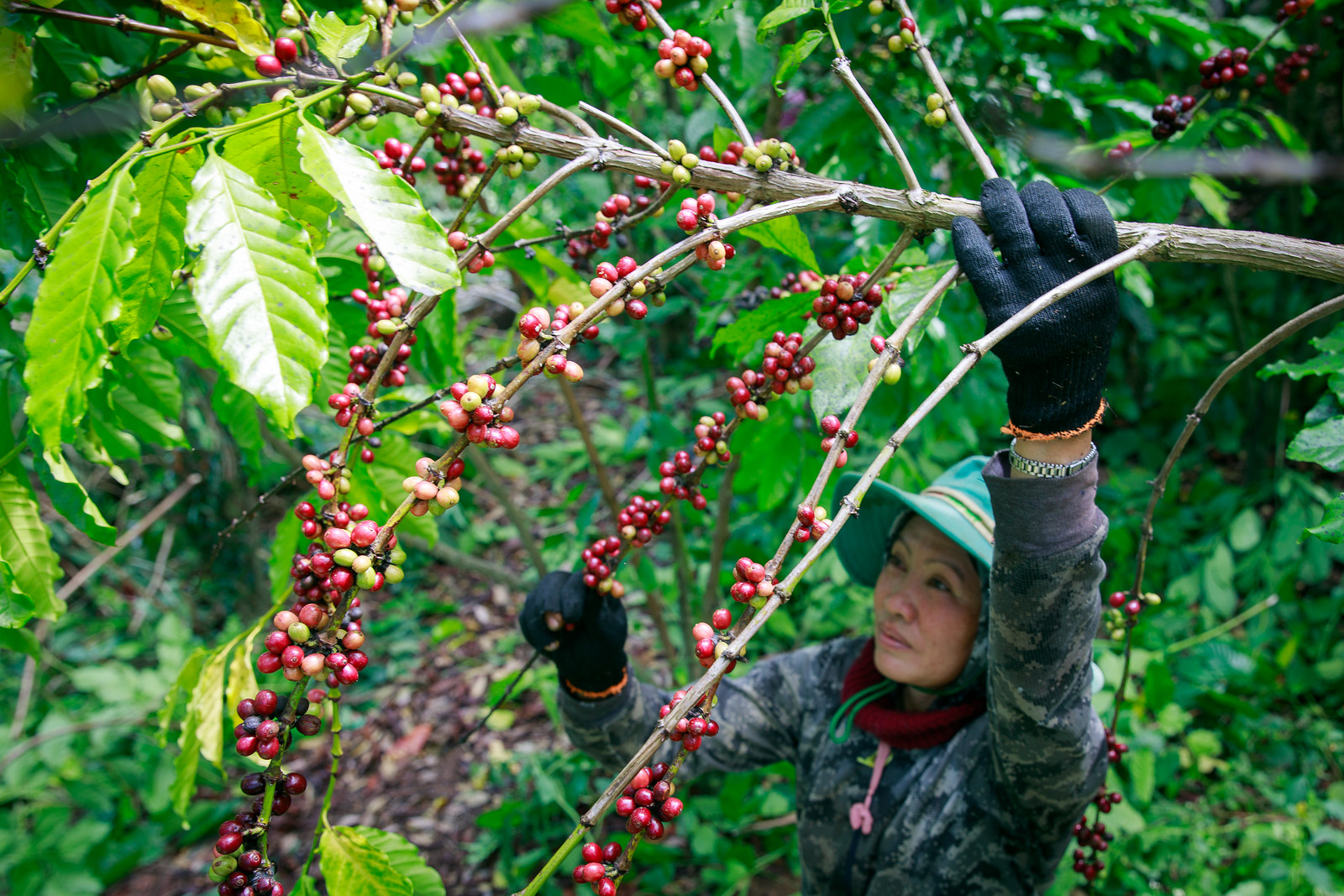 © © Pham Thanh Long / documentary.vn
Photo by Global Coffee Platform
Modeling confirmed the effectiveness of two often promoted smart-agriculture strategies to cut emissions in Vietnam's coffee sector: intercropping – or planting more than one type of crop simultaneously in the same space – and reducing unnecessary fertilizer use. The study showed how moving an additional 10 percent of the coffee area into the highly diversified category of farms would reduce GHG emissions by about 4 percent. Targeting the same area to avoid excessive fertilizer (nitrogen) use would not only cut more sector emissions, close to 6 percent, but also possibly be a more attractive option for farmers eager to cut costs, making a combination of the two methods ideal to mitigate climate change effectively.
Ms. Tran Quynh Chi, IDH's Regional Asia Landscape Director, said the study shows how Vietnam's coffee sector could be transformed into a "sink" of carbon (where more carbon is captured than released) instead of an emission source through application of forest-based agriculture and sustainable farming practices. "This brings added value to the sector once the voluntary carbon market is mature," she underlined. "For example, the lower the greenhouse gas emissions, the more attractive Vietnam can be for buyers seeking low-carbon coffee."
"A key question we sought to answer was: Is sustainability-led transformation possible while also improving farmer livelihoods?" said Mr. Do Ngoc Sy, Sustainability Manager in Asia and the Pacific of the Jacobs Douwe Egberts (JDE). "The answer is yes, over the longer term. There may short-term tradeoffs of losing coffee yield, but over the longer term, farmers who diversify their income and lower their production costs can more likely withstand climate shocks and coffee price fluctuations. With this study, we continue working towards our global commitments, deepening common grounds our responsible sourcing program linked to long term supplier engagement and reach of the Sustainable Development Goals."
Christy Owen, head of USAID Green Invest Asia, which led the study said there's "no one silver bullet" to improving land use in the world's most intensive and concentrated area of coffee production. "What this study did was back up the case for two widely accepted sustainable agriculture interventions – fertilizer optimization and intercropping – with more robust data, which in turn improved climate change mitigation modelling."
The study is a part of an ongoing collaboration among IDH, JDE, the United States Agency for International Development (USAID) Green Invest Asia project, Agri-Logic, four supply chain partners in Vietnam (ACOM, Louis Dreyfus Company, Mascopex, Simexco), and the Global Coffee Platform (GCP) to measure and boost the sustainability of Vietnam's coffee sector.
"Given Vietnam's prominence in global coffee production," said Owen, "the country is a good agricultural lab in the region to test interventions which reduce carbon emissions for application at a regional scale. If IDH, JDE, and its partners can achieve landscape level change in Vietnam, the impact can ripple across the global coffee value chain."
"IDH, JDE, four suppliers, and the public achieved a consensus on expanding what we had been done as specified in the study to a larger coffee production area, covering 140,000 hectares in the Central Highland of Vietnam in 2021-25," Chi said. "We are continuing our collaboration with the USAID Green Asia to expanding the study with new data set."