A group of food companies in Spain has signed the Commitment to Support: 100% Sustainable Palm Oil in Europe by 2020.
Companies including Unilever, Ferrero, Lipidos Santiga and Natra joined forces and established the 'Fundación Española del Aceite de Palma Sostenible' in June 2017. The foundation's aim is to balance the palm oil debate in Spain on health and sustainability issues, and to promote the uptake of sustainable palm oil.
With the signing of the Commitment to Support, they join various European private sector organizations to ensure a fully sustainable palm oil supply chain in Europe by 2020.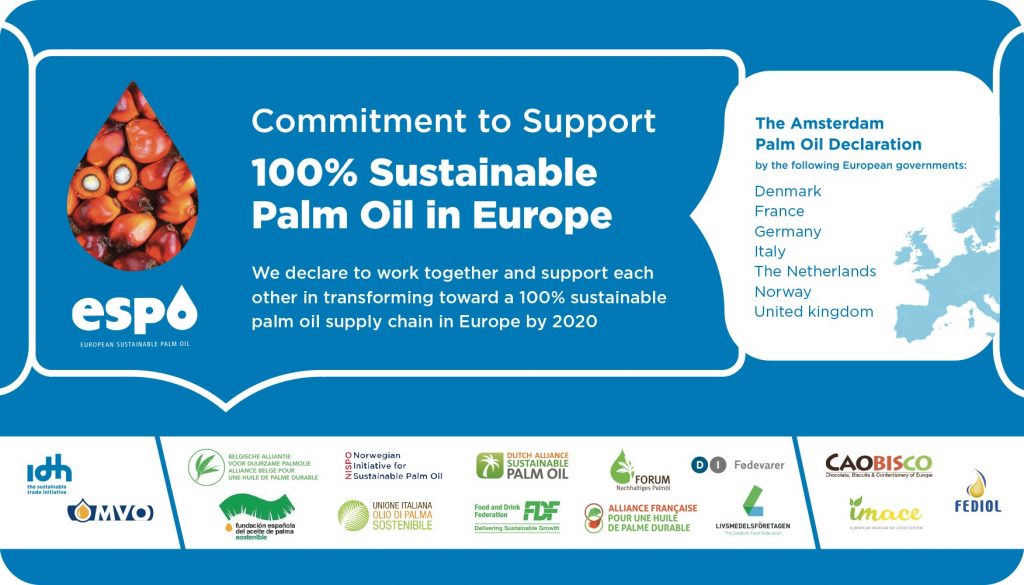 The Commitment to Support was initiated by IDH, the Sustainable Trade Initiative and MVO – The Netherlands Oils and Fats Industry, united in the ESPO-project in December 2015. In response, the governments of key European Union countries declared their support towards the project by signing the Amsterdam Palm Oil Declaration. Earlier in June, the Italian government signed the Amsterdam Declaration.
The Spanish foundation can make an important contribution to the efforts of the private sector across Europe to remove deforestation from their supply chains, and to ensure fully sustainable palm oil supply chains by 2020.