In recent decades, palm oil and soy have grown to dominate the global production mix and consumption of edible oils by volume.  India – the world's largest importer of vegetable oils – is in a unique position to have a global influence by addressing the environmental impacts of vegetable oil consumption.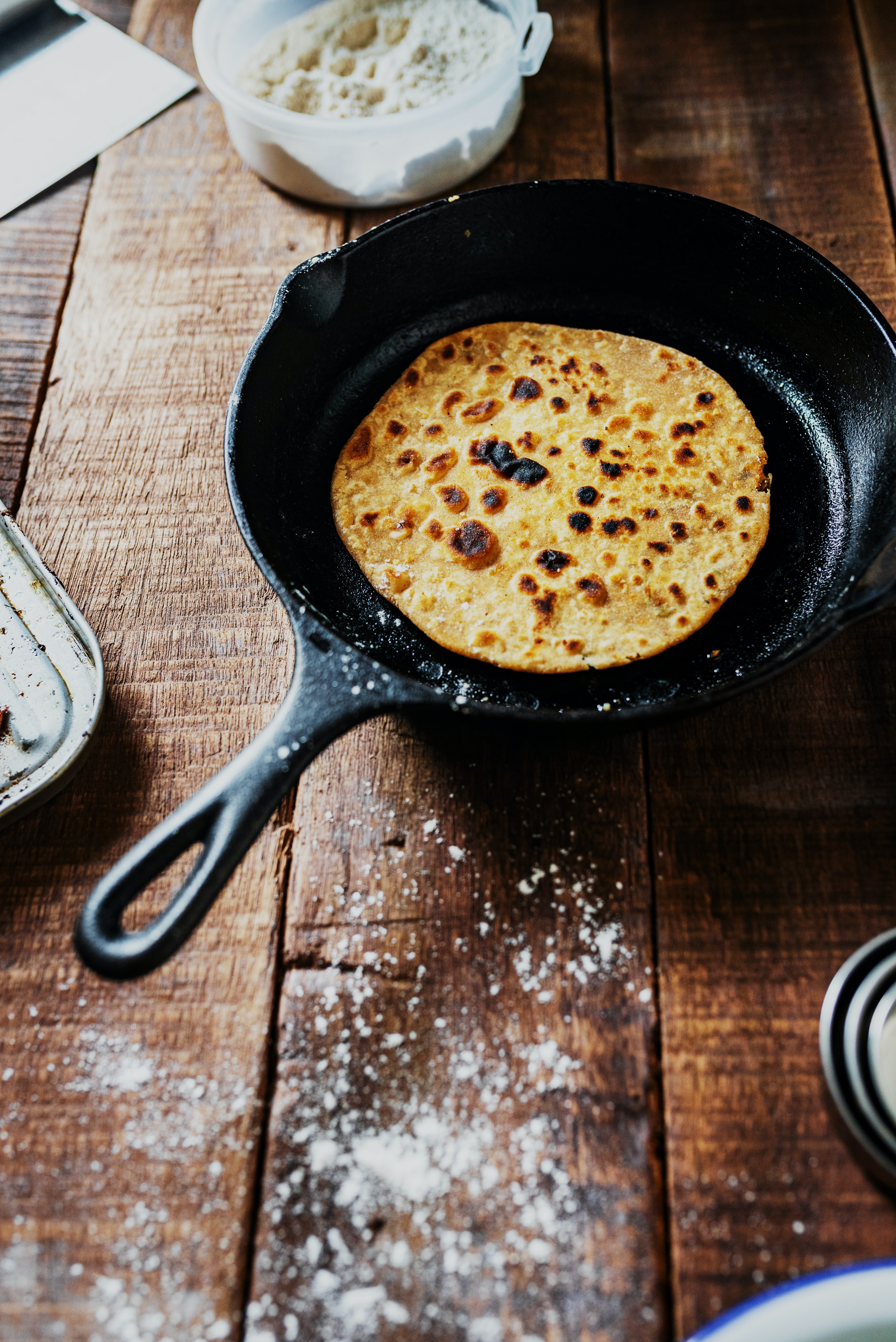 © Photo by Anshu A on Unsplash
Naan bread: Photo by Anshu A on Unsplash 
Last November at the UNFCCC climate summit (COP26) in Glasgow, Indian Prime Minister Narendra Modi publicly announced India's five major commitments to combat climate change to an audience of world leaders.  
India will achieve net-zero emissions by 2070

 

India will bring its non-fossil energy capacity to 500 GW by 2030

 

India will bring its economy's carbon intensity down to 45 percent by 2030

 

India will fulfill 50 percent of its energy requirement through renewable energy by 2030, and

 

India will reduce 1 billion tonnes of carbon emissions from the total projected emissions by 2030.

 
While many celebrated this focus on environmental issues, others raised concerns regarding domestic policy priorities. India is still at the planning stage for environmental action and should consider the consumption and production of edible oils, which have real relevance for both human development and environmental objectives.
Indian policymakers are responsible for ensuring access to health, nutrition and vital public services for their citizens. How can these policymakers, together with the vegetable oil industry, face the challenge of balancing human development and environmental commitments?
Environmental challenges associated with palm and soy
Palm oil and soybean have been identified as the major drivers of deforestation, ecosystem loss, and environmental degradation in Southeast Asia and South America, respectively. According to a recent WWF report, between 1990 and 2010, oil palm expansion contributed to a forest cover loss of around 3.5 million hectares in Indonesia, Malaysia, and Papua New Guinea. The large-scale devastation of the world's most biodiverse forests jeopardizes their crucial function as carbon sinks, and their potential to help fulfil world leaders' low-carbon ambitions.
There is no denying that palm and soy oilseed crops are very productive and remunerative for farmers in developing contexts. Three billion people across developing contexts including India, sub-Saharan Africa, and Southeast Asia consume palm oil. However, the production of palm and soy has led to well-documented environmental and social challenges, including links to deforestation, labor rights, and damage to nature and the environment. 
Many farmers have employed slash-and-burn methods to clear land palm oil plantations, which leads to forest fires and frequent haze pollution. In 2015, nearly 500,000 people in Indonesia suffered from respiratory ailments due to forest fires that wreaked havoc on the region's economy. Furthermore, oil palm is incredibly water-intensive and can put an excess burden on groundwater.  
The global demand for soybean oil has also expanded rapidly in recent decades. This expansion is taking place, predominantly, in South America (Brazil and Argentina) and it is increasing the pressure on forests as farmers clear land in new agriculture frontiers, such as the MATOPIBA region, located in the Brazilian Cerrado biome and in the Gran Chaco biome in Argentina. 
In recent decades, these two vegetable oils have grown to dominate the global production mix and the consumption of edible oils by volume.  
India's agency and responsibility
India is a central player in this debate as the world's largest importer of vegetable oils (around 15 million tonnes every year). Palm oil, which is primarily imported from Indonesia and Malaysia, accounts for 60% of this. The rest is mostly made up of soybean oil and sunflower oil, mainly sourced from Argentina and Brazil. The Covid-induced economic slowdown hit India's import of vegetable oils, but the demand is expected to revive to pre-Covid levels.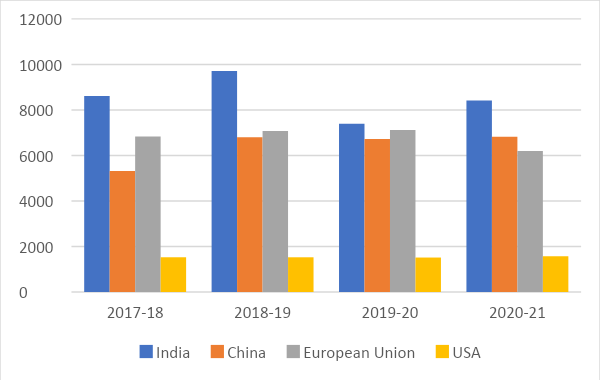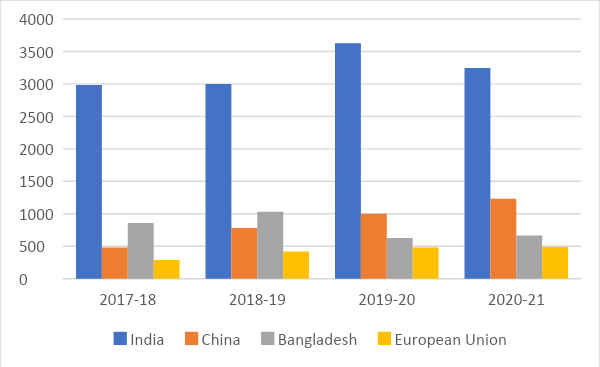 © United States Department of Agriculture 
Figure 2: Soybean Oil Imports of the World's Major Importers of Soybean Oil (in Thousand Metric Tons) / Source: United States Department of Agriculture 
Analysis by Chain Reaction Research found that more than 50% of India's crude palm oil imports were not covered by 'No Deforestation, No Peat, No Exploitation' (NDPE) policies, making India a massive market for unsustainable palm oil imports. WWF's recently released 2021 Palm Oil Buyers Scorecard assessed 227 major palm oil purchasing companies to evaluate their contribution and commitment to supporting ethical and environmentally responsible supply chains. Only one of the five companies headquartered in India that the study identified actually had a score. This points to the lack of disclosure about purchases by companies in India.  
Some environmental campaigners advocate for banning or replacing palm oil. Others argue that oil palm provides significantly higher yield per hectare compared to any other oilseed; and any shift to alternatives could require more land to meet the global demand, leading to further deforestation. On the other hand, oil palm grows best under the same conditions as tropical rainforests, which fulfil crucial functions in our ecosystem.  
One of the major reasons for palm oil's popularity is that it remains cheap. It cannot be ignored that many farmers in developing contexts depend on the palm oil industry, and palm oil remains a viable and sometimes the only option for cooking for millions of people in India. Discussions on vegetable oils must consider not just the impact on the environment but also the implications on trade relations, food security and farmers' incomes.  
Steps towards more sustainable edible oils 
The first step in ensuring sustainable supply chains would be to improve transparency across the value chain. But since many Indian consumers buy unbranded, loose palm oil, traceability and transparency are not easy. Companies could help by disclosing information so that they can be evaluated on how they are contributing to sustainability in the edible oils industry.  
There is some traction on this being made by voluntary certifications like Roundtable on Sustainable Palm Oil (RSPO) and Roundtable on Responsible Soy (RTRS), which have developed a set of criteria that companies have to comply with in order to produce Sustainable Palm Oil and to promote more responsible production and sourcing of soy. However, the uptake of Indian stakeholders has so far been limited.  
Additionally, the progress of the suppliers towards their sustainable edible oil commitments needs to be monitored on a regular basis, and trade relations should be maintained with those meeting minimum import standards. The Government of India could also use trade distortion policies such as import tariffs to encourage suppliers to get certified.  
There has also been a push towards producing palm oil domestically in recent years. Through the National Mission on Edible Oils-Oil Palm, the Centre aims to bring an additional 6.7 lakh hectares of land under oil palm by 2025-26. Therefore, India needs to prioritize the policies for sustainable palm and soy before it starts experiencing the environmental costs of the edible oil industry closer to home.  
IDH's work to make palm and soy more sustainable
IDH – the Sustainable Trade Initiative's Palm Oil program supports the production of traceable and sustainable palm oil through partnerships with local and international companies and governments in Indonesia, Malaysia, Nigeria and Colombia and by working on the market demand side in Europe and India.  
IDH's soy market program aims to increase market uptake of sustainable soy in Europe and other large domestic markets and connect soy producing landscapes, in critical areas, directly to market players to deliver on sustainability/deforestation pledges. This is achieved by working with parties throughout the downstream supply chain, including the European Feed sector (90% of soy imports) – feed associations, European National Soy Initiatives, retailers and manufacturers and traders. 
In India, IDH will continue to engage and convene key stakeholders from policy and the edible oils sector to build discussions around what is required and feasible as a next action in creating a roadmap for responsible sourcing. At this stage, a Minimum Import Standard strategy in India is also being thought through, which will build on aspects of legal compliance and serve as a starting point to address global deforestation issues.  
In 2022, IDH will continue to work in parallel and to further strengthen the work being developed by the Government of India and other CSO partners to work with farmer communities while linking the demand and supply of responsibly sourced edible oils in India and building engagements on palm oil and soy. 
With Neha Chauhan

, 

a Research Associate at the Social and Political Research Foundation.

 

With contributions by Babasola Olajide and Guilherme do Couto Justo

 
A version of this article was first published in India Ahead.