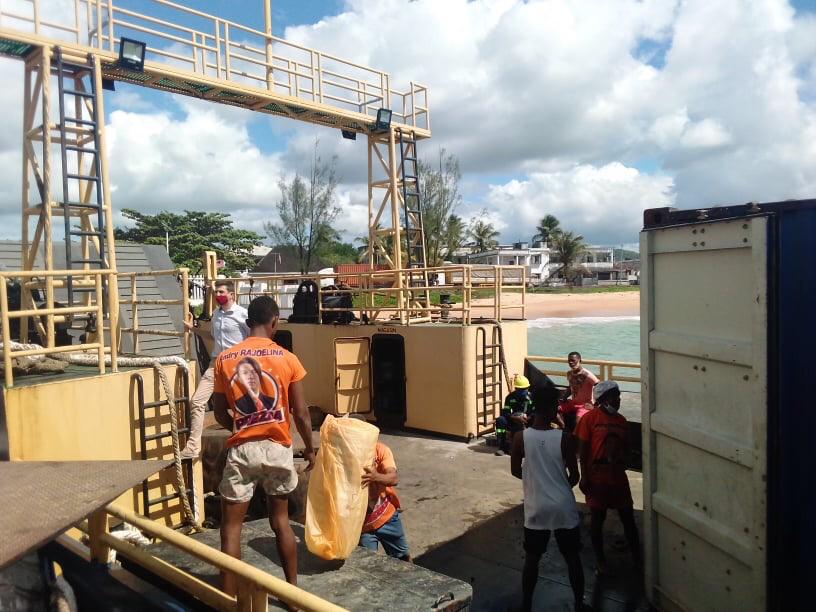 A container carrying COVID-19 protective equipment arrived last week at the port of Antalaha, in the heart of Madagascar's vanilla region. The equipment, destined for over 800 newly opened green vanilla markets across the region, will help protect farmers and buyers from exposure to the coronavirus.
The shipment contains hundreds of hand-washing stations and tens of thousands of protective face masks.
Working with Malagasy authorities, the vanilla sector has united to support the people of Madagascar in their fight against COVID19. The primary vanilla exporters group, GEVM, and the international companies comprising the Sustainable Vanilla Initiative have collaborated with government bodies and international government-funded organizations, IDH and GIZ, to contribute funds and coordinate the logistics necessary to obtain and distribute these life-saving materials.
Vanilla sector leaders hope this effort will meaningfully contribute to Malagasy government actions to restrict the spread of the virus. The goal is to help make green vanilla markets safer to attend, thus minimizing the threat of disruption to these markets – which are the primary source of income for up to 80,000 vanilla farming families in the SAVA region.
Special thanks for the support efforts from Nielsen-Massey, Symrise, Unilever, McCormick, Touton, Virginia Dare, Sopral, Promabio SARL, PRCP, Mihavana Project, GEVM, International Labour Organization, IDH, The Sustainable Trade Initiative, GIZ, and the Sustainable Food Lab