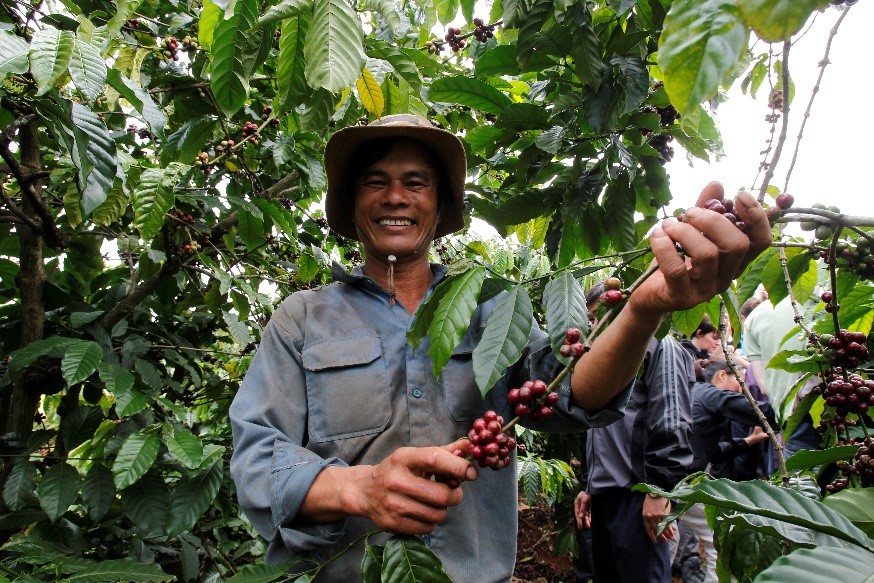 © Agri-Logic
Coffee farmers in Vietnam, the second biggest producer of coffee in the world, can reduce their carbon footprint by diversifying production, according to research from the Initiative for Sustainable Landscapes (ISLA) program by IDH, compiled by Agri-Logic and based on the work by coffee traders JDE Coffee, Lavazza, Olam and Acom.
Source or sink? The carbon footprint of Vietnam robusta coffee used daily farming records from 300 robusta coffee farms in the Dak Lak and Lam Dong provinces of the Central Highlands of Vietnam over two years to analyze the carbon footprint of robusta production.
It found that the level of diversification was influencing the carbon footprint. Highly diversified farmers growing non-coffee trees on their farm have higher carbon emissions, but their higher rate of carbon sequestration more than offsets this. Consequently, 70% of such farms can act as carbon sinks, while maintaining high levels of coffee production.
Monocrop coffee farms are net sources of carbon, releasing 0.37 metric tons of CO2 per metric ton of coffee produced.
While the period on which this data analysis is based covers only two years, we can draw a tentative conclusion that diversification of monocrop coffee farms in Vietnam's Central Highlands is a viable strategy to transform the coffee sector's contribution to climate change from being a carbon source to a carbon sink.
Apart from the effect of diversification, we found that CO2 emission can also be reduced by optimizing fertilizer management, in particular through reducing the amount of Nitrogen applied through fertilizers into the soil.
Press release: Diversified farming holds key to climate-smart coffee