The Central Highlands of Vietnam is home to 95% of all coffee production in Vietnam, making the Central Highlands the second-largest coffee producer and exporter in the world. Over time, the Central Highlands began to be a victim of its own success. As production grew, pressure on natural resources also increased: leading to a diminishing water supply, deforestation and land degradation.
Landscape approaches in Vietnam's Central Highlands
In 2013, IDH – The Sustainable Trade Initiative offered its support to deal with the challenges of sustainable agricultural production. At the start of the program, the partnership worked with a small number of farms on certification. Thousands of farmers achieved sustainability certification for their farms and coffee products.
After three years, it became clear that coffee is not the only commodity affecting the communities and environment, but pepper, too. The Central Highlands needed an integrated solution for irrigation, management of inputs and buffer zones.
The solution? A mini-landscape. It started with 70 hectares in Ea Tan commune of Dak Lak Province. A cluster of 56 households worked together to rehabilitate community lakes, test new irrigation techniques and set up agroforestry systems.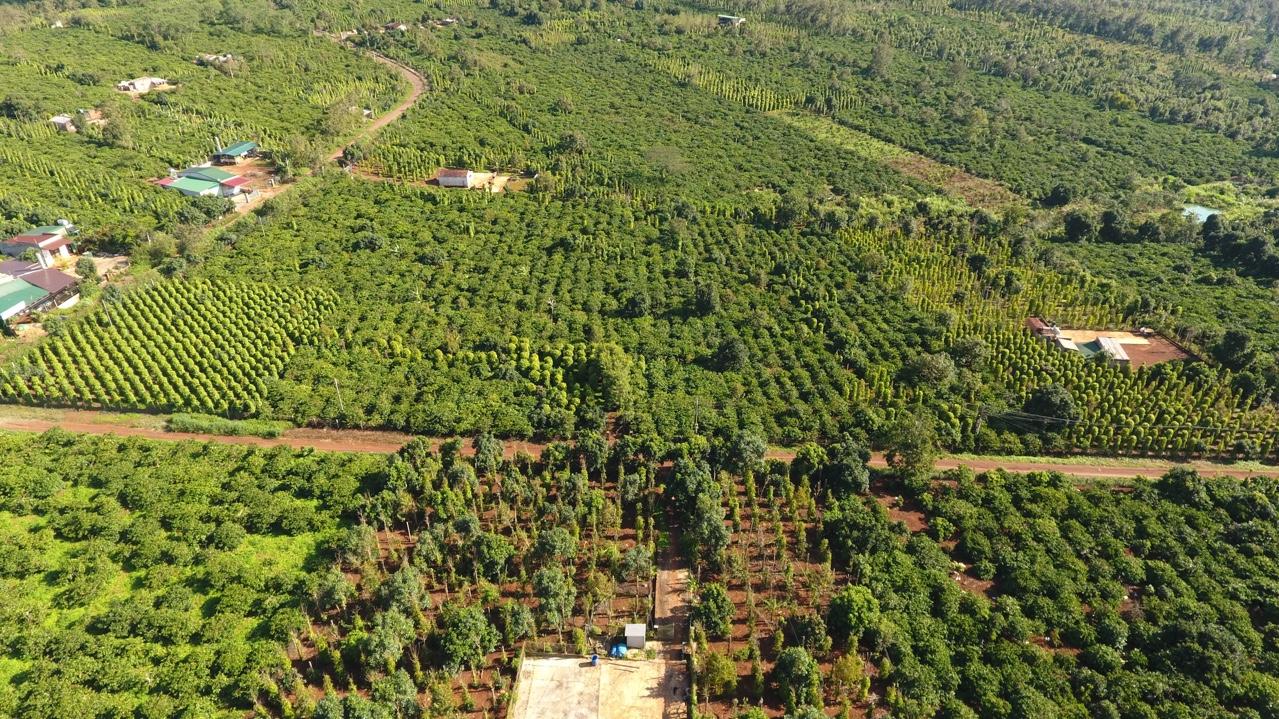 The program was scaled up from commune to commune, then from district to district, then from province to province, with:
field training

economical watering models

agroforestry

soil analysis

recommendations for appropriate and safe use of fertilizers and chemicals
In 2019, three Compacts were established in Krong Nang district (Dak Lak province), Lac Duong and Di Linh district (Lam Dong province).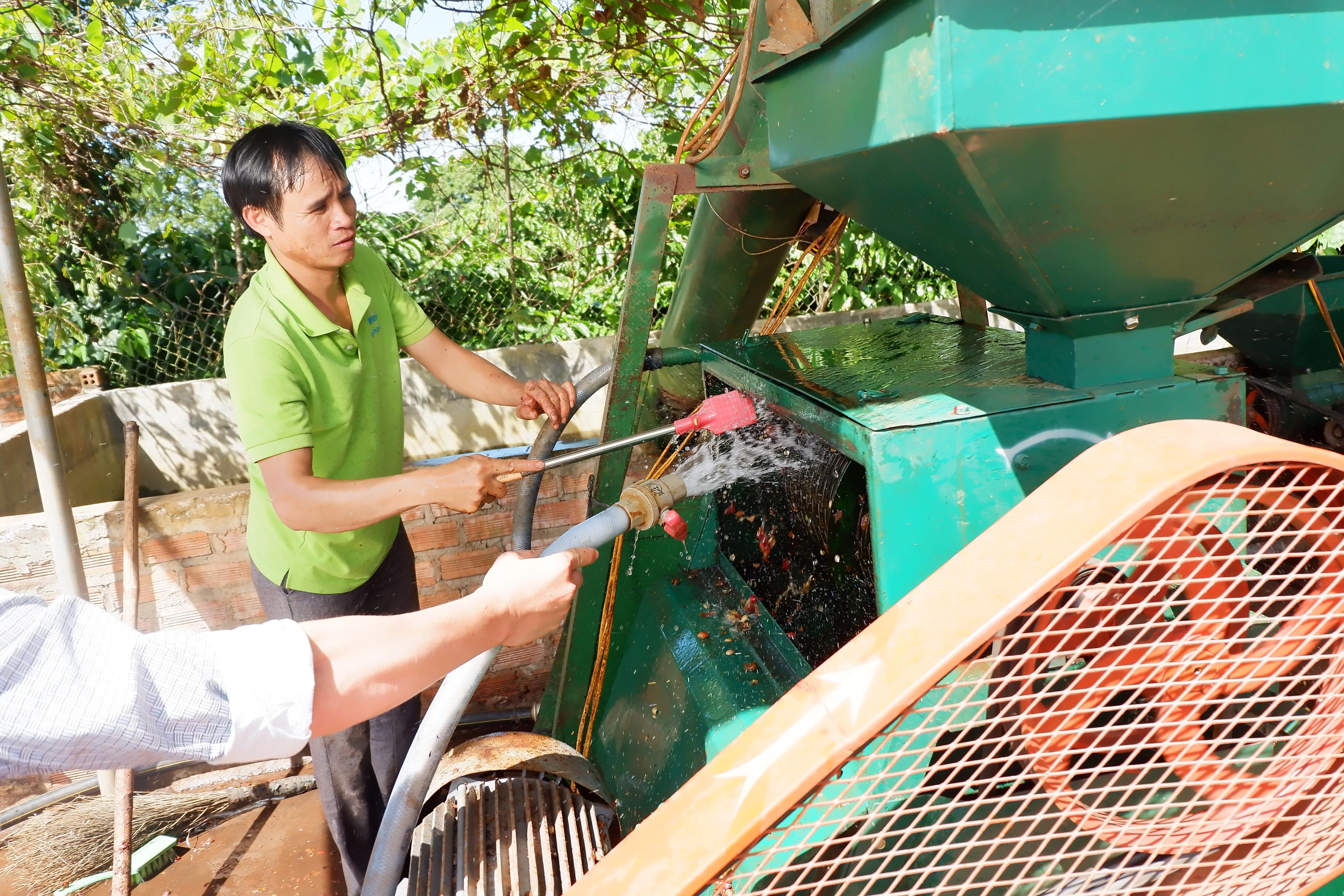 Results of the Central Highlands landscape program to date
Real change is visible today in the Central Highlands.
15% in 2015 to 96% in 2020
increase in intercropping in the program area by farmers
20% less water
14% of reduced chemical fertilizer use
zero use of banned pesticides.
in the production of coffee from the selected area according to AgriLogic. 
20% higher income
for farmers in the area, compared with farmers outside the area covering more than 10,000 ha of coffee and intercrop production.
A study found that intercropping and reducing fertilizer had resulted in lower greenhouse gas emissions from coffee farms in the area.
Central Highlands linking to international buyers through SourceUp
Jacobs Douwe Egberts (JDE) has become the first company to use new supply chain sustainability solution SourceUp to make a coffee sourcing commitment. The participation of local authorities, companies, partner organizations, and financial support from UNDP and the VNSAT program of the World Bank, were key to the success of the landscape program.
The partnership is working to become a Verified Sourcing Area. A Verified Sourcing Area is a local partnership in a commodity-producing area, that makes its sustainability metrics transparent through an international platform called SourceUp. By undergoing assessment by a SourceUp panel, the Central Highlands hopes to gain international acclaim for its sustainable production systems.
Visit our Central Highlands compacts on SourceUp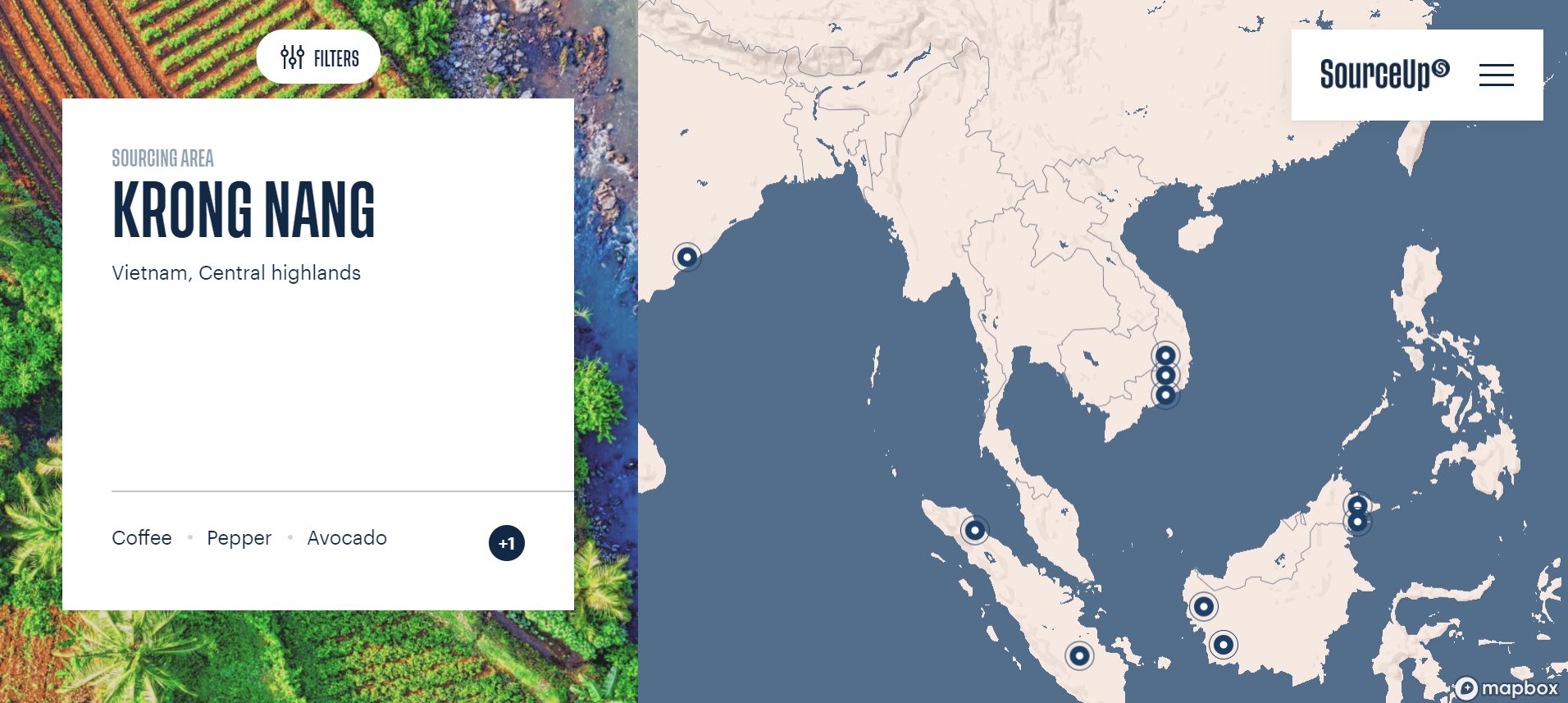 Vietnam is the world's second largest coffee exporter after Brazil, and 95% of its coffee is produced in the Central Highlands region. This region is also vital for global and regional production of other important crops such as pepper, tea, fruits and vegetables, flowers, rubber and cashew.
Rapid growth in agricultural output in past decades, due to favorable economic policies, has led to improvements in income and livelihoods for large portions of the population. However, the future of agricultural production and its access to export markets is threatened by (i) extreme climate events (in particular recurring droughts, irregular rain) and (ii) degradation of soil and water caused by toxic loading of pesticide, improper use of fertilizer and unsustainable cultivation practices.
Another threat is the high-level farmers' resilience against price volatility of main crops, such as pepper and coffee, which has resulted the negative impacts on farmers' income in long term.
With a focus on convening, co-funding, and sharing lessons learnt from pilots in agroforestry, irrigation, and agrochemical management, the contribution of IDH in sustainable landscape development is recognized by investors and sector associations, such as the World Bank via the VnSAT program, UNREDD, and GIZ. At local level, in 2018, beside the development of Green Growth Action Plan for Lam Dong province, groundwork to introduce and convene local authorities, private sector driving and financing applications of models at scale across jurisdiction via PPI compacts was carried out. In December 2018, Lac Duong district became the first pilot of PPI concept in Vietnam, while 2 more PPI Compacts are going to be established in 2019.
At field level, companies, such as SIMEXCO, LDC and ACOM, show interest in IDH's work on service delivery models, such as soil tests and fertilizer recommendations, pesticide spraying teams, and bulk purchase for quality input material. One Service Delivery Model (SDM) was initiated in 2018 and the business case for investing in the large-scale provision of these services will be advised to stakeholders.
Lam Dong Province is one of our focus areas where we aim to link agricultural productivity to safeguarding the province's natural resources. In close collaboration with the private sector operating in the area, the provincial and national governments, knowledge partners and NGOs, IDH is supporting the provincial government to develop a Green Growth Plan based on strategies to increase the production of agricultural commodities while restoring and/or conserving water resources and forests.  This Plan will be supported by a land use plan, detailing how the various strategies spatially reinforce one another.
IDH convenes private sector companies and government organizations in the provincial Landscape Steering Committee in Lam Dong. One of the key outcomes of the work of the Steering Committee is a (draft) long-term vision for sustainable agriculture and natural resource management in 2025, with medium-term targets for 2020. This was the basis for the Green Growth Plan that was developed in 2018.
Related to the Steering Committee are two technical working groups on water and (agro)forestry, with participation of knowledge institutions, technical government and company staff. These discuss the design, (intermediate) results, and recommendations of the different pilot projects of the landscape program and beyond.
These activities will be scaled by replication to other provinces.
Governance
Through the Steering Committee and Water Working Group, IDH is convening stakeholders to identify the biggest risks, pilot solutions, and develop conditions for scaling these up – including an enabling policy- and regulatory framework.
On the latter element, we are supporting the Government of Vietnam in implementing elements in its (draft) irrigation law, including irrigation water pricing and PPP investment in irrigation infrastructure and services.
Field-level projects
Piloting options to adapt farms to droughts and to ensure water is used responsibly (both in Lam Dong and Dak Lak provinces):
Water harvesting in sloping areas, among others by the development of ponds and reservoirs as a cascade system managed by communities
Efficient irrigation systems, such as drip and sprinkler irrigation. The systems are not new, but their application at small scale coffee farms is not widespread. The pilots will hence also look at the financial and technical feasibility of the application of these systems on small coffee farms.
Installing water flow meters to make farmers more aware about the amount of water they use for irrigation and to make more accurate recommendations to the farmer about water use
Water pricing, will be piloted with an agricultural cooperative producing vegetables.
Piloting adaptation options in the area of forestry/agroforestry which are closely related to the water issues:
Integrate drought-tolerant and economically useful tree species within existing coffee farms, to provide shade for the coffee crop, improve micro-climate conditions; provide additional income for farmers.
The coordination of different water & (agro)forestry adaptation measures at a landscape level. We do this by developing a detailed land-use plan in a district and commune where coffee is produced.
The (intermediate) results from our pilot projects feed back into the governance work.
Governance
Convening via Agrochemicals Task Force
IDH assigned Fresh Studio to conduct an issue and baseline analysis of agrochemical use across different crops in Lam Dong, which serves as a basis for planning further field-level and governance interventions.
Field-level projects
First pilot in Ea Tan Cooperatives, mini landscape concept, which requires the cooperation and collaboration between all stakeholders (farmers, local government and local communities) during decision making process, has shown visible impact on creation of sustainable commodity production and natural resource conservation. The approach has been adopted by public and private sectors and through public-private investment, the mini-landscape approach will be scaled-up from the 70 ha achieved in 2018 to a minimum of 400 ha in 2019 and 600 ha in 2020 in 3 PPI compacts. 
For more information contact us