The Race to the Top program, one of the IDH programs in the apparel sector, makes good progress. Cooperation grows, and participating facilities show promising results.
At a recent meeting of public and private partners in Hanoi, the addition of three new agreements deepened cooperation within Race to the Top (IDH initiative that aims to reshape Vietnam's apparel and footwear sector).
A new cooperation with The Ministry of Natural Resources and the Environment paves the way to help inform policy and legislation that will improve the localized application of chemical management (ZDHC) metrics in Vietnam, increasing local aptitude. The agreement with VITAS, the Vietnam Textile and Apparel Association will build the localization of capacity building projects, and collaboration with LEFASO, the Leather and Footwear Association expands local guidance for sustainability monitoring and spreads the adoption of best practices such as the Higg Index and ZDHC metrics in the wider Vietnamese footwear industry.
The Public-Private partnership meeting in December 2017 in Hanoi.
Progress
Production facilities that participated in the first phases of projects on environmental and social sustainability met milestones over the past month. At the same meeting of the public-private platform in Hanoi, the results from a new set of factories participating in the social sustainability program on Productivity & Worker Engagement were presented.
Implementing a well-functioning improvement circle and optimizing worker engagement and processes have enabled these facilities to reduce their rework rates. For example, in one factory now only one in twenty pairs of shoes has to be returned to the production line for improvement, compared to three pairs before program implementation. According to Sibbe Krol, Program Manager, Apparel at IDH: "This reduction in rework increases efficiency, productivity, and profitability, which through conversations in the improvement circle, can be turned into a benefit for all."
More progress in the Race to the Top program was reported by the first three mills involved in environmental improvement projects. These mills graduated from the program at the peer-to-peer-learning event in Ho Chi Minh City on November 30th. After successfully investing in their operations, these factories were able to save nearly 60 Olympic swimming pools worth of water (147 thousand m3) and reduce their CO2 emissions by 3,302 ton annually by reforming their fossil fuel and electricity use.
Beyond marking this progress, the meeting created space for local industry, environmental savings experts, international buyers, innovative technology providers, and financial institutions to scout out investment and project potential, and presented an opportunity for participating mills and laundries to discuss opportunities, lessons learned, and solutions to potential bottlenecks in sustainability improvements.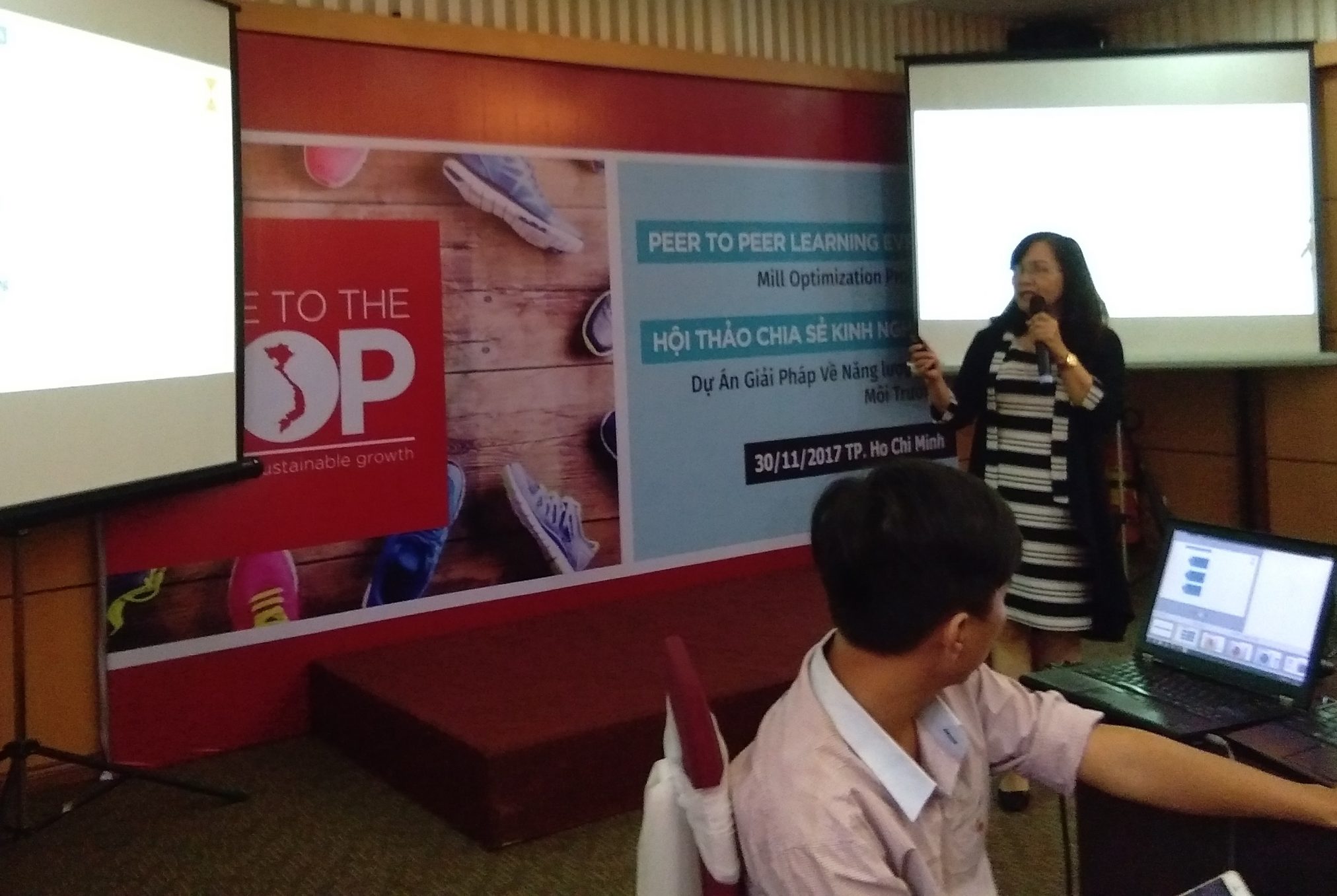 The peer to peer learning event in November 2017 in Ho Chi Minh city.