There are approximately 25 million coffee farmers globally and around 80% of them work on small plots to make a living with coffee as their main source of income. Despite differences in farm sizes and productivity rates, most smallholder coffee farmers do not earn a living income from their land. However, they are reliant on coffee for most of their income, therefore the value retained at farm level for coffee production is a crucial element to enable farmers to reach a living income.
Living income is defined as "the net annual income required for a household in a particular place to afford a decent standard of living for all members of that household."
Figure 1: breakdown of a living income (Living Income Community of Practice)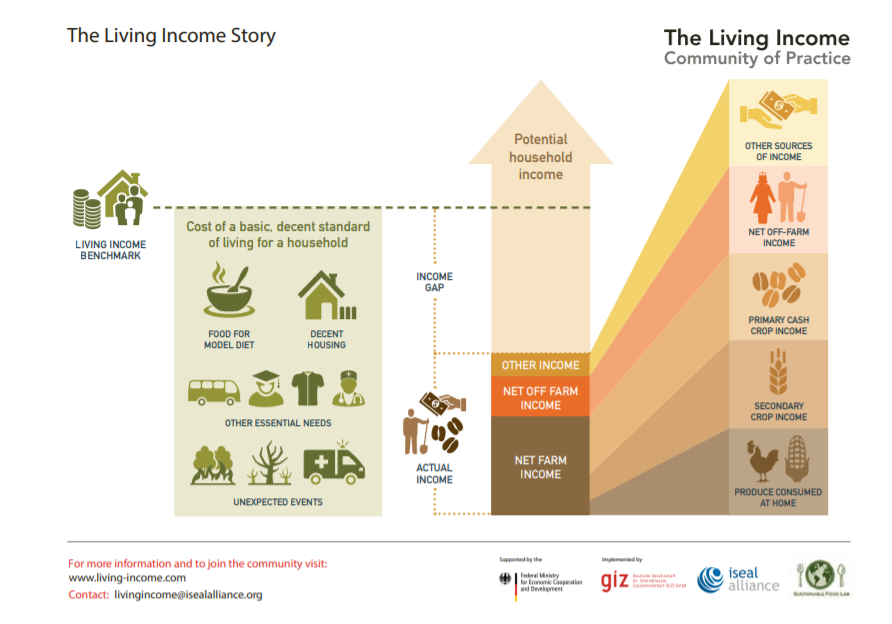 Several factors influence farmers' ability to earn a living income; farm diversification, coffee prices, productivity rates, services available at farm level, sourcing structures and practices by downstream actors such as traders, exporters and roasters (More on this can be found in the Taskforce for Coffee Living Incomes' recent report).
Despite many sustainability initiatives' emphasis on direct trade between farmers and exporters or farmer groups and exporters, the reality is that often coffee flows through various intermediaries, or "middlemen," who buy and sell coffee between the farmer and exporter (see figure 3).
Figure 2: The position of middlemen in the supply chain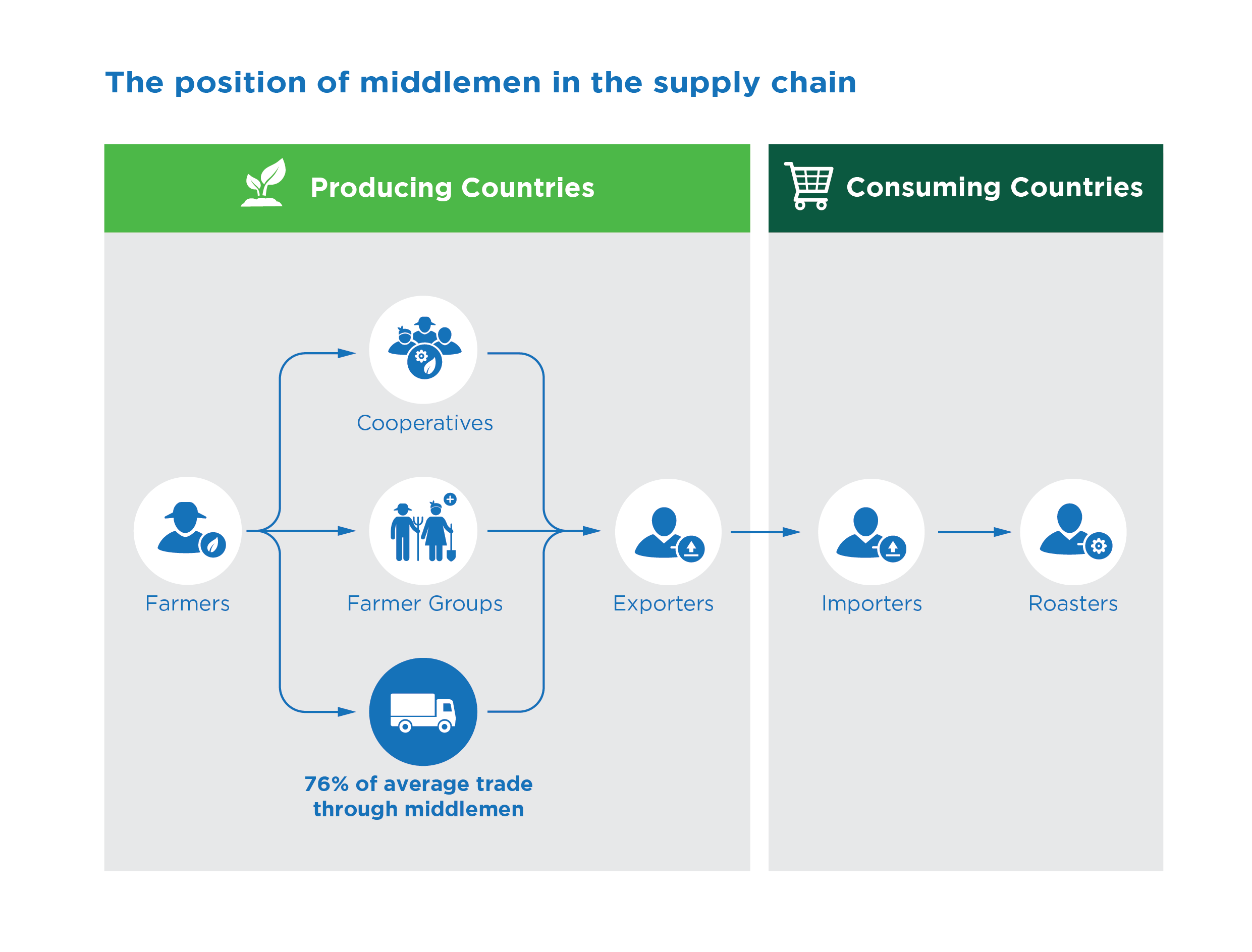 To date, there are many stereotypes around middlemen – often referred to as "coyotes" in Latin America – yet they represent a 'black box' in the coffee supply chain. However, middlemen could be a means to deliver affordable services to smallholders, understanding their value proposition to farmers can create awareness of valuable farmer-facing services that we are currently unaware of and a better understanding of their margins could help close the living income gap.
Figure 3: Middlemen are the primary buyer for smallholder coffee farmers in the four countries in the analysis of middlemen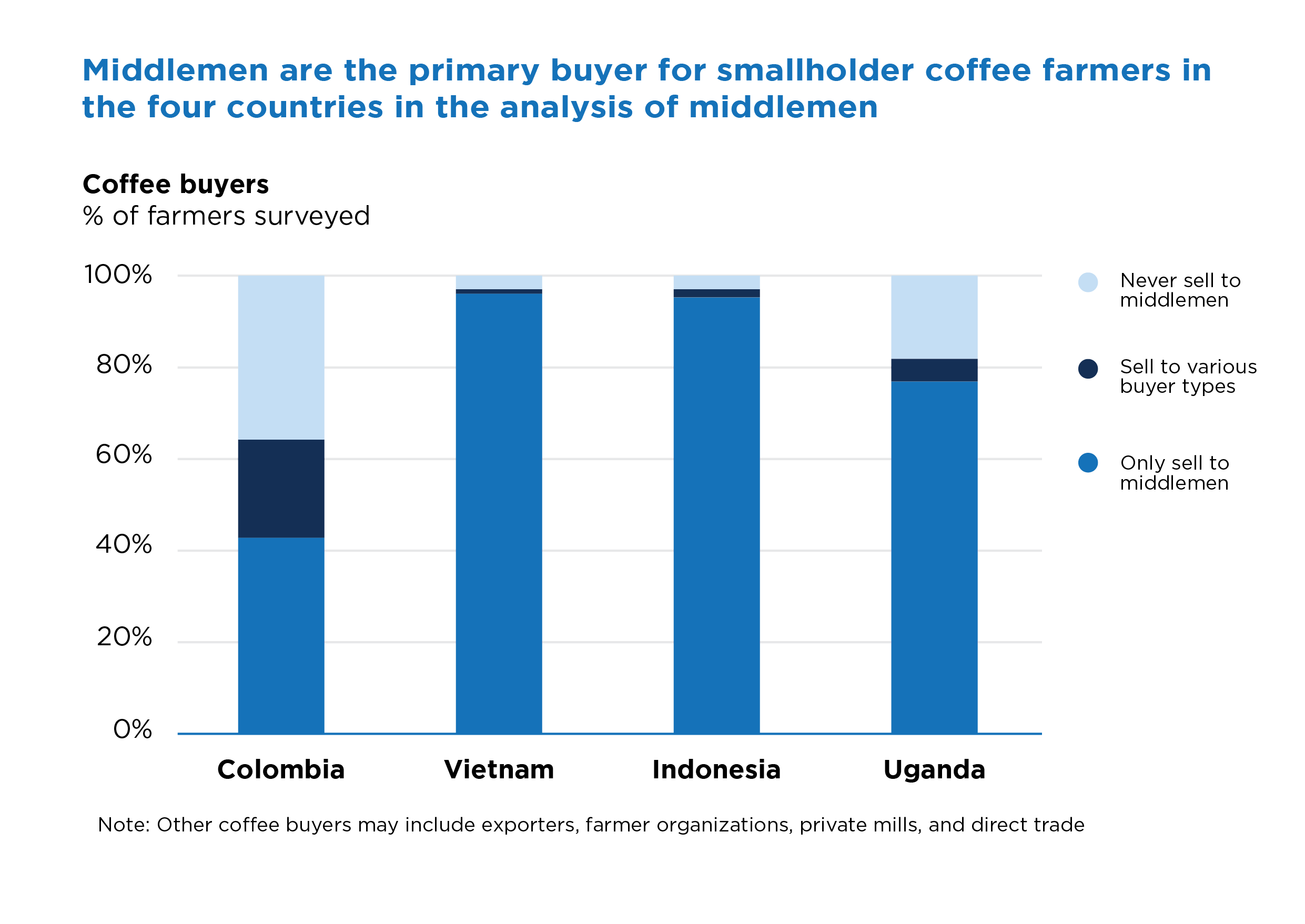 In this context, IDH commissioned Enveritas to complete a study on the role of middlemen in coffee trade in four origins: Colombia, Uganda, Vietnam and Indonesia. The key cross-origin learnings about middlemen are:
There are multiple layers of middlemen within the supply chains that buy from farmers and sell to other middlemen or to exporters
The number of middlemen in country differs significantly: from 10.000 middlemen in Uganda to 500 in Colombia, handling from almost all Robusta in Uganda and Vietnam and Arabica in Indonesia to around 50% of the Arabica in Colombia
Most middlemen are male, but large differences exist between countries. In Uganda 99% of middlemen are male, while in Vietnam 50% of middlemen are female
The volumes traded by middlemen vary a lot between countries, the largest middlemen in Vietnam trade more than 10,000 tons per year, while a large trader in Uganda trades around 150tons per year. Indonesia and Colombia are somewhere in between
Most middlemen work on small margins
Beyond coffee buying and selling, many middlemen offer additional servies such as transportation, input provision and loans.
One important farmer-focused insight is that farmers who trade via middlemen, generally have lower access to services compared to farmers who have direct sourcing relations with exporters. This shows a window of opportunity to optimize service delivery via middlemen in order to reach a larger share of farmers.
To leverage this opportunity, IDH suggests multiple interventions that support middlemen to professionalize, diversify their service offering and move towards more transparent and traceable trade practices. This would benefit farmers by giving them access to services currently unavailable, enabling them to improve farm productivity and/or quality and retain a higher proportion of the value of their coffee production. These benefits will enable farmers to close the living income gap.
IDH Farmfit provides support to value chain partners, to evaluate and suggest new services to offtake models that bring value to both off-takers and farmers. This includes insights into how to integrate middlemen into efficient service models. Get in touch with Farmfit to learn more about how to professionalize service delivery via the channels most coffee farmers use to sell their coffee.
Figure 4: Recommendations to improve and expand the services offered by middlemen in each market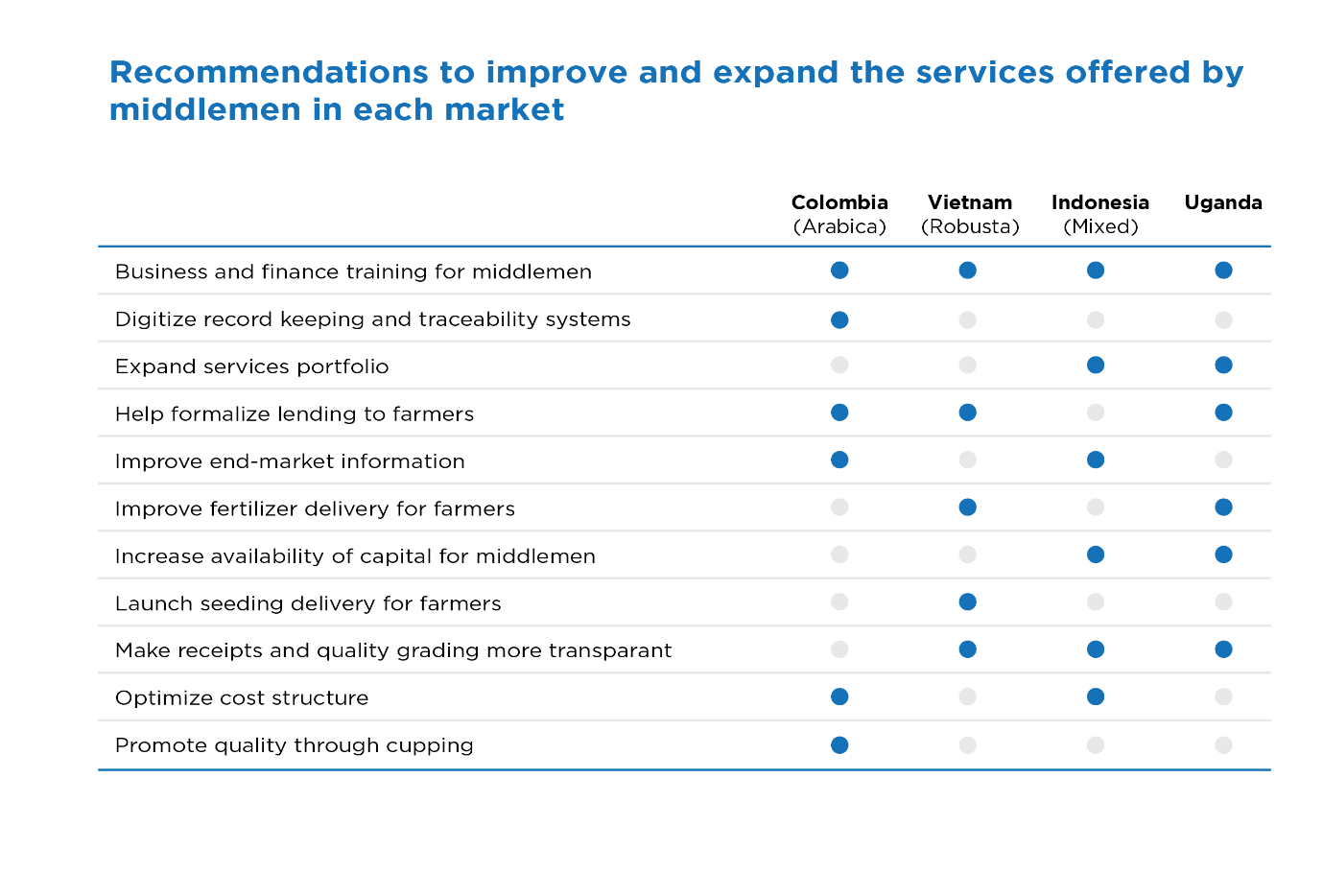 To help farmers reach a living income outside of direct sourcing relationships, IDH calls on roasters and traders to co-develop interventions that include middlemen and take a holistic approach to supply chain sustainability in coffee to the benefit of all actors in the chain.
The summary of the case study on middlemen is available here, for country specific information: Colombia, Indonesia, Uganda, Vietnam. If you're interested in working with IDH on a holistic supply chain approach that leverages middlemen, please reach out to
Senior Innovation Manager – Smallholder Sourcing & Services

Passionate about and experienced in working with smallholder farmers in rural and peri-urban environments as suppliers, partners and consumers/users.

Senior Program Manager, Coffee