Providing access to finance to smallholders remains a challenge. Listen to the recording of our webinar and find out how organizations solve this in the field!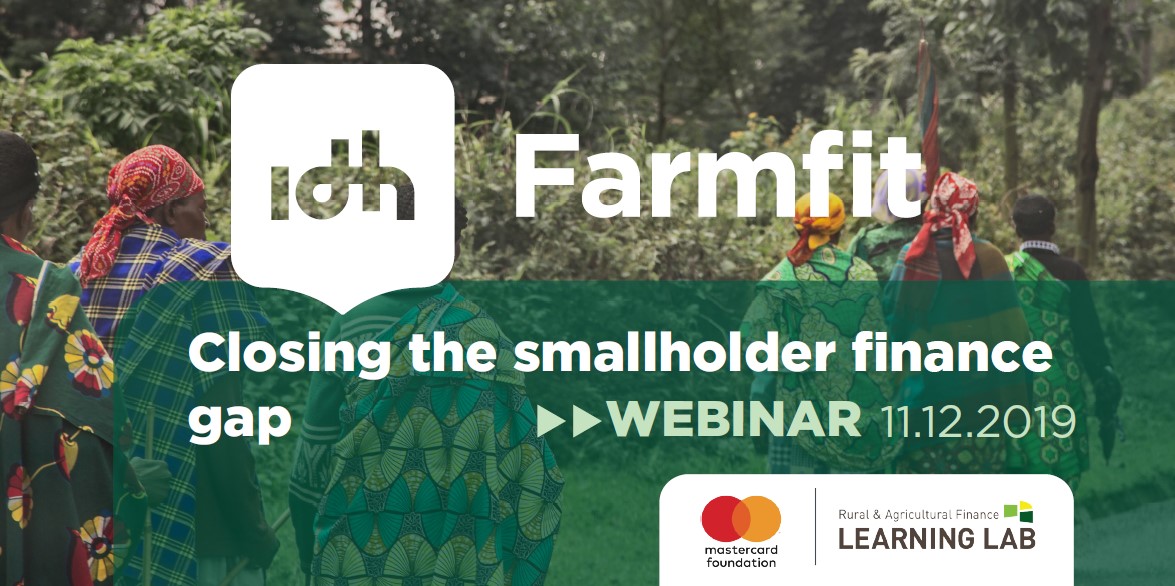 The smallholder finance gap
Smallholder farming households in sub-Saharan Africa, South and Southeast Asia and Latin America collectively require more than USD 240 billion in agriculture finance to optimize their farm operations. The last five years have seen an unmistakable acceleration in the number of providers engaging smallholder farmers through new products and service delivery models. From formal financial institutions to FinTechs and agribusinesses, private sector actors are shifting their perception of smallholders and the investment opportunity they present. Yet despite this progress, over USD 170 billion of this demand for smallholder agricultural finance goes unmet. The higher cost and risk of serving smallholder farmers means many providers often pursue higher return opportunities and continue to be reluctant to serve the world's poorest farmers.
IDH Farmfit ("Farmfit") and Mastercard Foundation Rural and Agricultural Finance Learning Lab ("The Learning Lab") have joined forces to change this. Farmfit supports the development of viable business models delivering finance and other services to farmers. Through tailored business support and affordable and appropriately structured financial support, Farmfit helps providers identify and realize opportunities for innovation and scale-up. The Learning Lab, a thought leader in rural and agricultural finance, works closely with Farmfit to provide business support to financial service providers operating in sub-Saharan Africa.
Three organizations sharing key insights
IDH and The Learning Lab invited three very different organizations we have worked with – ECOM, Syngenta and Tulaa – to share key insights on (1) how and why they are engaging with smallholders today, (2) what challenges have they encountered in this journey and, (3) what financial and impact returns have they seen to date.
For who?
Financial institutions serving or looking to serve smallholder farmers (e.g., commercial banks, microfinance institutions, fin techs)
Agribusinesses serving smallholder farmers and interested on providing financial services (in house or in partnership with financial institutions (e.g., input providers, traders, processors)
Funds, including commercial and impact investors and donors
When?
December 11th 2019, 2-3 pm CET.
Listen to the recording of the webinar here or download the presentation here.
About the sponsors
IDH Farmfit is a private-public initiative that enables investments in smallholder agriculture that were previously perceived too risky and that shares key insights on how to make smallholder value chains more sustainable and scalable. Farmfit supports the development of holistic, viable smallholder business models, known as Service Delivery Models to improve farmer performance and ultimately their profitability and livelihoods.
The Learning Lab is a seven-year initiative of the Mastercard Foundation, jointly implemented by the Global Development Incubator and Dalberg Advisors. The Lab fosters knowledge creation, sharing, and collaboration to improve smallholder and rural financial solutions.