Through establishing a block farm model in Ghana, HPW has significantly increased the yields and incomes of smallholder farmers, in addition to increasing its own supply of pineapples.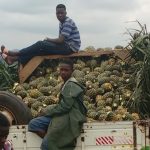 HPW Ghana, a dried fruit processor that exports to the European retail market, sources mango and pineapple from smallholder outgrowers. To improve smallholder farmer livelihoods and secure a high-quality pineapple supply, HPW partnered with IDH to setup a pineapple block farm model.
What is a block farm? A block farm is a plot of land, usually about 10 acres, owned by HPW. This is divided into smaller sub-plots, each of which is then farmed by a smallholder farmer. HPW commits to purchasing pineapple through advance offtake agreements and provides training and pre-financed inputs (including forcing materials, fertilizer and herbicides) and services (for example, land clearing and preparation) to improve farmer productivity within these sub-plots. The block farm model also facilitates the transfer of knowledge and best practices to the smallholders' own farms.
IDH's interest in providing financial support include local job creation, smallholder inclusion and the transfer of technical know-how to local farmers, the project's commercial value within HPW's export-oriented value chain, and HPW's role as a direct buyer, providing smallholder block farmers with a competitive price through advance offtake agreements.
225 block farmers were engaged through this project across a total 288 acres. Compared against a smallholder outgrower control group, farmer yields per acre were 100% higher (3.85 MT/acre, compared against 1.92 MT/acre), leading to profit generation that is EUR 699 higher per acre, 23% higher relative to the control. For HPW, the benefits of this self-sustaining model include lower labour costs relative to their own farm, and an increased and steady supply of pineapple: sourcing volumes that are 16% higher than before.
In addition to the increased yield and profit generation, 60% of the block farmers claim to have learnt better practices (particularly planting techniques), and the block farmers have much improved access to farmer support services. The project has also strengthened the relationship between HPW and the block farmers: much of these improvements and learnings are credited directly to HPW's training and financial support.
From HPW: "The support received from IDH was critical to kick-start the block farm project. The funding provided by IDH has led to increased incomes and new learnings for farmers on the black farm as well as facilitated the increased supply of quality pineapples to our factory. We will continue to provide support to pineapple growers until economic benefits have compounded and less support is required to produce efficiently and sustainably".
Click here for more information on the block farm project with HPW