More than 30,000 independent oil palm smallholders in Tanjung Jabung Barat (Tanjabbar) District, Jambi province, Indonesia are now enjoying a more hassle-free process for obtaining their oil palm cultivation licenses – thanks to collaboration between IDH and the Jambi government. These licenses will help ensure economic development and forest protection in the district go hand-in-hand.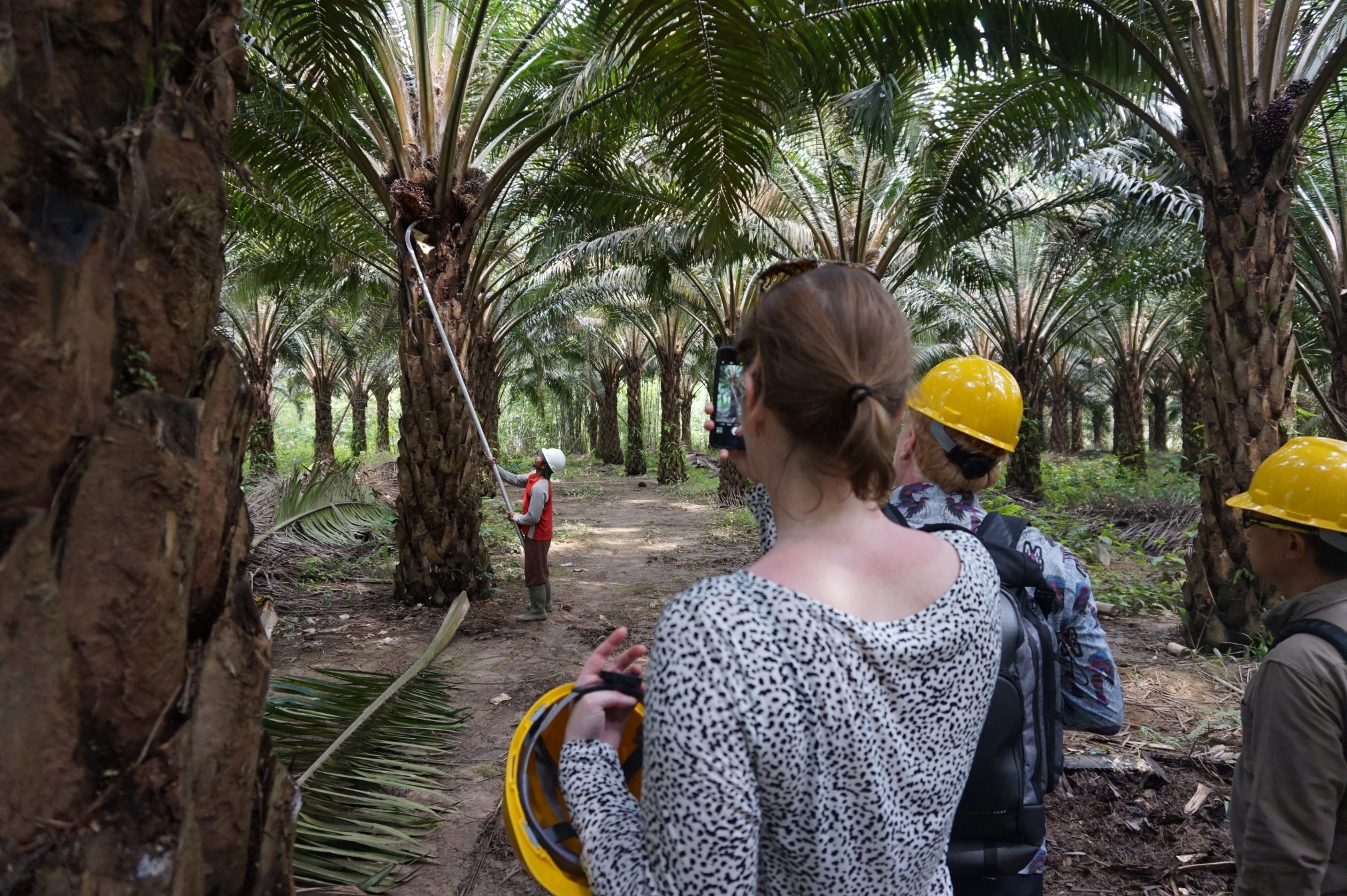 In April 2018, the Government of Jambi launched a public service at sub-district level to help smallholders farming all types of crops to register for a cultivation license. The service is free of charge.
This new service was introduced following a visit by IDH institutional donors in February, where oil palm smallholders discussed the palm oil sustainable landscape project in Jambi, convened by IDH, including the issue of land legality. At that time, Jambi government representatives promised to ease their land certification and cultivation licence processes as soon as possible. The promise is now turning into reality with the launch of the new service.
Land legality is an important subject for many independent oil palm smallholders in Indonesia. Fully legalized land (including holding a valid cultivation license) is mandatory by law and critical for meeting sustainability criteria. For example, legality is one of the requirements for obtaining Indonesian Sustainable Palm Oil (ISPO) and Roundtable on Sustainable Palm Oil (RSPO) certifications.
Fitrian Ardiansyah, Chairman of Executive Board IDH Indonesia:
Helping farmers obtain their cultivation licenses is an important step towards fair and sustainable development in the district, and in Jambi province on the whole. We applaud the quick follow up from Government of Jambi, especially the Investment Coordinating Board and One Stop Service Regional Agency which are launching this breakthrough solution.
The service aims to reach out to more than 30,000 independent smallholders in the Tanjabbar District. It simplifies the application process by allowing farmers to submit documents at sub-district, rather than at district-level, therefore encouraging more of them to follow the process.
According to Rukaiyah Rafik, Executive Director of SETARA Jambi, IDH's partner in assisting oil palm independent smallholders, SETARA is currently helping around 400 independent smallholders apply for their cultivation licenses through this service.
IDH will continue monitoring the number of smallholders applying for licenses through Jala SETARA, an online database designed to show that traceability is possible at scale and used mostly within the supply chain to verify the origin of their palm oil.
Ahmad Zulhan (35), an independent smallholder who owns a 4.6-ha oil palm plantation in Tanjabbar District, said:
ISPO/RSPO certification is like a red rose. The stem with sharp thorns is similar to the complicated process of obtaining ISPO/RSPO certification, including land legality status and cultivation license. However, the beauty and nice smell of the flower are like the ISPO/RSPO benefits that can be enjoyed by independent smallholders once we have completed the entire process.
Ahmad is currently managing 1.6 ha RSPO certified land out of his 4.6 ha oil palm plantation.
Ardiansyah (40), another independent smallholder, said:
 "I am happy to hear that this service is free of charge. Now I will definitely follow all the steps for obtaining my cultivation license and later proceed to ISPO/RSPO certification."