Lessons from IDH Farmfit
Smallholder agriculture markets are typically beset by a series of challenges, many of which are systemic by nature – a situation that has only been exacerbated by the COVID-19 pandemic. IDH Farmfit is established to support the transformation of markets so that they are vibrant, inclusive, and sustainable. We do this by working with market actors to improve the viability and sustainability of their business. Many of the models we have encountered were not yet commercially viable and investable.
Informed by our work in 21 countries across 4 continents, with 76 companies active in 26 different value chains, we have found some common challenges that prevent business models from becoming commercially viable. These include:
Low farmer income and productivity – Small plots and low productivity often result in low-value realization at farm level, compounded by practices that are unsustainable in the light of climate change and the insufficient inclusivity of women and youth
Inefficient service delivery – Uncoordinated and ineffective service provision to smallholders can create little lasting impact but comes at a high cost to implementing organizations
Limited access to affordable finance – High perceived and real risks in smallholder value chains combined with limited proven models to reduce risk result in financial products not suited to the needs of value chain actors and smallholder farmers
Weak enabling environment – Unstable and ineffective policy environments together with inadequate infrastructure reduce the ease and predictability of doing business
Given that each of these challenges tends to be systemic by nature, overcoming them requires transformation, rather than working only with individual actors. In order to develop, implement, and test innovative models in a manner that is both replicable and scalable, IDH Farmfit uses a lens of market transformation strategies. Each strategy provides a distinct approach towards market transformation, and all strategies aim to achieve a viable, sustainable, and commercially attractive​ market for business and smallholder farmers.
Three promising market transformation strategies have been identified by IDH Farmfit. These strategies are not exhaustive but have demonstrated strong potential for market transformation.  We have defined these three strategies by considering:
Leverage point – The part of the ecosystem that can be altered to have the most influence. This can be a specific actor, group of actors or relationship(s) between actors;
Context – The characteristics and dynamics present that create unique challenges and opportunities;
Implications for outcomes – The market outcomes, which differ in their details, despite all strategies aspiring for the same overarching vision.
Models of Market Transformation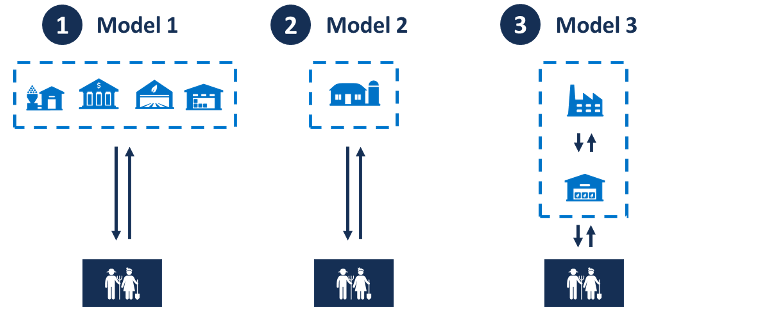 In Model 1, different organizations bring their diverse strengthens to the coalition. Each organization must be providing services to either smallholder farmers or other organizations in the coalition. Farmers in these models have access to a range of products and services. Each product or service can be provided by a specialized actor. Risks, costs, and benefits are shared in a way that optimizes overall value creation and sustainability of the products and services provided.
This model is well-suited when farmers are active across multiple value chains and a relatively large number of products and service providers are needed. The key challenge for such models is the complexity of designing an integrated set of interactions between multiple different actors.
In Model 2, a single organization provides a wide range of services to smallholder farmers. This model is well-suited to relatively tight value chains, with few large supply chain players. The infrastructure of a relatively large supply chain actor (e.g., an off-taker) can serve as the foundation for these holistic service delivery model. This model can also be suitable when there is an absence of services, and few or no existing market actors. This model is characterized by a high degree of consolidation and control. The structure of this model allows for a well-integrated and complete set of bundled goods and services.
In addition, by consolidating all activities, services, and costs, the model can be optimized internally.  As the physical, human, and data infrastructure is owned, used, and managed by a single actor these elements can be shared to deliver a complete range of services.
In Model 3, market demand is the key driver. In this model, a specific actor in the value chain has the leverage and/or financing ability to drive changes elsewhere in the value chain. This is usually a large buyer that has the ability to influence through its demand for sustainable product service delivery to farmers further up the value chain.
Unique to this model is that the leading organization will often have no direct relationship with smallholder farmers. Rather, they have an influence on off-takers, processors, SMEs, and other service providers, who interact with smallholder farmers. This model requires the presence of an actor that has the ability, leverage, and willingness to play an active role.
This model is most likely in value chains where the leading organization will receive benefits from market transformation. For instance, a brand that can meet sustainability commitments towards end consumers and/or complying with regulatory requirements.
What's next?
IDH Farmfit is presenting these market transformation models, illustrated with real-world examples at the 2020 AGRF Forum on Monday, September 7th. Further details around these strategies will be published towards the end of the year.
A collaborative approach to further developing these strategies will have the most lasting impact. Therefore, IDH Farmfit seeks opportunities to engage with partners of all types:
Companies with innovative business models should get in touch. ​​
Knowledge partners working to create market transformation, we are open to feedback and collaboration​.
Want to know more?​
We will continue publishing details on market transformation strategies. ​
For more insights on topics such as digital innovation, gender, and financial service provision, visit us
or contact us via farmfit@idhtrade.org