To improve the efficiency of aquaculture farms in Indonesia, eFishery, the University of Prince Edward Island and IDH have joined forces to optimize disease management. Farm data will be analysed by aquatic epidemiologists to find disease trends and help farmers recognize risk factors to combat diseases. This method proved to be successful in salmon farming and will now be piloted for shrimp, tilapia and pangasius farming.
IDH, The Sustainable Trade Initiative, promotes the application of epidemiology in tropical aquaculture by linking producers and data companies to epidemiological institutions. Companies that have access to farm data receive epidemiology expert advice, to search for disease trends. Farmers receive recommendations based on the analysis and learn how to mitigate diseases. The project with eFishery and the University of Prince Edward Island (UPEI), is unique as it adds to our understanding of how epidemiology can strengthen tropical aquaculture.
Flavio Corsin, the Aquaculture Director of IDH, and a trained aquatic epidemiologist: "This project represents another milestone in our journey to make tropical aquaculture more data-driven and efficient. By collaborating with eFishery and UPEI we can combine the capability of the eFishery smart feeders and intelligence platform with population health expertise. This will generate more robust knowledge and recommendations that farmers can use to combat diseases and improve farm performance"
eFishery is an Indonesian company that provides an Internet of Things (IoT) solution and data platform for fish and shrimp farming businesses. The startup's farm management platform provides farmers data on their farm. Their automated feeder helps farmers to monitor and schedule feeding times.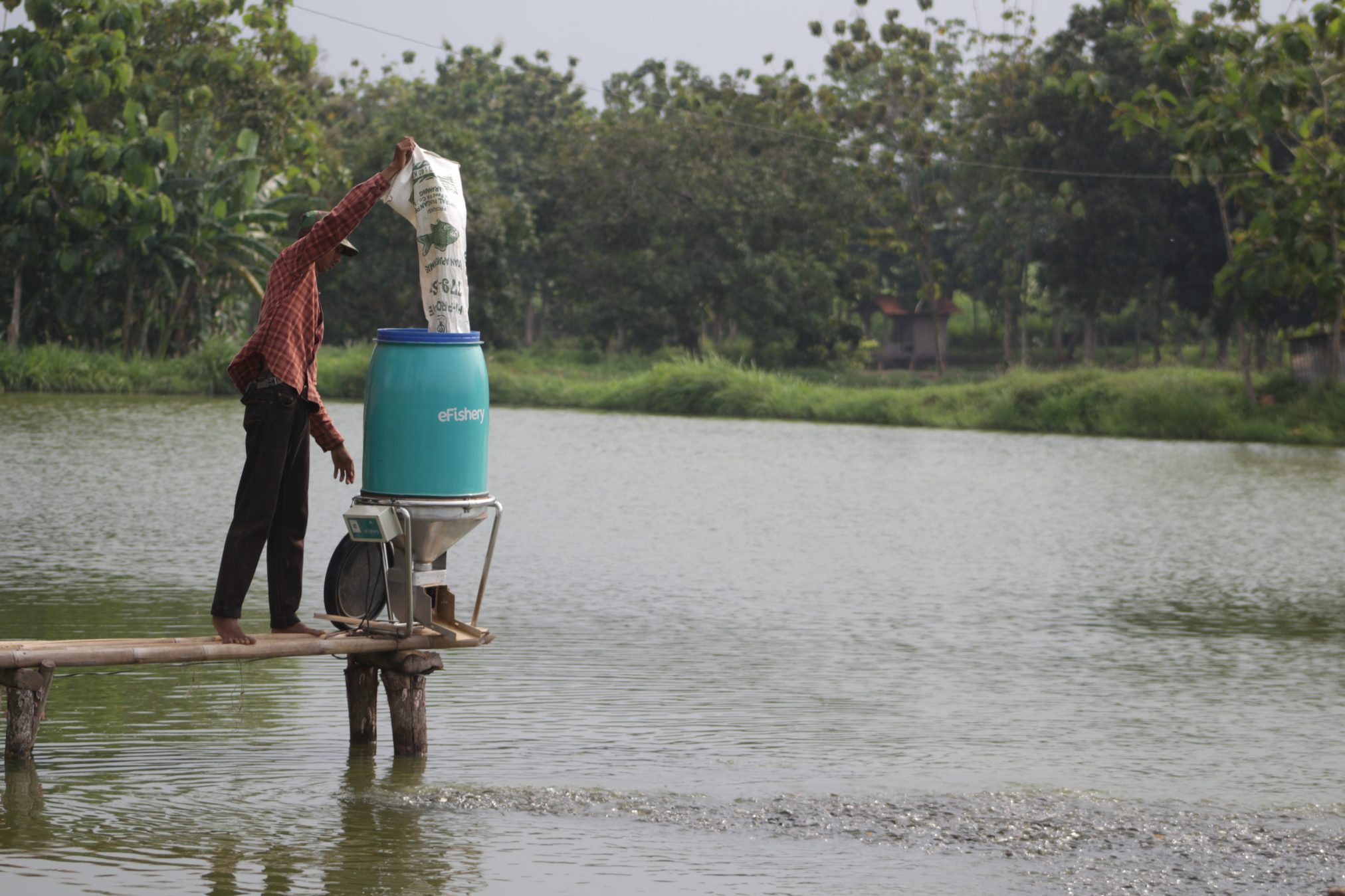 © www.rossche.com
E-Fishery's automated feeder helps farmers to feed their fish more efficiently
Gibran Huzaifah, the CEO of e-Fishery responds: "For decades, feed and disease are two of the biggest issues for aquaculture farmers in Indonesia. Started as smart feeding technology to solve the feed problem, eFishery has always been driven to solve other challenges using data and technology, especially where there aren't many solutions in the market. This partnership with IDH and UPEI is one way to accelerate a working solution so it can help farmers to tackle the disease problems. This also marks a start for us to broaden our focus in the company from smart feeding technology to aquaculture intelligence platforms. We strongly believe that by using our data and community as leverage, combined with domain expertise and global network that UPEI and IDH have, we can create a sustainable impact for millions of farmers in the world, starting from Indonesia."
The University of Prince Edward Island will help eFishery to visualize farmers' production data, to create predictive models on harvesting, stocking and feeding, and create a disease platform with early warning reports. "This collaboration between eFishery and the University facilitates the delivery of world-leading aquatic epidemiology expertise to farmers to meet their needs in optimizing disease management and reducing disease impacts," says UPEI Professor in Aquatic Epidemiology, Larry Hammell.
The project aims to increase the efficiency of 1,000 aquaculture farmers in West Java, Indonesia. The partners' target is to improve the understanding of farmers on disease interactions with their average growth, feed consumption, feed efficiency, survival and harvest size, while increasing their planning capacity.
On IDH, The Sustainable Trade Initiative
IDH brings together businesses, companies, governments and NGOs to combine their interests and power in sustainable production and trade of tropical commodities. We convene, (co-)finance and manage large programs to accelerate transitions toward sustainability. Headquartered in the Netherlands and funded by different governments and foundations, IDH delivers scalable, economically viable impact on the Sustainable Development Goals. IDH operates globally in 12 different industry sectors ranging from coffee and tea to cotton and soy and encourages joint investment in innovative models to realize long-term solutions for environmentally and socially sustainable production.
Since 2010, IDH is orchestrating change towards responsible aquaculture. We co-founded the ASC together with WWF and accelerated ASC certification. We upgraded 630.000 MT, an equivalent of 250 Olympic swimming pools, of tilapia, shrimp and pangasius production towards sustainability.
On eFishery
eFishery is an IoT, data, and marketplace platform for fish and shrimp farming business. It helps farmers to make the feeding more efficient, connect to financing, and sell fish to buyer by using IoT and data platforms that disrupt the entire value chain. It serves thousands of farmers all across Indonesia. The company aims to feed the world through aquaculture that is more sustainable, manageable, and transparent. It wants to impact millions of fish & shrimp farmers' live using technology.
On UPEI
The University of Prince Edward Island prides itself on people, excellence, and impact and is committed to assisting students to reach their full potential in both the classroom and community. With roots stemming from two founding institutions—Prince of Wales College and Saint Dunstan's University—UPEI has a reputation for academic excellence, research innovation, and creating positive impacts locally, nationally, and internationally.