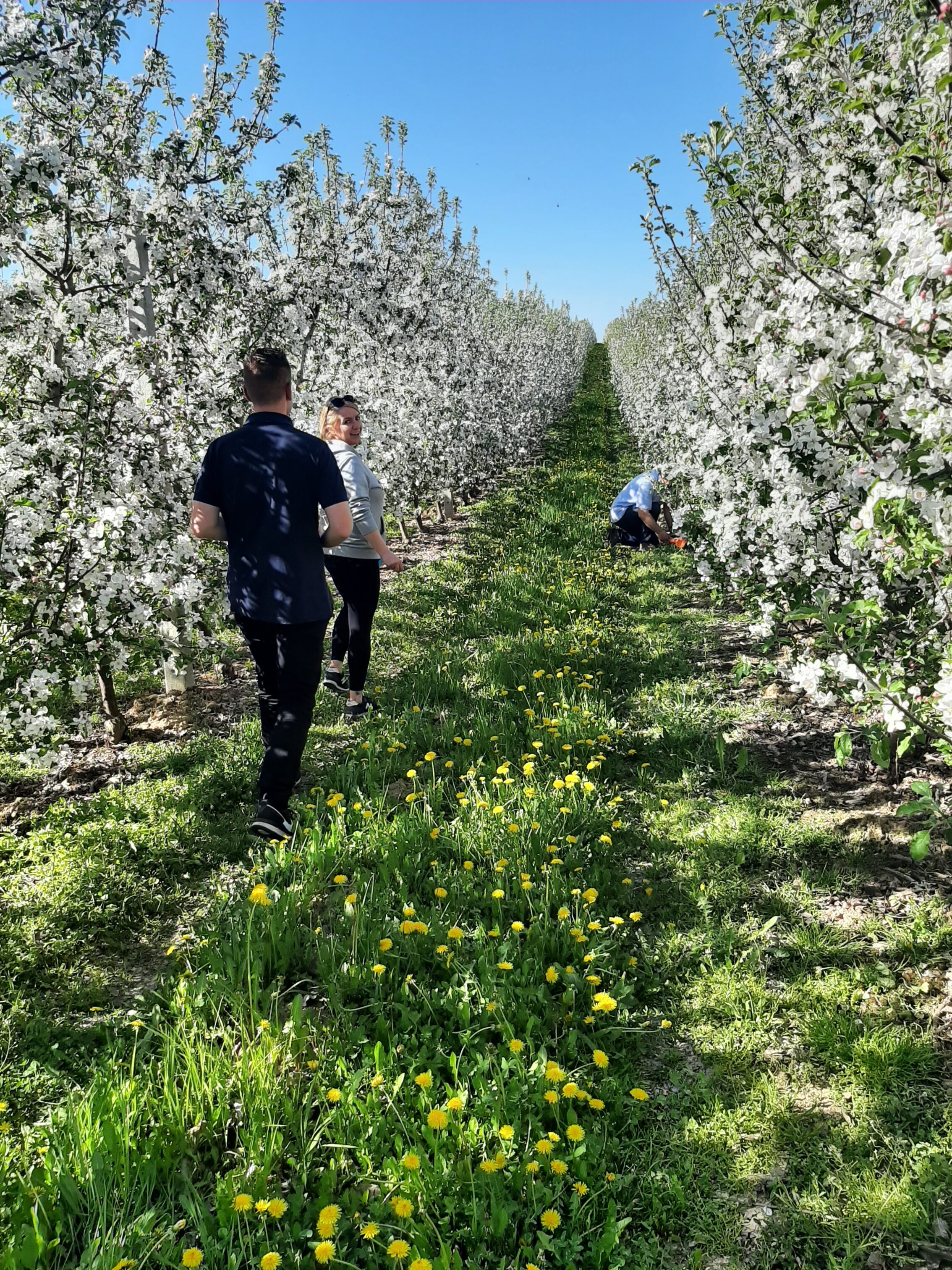 Considerable progress has been achieved since the start of the sustainable apple project in Poland in April 2022. In a year's time, all farmers involved assessed their biodiversity level, obtained the FSA 3.0 silver certificate for their apple production and started assessing their soil health and greenhouse gas emissions. For the second year of the project, the focus is on implementing tailored biodiversity recommendations, improving soil health and reducing GHG emissions.
On a global scale, Poland is a major supplier of apples and amongst the members of the Sustainable Juice Covenant (SJC), the country is the largest provider of apples used in both NFC (not from concentrate) and concentrated juice. In light of the fact that only a low percentage of the traded apple volumes from Poland is certified as sustainable[1] under the sustainable juice covenant (14%* in 2020), SJC member Döhler initiated a three-year-project to help Polish farmers implement more sustainable agricultural practices. The project is supported by the SJC, the Sustainable Juice Platform (SJP) and fellow industry players Keurig Dr Pepper, Eckes-Granini and Riedel. The work on farm is executed with the help of agronomists and two local NGOs: the Polish society for the protection of birds (OTOP) as well as the association of sustainable agriculture in Poland, Agroekoton.
Small-scale apple farmers embrace knowledge on sustainable farming practices
In total, a group of 94 selected farmers in the Vistula valley of the Sandomierz region in Poland is taking part in the project. Their farms are for the most part small-scale, family-owned farms, which is typical for the Polish apple sector: 69% of the participating farms have a cultivated surface for apple production of less than 8 hectares. According to a study amongst the participants, the drivers to participate in this project and implement more sustainable agricultural practices range from gaining knowledge on proper farm management practices (20%) and improving biodiversity (14%) to benefitting from a soil analysis (20%), expecting financial benefits (18%) and increasing competitivity in the market (12%).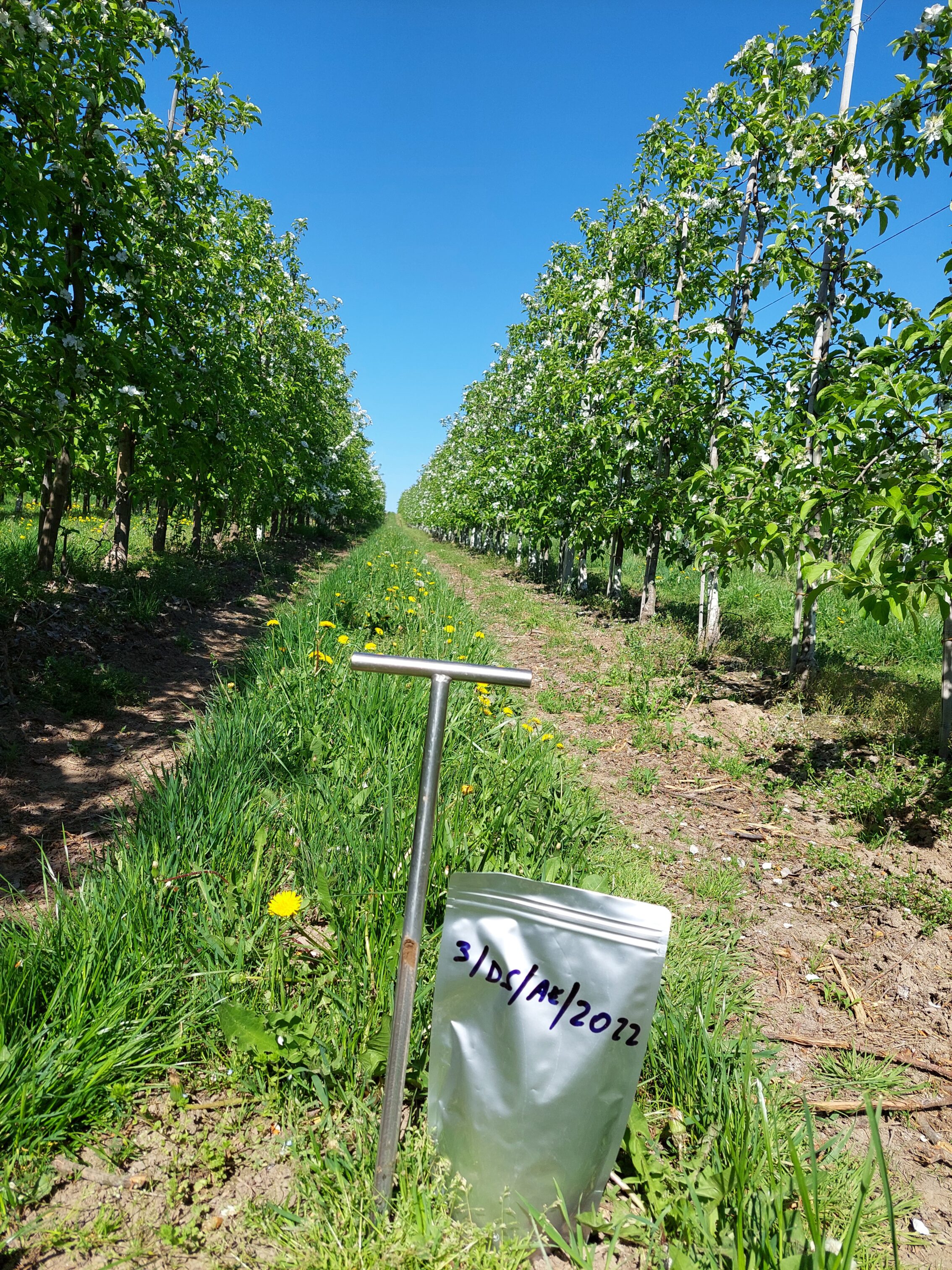 Achieving FSA certification and assessing biodiversity and soil health
In the first year since the project kick-off in April 2022, all participating farmers went through the audit procedure of the SAI Platform's Farm Sustainability Assessment (FSA 3.0) and the Farm Management Group (FMG) obtained the FSA silver certificate. The FSA assessment covers a wide range of sustainability topics, from agricultural and planting techniques to water management as well as health and safety.  All farmers were also trained on operational health and safety and received a safety box including first aid material and also safety guidelines signs.
One of the important focus areas for the farmers in the project is the improvement of biodiversity. To measure biodiversity levels on farm, a scorecard was developed with support of OTOP. This scorecard contains 37 criteria and assesses essential biodiversity factors at the farms like the presence of nest boxes, wild shrubs, the use of herbicides, etc. allowing farmers to receive a maximum score of 72 points. The assessment was carried out on all farms in 2022 and indicates an average initial score of 19.8 points (with scores ranging from 8 to 40). "Based on the individual results, tailor-made recommendation plans will be prepared for each farm and the farmers will be guided in implementing the changes. We aim for a 25% improvement per farmer", says Karolina Sluzek, project manager at Döhler. A similar approach is envisioned with regard to soil health: A first baseline analysis has already been conducted on 75% of the farms. Moreover, more specific analysis focused on the impact of soil activators, micro-organisms and organic matter have been performed. The results of these first analyses have been discussed and presented to all farmers during a farmer meeting beginning of 2023. During this meeting specialists developed possible next steps and recommendations to further improve the soil health on each farm.
Cool Farm Tool keeps track of GHG emissions
The apple project also addresses the climate impact of apple production with the aim to reduce the greenhouse gas (GHG) emissions at farm level. First steps have been taken to track emissions at farm level and to determine the baseline through use of the "Cool Farm Tool". During the course of 2023, the project team will prepare individual recommendations for emissions reduction for each farm and guide the farmers in taking the appropriate measures. The GHG calculations will be verified by consultant Soil&More. This verification is necessary to ensure the credibility and correctness of the data and calculations. This way we will be certain that the recommendations and actions that will derive from the calculations will be adapted and accurate for the situation at the farms.
Rewarded sustainability efforts lead to spill over effects
"We see the willingness among the farmers to embrace sustainable agricultural practices on the farm and we are happy to state that we managed to reach the agreed sustainable apple volumes in the first year", says Karolina Sluzek. In 2022, the harvest period has been exceptional in Poland and longer than usual, with apples still being harvested in November and December. "As the participants see positive results in terms of achieving certification, gaining knowledge, as well as a financial advantage for selling their sustainable volumes, more farmers have shown interest in joining the project. Therefore, we will be adding new farmers to the project in 2023, therefore further increasing the impact of the project."
[1] Certified sustainable is defined as certified or verified against a standard that is equivalent to at minimum FSA bronze.
==================
About the SJC:
The Sustainable Juice Covenant (SJC) is an international platform of leading companies within the juice sector. SJC's members are looking to drive sustainable change and to improve juice supply chains across the globe. The SJC is coordinated by IDH, the Sustainable Trade Initiative. The Covenant presents a platform for members to collaborate, engage, exchange knowledge, and share learnings on critical sustainability issues. The overall ambition of this project ties in with the SJC members' commitment to achieve 100% sustainably sourced juice volumes by 2030. More info: http://www.sjc2030.com
About the SJP:
Established in 2013 by AIJN (European Fruit Juice Association) with support from the European Commission, the Sustainable Juice Platform (SJP) is a sustainability initiative that aims to inspire and support the European fruit juice industry to integrate Corporate Social Responsibility (CSR) into their business models. The SJP's partners are representatives of primary producers, processors, bottlers, retailers, suppliers and NGOs who all collaborate on a pre-competitive level to build a strong, sector-wide network that shares information, good practices, and develops country/crop working groups to tackle CSR challenges that exceed Europe's borders. More info: https://juicecsr.eu/csr-platform
About Döhler:
Döhler is a global producer, marketer and provider of technology-driven natural ingredients, ingredient systems and integrated solutions for the global food, beverage and nutrition industry. Döhler is all about mastering sensory performance and nutrition. Being sustainable by nature, we help to nourish the world better – good for people, good for planet. All our ingredients are derived from natural raw materials. Döhler's comprehensive product portfolio of natural ingredients ranges from natural flavours, natural colours, natural health ingredients, a broad range of plant-based ingredients to ingredient systems and end-to-end solutions. Focused on science, technology and innovation, we shape the future of nutrition. Our customers are at the heart of all we do and are the reason why we exist. With more than 45 production sites, 75 offices and application centres, Döhler creates value for customers in over 160 countries. More than 8,500 dedicated employees, including 1,000 people in R&D and technology, are committed to making our customers successful. "WE BRING IDEAS TO LIFE." describes Döhler's integrated and entrepreneurial approach to innovation. This also includes innovation services, market intelligence, advice on food safety and microbiology, as well as sensory & consumer science. Döhler also runs its own venture unit with more than 85 active ventures. Smart ideas have a way of becoming great products. Every day, millions of people around the world enjoy products created by Döhler. More info: www.doehler.com
About Eckes-Granini:
Eckes-Granini is the leading supplier of fruit juices and fruit beverages in Europe. For the independent family-owned company headquartered in Nieder-Olm, Germany (Rhineland-Palatinate), the focus is on committed and competent employees, strong brands in the areas of juices, fruit beverages and smoothies, and a long-term strategic orientation with sustainable value creation. Today, Eckes-Granini operates mainly in Europe with its own national companies and strategic partners and generates annual sales of 856 million euros with a total of 1,697 employees. The company's foundation is formed by the internationally renowned premium brands granini and Pago together with strong national and regional brands for juices such as hohes C, Joker and God Morgon. Consumers in 80 countries worldwide and especially in Europe know and appreciate our fruit juices and the variety of fruit drinks. More info: https://www.eckes-granini.com/en/
About Riedel:
Riedel is one of the leading producers of fruit juices in the Netherlands and member of the Sustainable Juice Covenant. The company specializes in the production and distribution of long-life and refrigerated superior/high quality fruit juices and fruit drinks under the brands of Appelsientje, CoolBest, DubbelFrisss, DubbelDrank, Healthy People, Extran, Maaza, Sunland and Taksi. Riedel is exporting to 42 countries and also bottling for private label and other brands. More info: https://www.riedel.nl
About Keurig Dr Pepper:
Keurig Dr Pepper (KDP) is a leading beverage company in North America, with annual revenue of more than $14 billion and approximately 28,000 employees. KDP holds leadership positions in soft drinks, specialty coffee and tea, water, juice and juice drinks and mixers, and markets the #1 single serve coffee brewing system in the U.S. and Canada. The Company's portfolio of more than 125 owned, licensed and partner brands is designed to satisfy virtually any consumer need, any time, and includes Keurig®, Dr Pepper®, Canada Dry®, Clamato®, CORE®, Green Mountain Coffee Roasters®, Mott's®, Snapple®, and The Original Donut Shop®. Through its powerful sales and distribution network, KDP can deliver its portfolio of hot and cold beverages to nearly every point of purchase for consumers. The Company's Drink Well. Do Good. corporate responsibility platform is focused on the greatest opportunities for impact in the environment, its supply chain, the health and well-being of consumers and with its people and communities. For more information, visit www.keurigdrpepper.com.