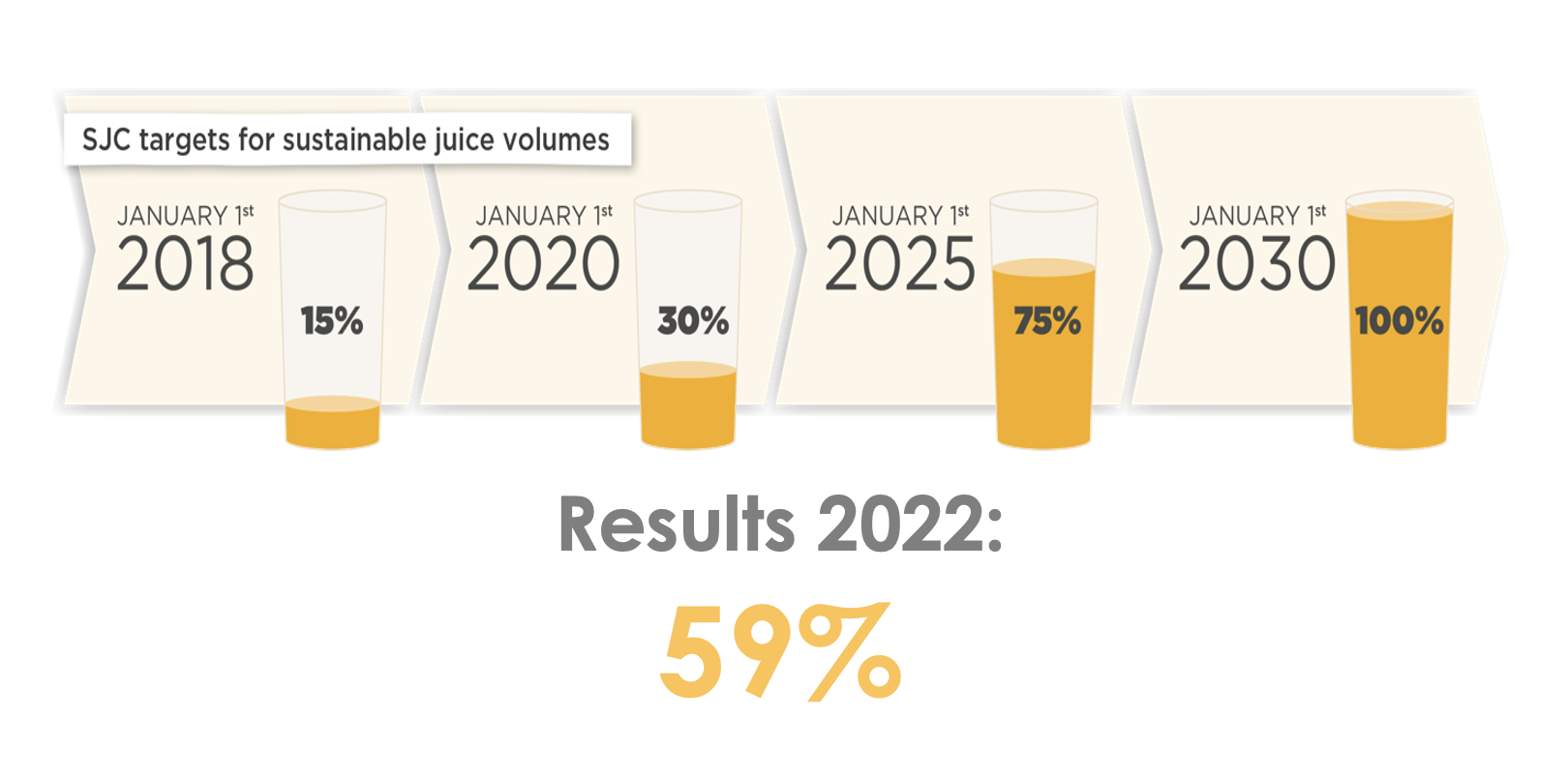 Well underway to reach the target of 100% sustainable juice: the members companies of the Sustainable Juice Covenant (SJC) have once more considerably improved their sustainability performance in 2022. According to the latest progress report for the SJC 2030 program, the collective juice volume sustainably sourced by the SJC members reached 59%, representing an increase of 16 percentage points compared to 43% in 2021.  
Driving sustainable change and improving juice supply chains across the globe: that is the mission the SJC members set out to accomplish, with the ultimate goal being 100% sustainable juice sourcing by 2030. And over the past 6 years since the SJC's foundation, the joint efforts of the members – among them producers, processors, traders and bottlers, brands, retailers and civil society organizations – have visibly paid off and led to steadily growing sustainable juice volumes[1].
Steady increase throughout the years
This steady growth was confirmed again by the latest annual progress report for 2022[2] that was presented to the SJC members at their General Assembly on June 27th. The results indicate an increase in sustainable volumes of +16 percent, reaching 59%, compared to 43% the previous year. and 7% in 2017, the first year of reporting.
The 2022 increase is remarkable as the players in the juice industry, like their counterparts in various other food sectors, were facing considerable challenges due to the aftermath of the pandemic, the war in Ukraine, disruptions of supply chains, inflation and increases in costs. Against this backdrop, the positive development of the sustainable juice volumes delivered by the SJC members illustrates once more their strong commitment to a sustainable transition of the sector as a whole.
"As major orange juice producer in Brazil, sustainability and more particularly sustainable sourcing is very important to us. We are part of SJC because it provides us with a clear roadmap", says Orlando Nastri Neto, ESG Manager at Citrosuco. "The annual reporting keeps us accountable and enables us to show progress to our customers and investors. We are very pleased to see the sustainable juice volumes increase steadily over the years. It is only by working on this objective jointly as a sector that we can create a snowball effect and ultimately reach the goal of 100%."
Strawberry and banana: sustainable newcomers
As in previous years, orange juice and apple juice continue to be the two largest commodities traded under the SJC, whereas in terms of sustainably sourced volumes, lemon is currently leading the SJC commodity ranking, showing an increase of 6 percentage points in 2022 and reaching 72%, closely followed by orange (67% in 2022 compared to 63% in 2021) Among the less significant fruit traded under the SJC, good progress in terms of sustainability has been achieved in particular for strawberry (54,7%) and banana (55,3%), with an increase of respectively 21 and almost 17 percentage points in sustainable volumes in 2022 compared to the year before.
Supporting juice companies in implementing new reporting guidelines
Under the new EU Corporate Sustainability Reporting Directive (CSRD), companies will be required to report on how they are mitigating and addressing risks in their supply chains. Initiatives like the SJC help companies prepare for these requirements by not only offering a clear roadmap and guidelines on how to implement sustainable sourcing practices, but also by organizing a joint reporting and third-party validation check of their sustainable sourcing practices.
SJC members drive sustainable improvements through joint projects
In addition, SJC members are collaborating through joint projects to work on sustainability related topics that are important for the sector as a whole. Apple is second largest commodity within the SJC. However, sustainability percentages have been stagnating around 21%. Last year, a group of SJC members and partners set up a joint project in the apple sector in Poland with the support of the SJC. The project is aimed at improving sustainable farm practices and focuses on aspects such as certification, biodiversity, soil health and reduction of GHG emissions. This year, a new project targeting smallholder strawberry farmers will be deployed by two SJC members with the support of SJC, with the aim to increase certification and train farmers on regenerative agriculture practices.
---
[1] Juice volumes are considered sustainable if they meet the requirements of one by the SJC recognized environmental and/or social standards such as the FSA Bronze for farm-level and the SA8000 and ETI/SMETA 4-Pillar norms for any level of processing.
[2] Progress is measured on an annual basis against a series of stepwise sustainable sourcing targets by assurance provider PricewaterhouseCoopers Advisory N.V. ('PwC'). PwC has written a summary report on the responsible sourcing performance X covenant. This report is addressed to IDH, the Sustainable Trade Initiative ('IDH') and is prepared solely for their benefit. This report does not contain an audit opinion or other form of assurance in relation to the services provided by PwC or the information on which PwC's services are provided. In that respect, PwC has provided the limited reconciliation activity but does not provide assurance over the outcomes and results.