Fruitful results achieved by the companies united in the Sustainable Juice Covenant (SJC), who have again improved their joint sustainability performance in 2021. The latest progress report for the SJC 2030 program shows that in 2021, the juice volume sustainably sourced by the SJC members reached 43%, up from 33% in the previous year. This increase marks another big step on the path towards the SJC's objective of 100% sustainable juice volumes by 2030.  
Together we can achieve so much! Joining forces to make a positive contribution towards improved (sustainable juice production, processing, and trade on a global scale – that is the thought that unites the SJC member companies. Together, they pursue the target of 100% sustainable juice sourcing by 2030. The sustainable volumes[1] under the SJC are monitored on a yearly basis, and the latest progress report[2] for 2021 shows an increase of 10 percentage points compared to 2020.
Since it was founded five years ago, the SJC has been growing steadily both in terms of the number of members and in sustainable juice volumes. The platform now has 16 members, ranging from producers, processors, traders and bottlers, to brands, retailers and civil society organizations.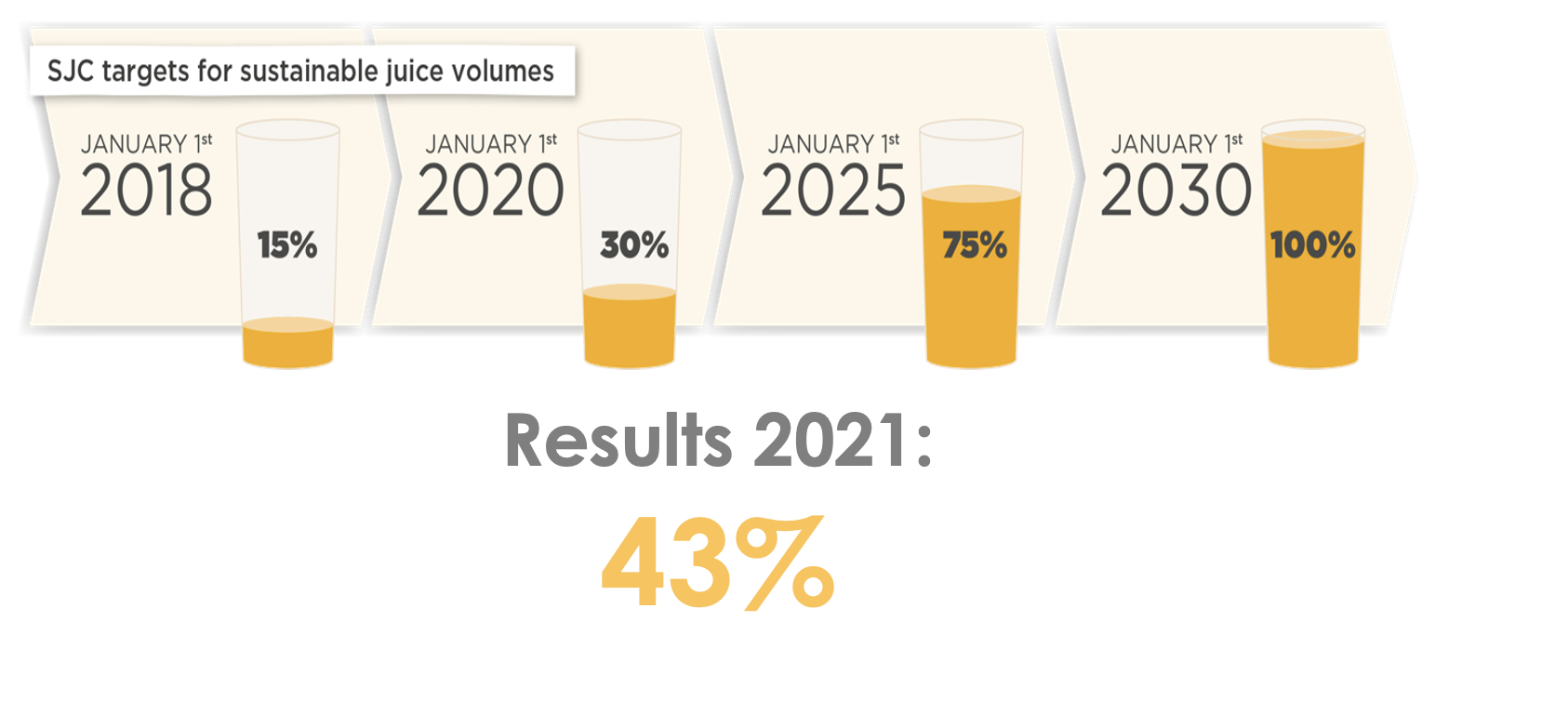 Sustainable juice volume percentage steadily increasing
At the SJC General Assembly on June 23rd, the members were informed on the latest results of their joint sustainable sourcing performance. The 2021 progress report once more confirmed a continuous growth in sustainably sourced juice volume under the SJC: over the course of only five years, sustainable volumes reached 43%, in 2021, up from 7% in 2017, with a steady annual growth rate of around 10 percentage points since 2019. In absolute numbers, sustainable juice volumes more than doubled, showing an increase of +105%: from 2.1 million tonnes in 2020 to 4.3 million tonnes in 2021. These results clearly illustrate the success of collaborative action for the transition towards more sustainable juice supply chains.
As in previous years, orange juice and apple juice continue to be the two largest commodities traded under the SJC. In terms of sustainable sourcing in 2021, the biggest step was made with regards to pineapples. Sustainable pineapple volumes reached 73%, a big leap up from 25% in 2020. Pineapple now ranks first among the top-3 sustainably sourced SJC commodities, followed by carrot and lemon, which are both showing an increase of more than 15 percentage points in 2021.
Apple sourcing: addressing one of the biggest sustainability challenges in the sector
According to the report, the sustainable sourcing of apples – mainly from Eastern Europe – remains one of the biggest sustainability challenges for the Covenant. To address this, SJC member Döhler has recently kicked off a project to upscale sustainably certified apple volumes in Poland, with support from fellow sector players Keurig Dr Pepper, Eckes-Granini and Riedel, as well as the SJC and the Sustainable Juice Platform (SJP). Another important focal point for the SJC with regards to sustainable supply chain transition is the inclusion and certification of smallholder farmers. To address these challenges, knowledge sharing among the SJC members is key, as is establishing collaborative projects on the ground.
Focus on the future: further embedding responsible business conduct
With regards to the joint objective of 100% sustainable juice sourcing, reaching this target requires the SJC members to embed responsible business conduct in their business practices and systems. This is also the first step of a due diligence process, according to the OECD guidelines on human rights due diligence. SJC will focus increasingly on supporting companies embedding the SJC principles in their business processes and strategy – for example through a reporting structure that reflects these aspects and by providing extra support like templates for roadmaps or action plans.
For more information, get in touch with Food Crops & Ingredients Program Manager Astrid Baeten at baeten@idhtrade.org and visit us on sjc2030.com.
---
[1] Juice volumes are considered sustainable if they meet the requirements of one by the SJC recognized environmental and/or social standards such as the FSA Bronze for farm-level and the SA8000 and ETI/SMETA 4-Pillar norms for any level of processing.
[2] Progress is measured on an annual basis against a series of stepwise sustainable sourcing targets by assurance provider PricewaterhouseCoopers Advisory N.V. ('PwC'). PwC has written a summary report on the responsible sourcing performance X covenant. This report is addressed to IDH, the Sustainable Trade Initiative ('IDH') and is prepared solely for their benefit. This report does not contain an audit opinion or other form of assurance in relation to the services provided by PwC or the information on which PwC's services are provided. In that respect, PwC has provided the limited reconciliation activity but does not provide assurance over the outcomes and results.