A key factor in the improvement of farmer productivity is the quality and frequency of trainings to farmers. Additionally, as farmers in rural communities age, it's imperative to engage youth in coffee farming to ensure a future for the sector.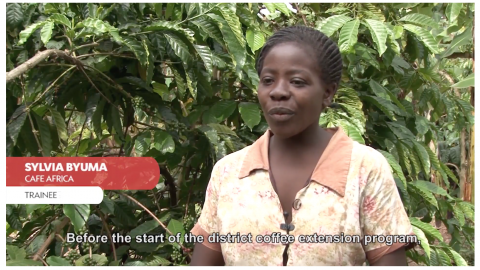 Therefore, IDH worked with Café Africa and others to find a sustainable basis for delivering effective coffee-specific extension services to coffee farming households. The program originated in 2015 under the Sustainable Coffee Program and has since 2017 been further supported by IDH and other stakeholders through the Global Coffee Platform.
Since early last year, 270 Coffee Community Based Facilitators (CCBFs) have now been trained in nine districts in Uganda, with harmonized coffee specific extension materials. This was done in consultation with the Coffee Platform National Steering Committee and other coffee industry stakeholders.
The trained CCBFs, are residents in the community and therefore close to the farmers, facing similar challenges. The CCBF farms have become Demo plots serving as continuous community farmer training centers for demonstrating good agricultural practices (GAP) to grassroots farmers.
This short video interviews some of the youth that have undergone the training program. It's part of a series of films that looks at the impact of our work through the 'Coffee Heroes' tirelessly working to make coffee a sustainable commodity.
The promising results from these pilot trainings are being up-scaled at the National/District level with the ambition to train 54,000 farmers in 6 districts in the next 3 years.
Uganda is the second largest coffee producer in Africa (after Ethiopia) in volume terms. Almost all of its coffee is produced by 1.3 million smallholder farmers. Approximately 70% of the country's coffee exports consist of Robusta. Average productivity is estimated to be about 0.6 tons/ha. Exports in 2012/13 reached a 15 year high of 3.58 million bags.