Ministry of Foreign Affairs Netherlands (BuZa), SECO, DANIDA and NICFI got their on-the-ground insights into responsible oil palm plantation, forest and peat land protection, gender empowerment, coffee farmers' resilience and profitability in Indonesia from their recent visit to the archipelago.
IDH hosted the four-day visit for Ministry of Foreign Affairs Netherlands (BuZa), State Secretariat for Economic Affairs of Switzerland (SECO), Ministry of Foreign Affairs Denmark, Danish International Development Agency (DANIDA) and Norway's International Climate and Forest Initiative (NICFI) to oil palm and coffee plantations in Indonesia on 19-22 February.
Broad partner base
On the first day IDH organized a kick-off meeting attended by various stakeholders from government agencies, private sectors, civil society organizations and national multi-stakeholder platforms to make the donors more familiar with our broad partner base of IDH in Indonesia. At a dinner meeting in Jambi later that day, IDH facilitated another dialogue between donors and the Jambi government agencies, civil society organizations and private sectors to talk about oil palm landscapes in the province.
Sustainability in Palm Oil
On the second day, donor representatives had the opportunity to see an oil palm plantation in Sungai Rotan village in the Tanjung Jabung Barat district, Jambi province. Donors engaged in a lively exchange with oil palm independent smallholders, who currently received GAP trainings from Setara, IDH's local implementing partner.
The meeting provided insights on current smallholders' efforts and concerns in producing more responsible palm oil; how the multi-stakeholder collaboration can enhance capacity building of independent smallholders. It is also expected the collaboration will provide GAP training and technical assistance related to land clearing without burning.
At the end of the program, donor representatives visited a palm oil mill of Asian Agri to observe the palm oil production process. At the mill, donors learned the flow of processing the palm oil out of the fresh fruit bunches, and how the mill minimize palm oil waste by turning it into biomass and biogas to power the turbines and produce electricity for the compound.
Coffee Farmers' Resilience and Profitability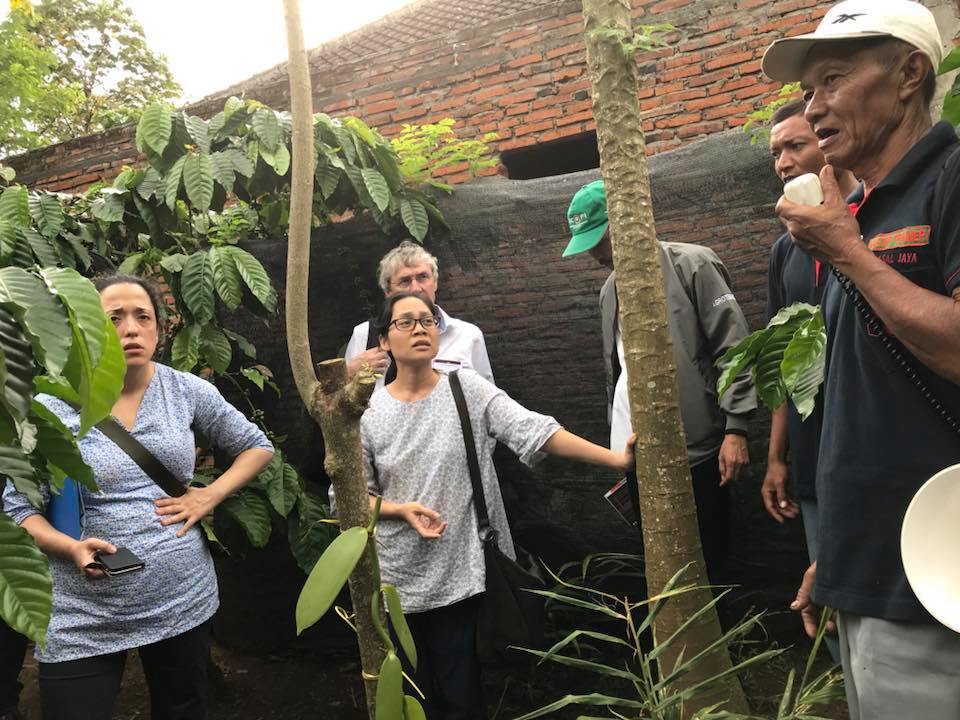 The donor representatives arrived in Malang, East Java, on the third day to look at IDH's coffee field level project. The project located in Dampit, at the heels of Java's highest volcano, Semeru. Dampit is one of the main Robusta coffee production area  in the country. IDH, in collaboration with national coffee trader PT Asal Jaya and Sustainable Coffee Platform of Indonesia (SCOPI), provide GAP and post-harvest management trainings to build the capacity of 15,000 targeted coffee farmers there.
At Bumirejo village in Dampit, our donors met with farmers and SCOPI Master Trainers at the farmers driven research site and the adoption farm. The Master Trainers are the lead trainers from SCOPI providing trainings for farmers in the area. The donors were excited to learn about the farmers' resilience in anticipating the climate change. The farmers were demonstrated through their diversification of income such as goat and bee farming and intercropping practices. Donors also gained more in-depth views on access to finance challenges and how financial literacy training could positively impact gender transformation within the farmers' households.
"We are (now) able to calculate the risk and to have better bookkeeping system. We can analyse which intercropping crops or farming activities that will deliver more revenue or profit for us," said Dewi, a female farmer in her early 20s in Bumirejo village.