Co-Authors: Gael Lescornec – IDH, Linda Klunder – 100WEEKS, Rupert Day – Cargill
Improving the living income of smallholder farming households in global supply chains requires both long term market transformation as well as creating short term opportunities. These short term opportunities must include the financial and digital inclusion of women.
In Côte d'Ivoire, the average cocoa farming household earns about 38% of what is considered a decent living income. There are a range of reasons why cocoa production is not translating into achieving living income for most farmers in the world's top cocoa producing country. Among the many challenges facing households, women do not usually directly benefit from public or private investments such as inputs, training and technology. This is despite the fact that they represent half of the labour force on cocoa farms which is often unrecognised and unpaid since women represent an estimated 5% of formal cooperative membership. In addition, women are usually the main household provider and care giver and often need to look for alternative sources of income to make ends meet.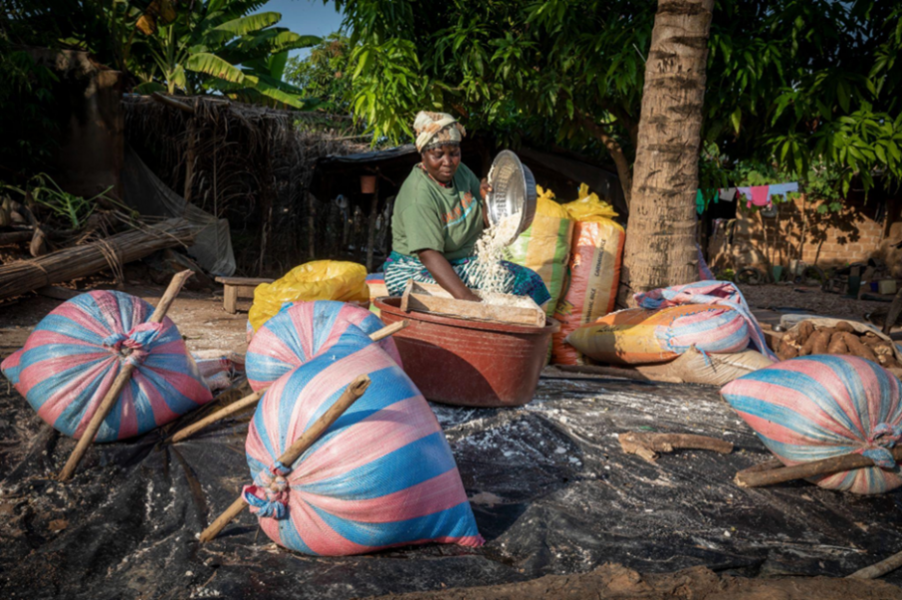 © 100Weeks
This highlights the importance of addressing the gender gap if we want to resolve the broader challenge of achieving a living income in cocoa farming communities. This has been reinforced by a recent study by The Cash Lab, established by IDH and non-profit 100WEEKS together with supply chain partners Unilever and Cargill, which showed that household finance improves when women are given access to digitised cash. The study, which is part of an ongoing effort to better understand the effect of digitised cash transfers on the living income of cocoa households, observed a 20% decrease in living income gaps, strengthening the financial position not only of women but also of the households.
Cash transfers are not a new innovation, but the conditions in which they are used determines their success. To effectively support women to grow their income, the 100WEEKS cash program with Magnum and Cargill provides women in Côte d'Ivoire with weekly cash transfers of €8 through a digitised infrastructure. Phones are provided to the women through which they receive direct mobile payments. This enables direct access to money through "mobile wallets", providing a safer, easier and faster way to save and pay digitally. It also contributes to increased digital ownership and usership by women. This weekly cash transfer is accompanied by coaching aimed at supporting financial management and literacy.
Konfe Habibou, who took part in the study, shared her story.
As a mother of seven children, and care giver for an ill husband who is a member of a cocoa cooperative, it was difficult to make ends meet with the income generated from her small business producing cassava, which she sells in neighbouring Burkina Faso. She struggled to earn enough money to feed her family and to look after her children. Once she began receiving mobile money transfers from 100WEEKS, combined with financial coaching, she was able to save and invest in a way that multiplied her cassava production from 15 bags of cassava to 40-50 bags per month and tripled her margins.
The story of Mrs Habibou is not unique and reflects many similar stories from the program.
The Cash Lab study compared women benefiting from digitised cash transfers over a 100 week period (2 years) with others who were not involved in the program. It found that participating women were 10% more likely to engage in new income generating activities and 22% of them expanded their businesses. Most importantly, women in the program on average made 4 times more margins representing $36 more in income each month. This impact not only benefits women but the overall household since women are more likely to contribute their earnings towards the broader needs of the family.
So what does this mean for supply chain actors like Cargill who like many other industry actors are committed to supporting cocoa farmers to achieve a living income including as part of national initiatives on sustainable cocoa (ISCOs) including in Belgium and The Netherlands?
The Living Income Roadmap initiated by IDH helps to guide companies to turn their commitments into action. Firstly, supply chain actors can take steps to better understand the income situation of farming households in their supply chains. Second, they can identify a range of investment decisions and improved business practices to drive incomes. Lastly, brands and suppliers can work together to effectively scale solutions that improve the incomes of more farming households.
As we celebrate this year's International Women's Day theme around #DigitAll, we all stand to benefit from recognising the financial and digital inclusion of women as an important solution for making living income a reality for entire cocoa farming communities.
Organisational Info:
100WEEKS: A non-profit organisation that fights poverty using a simple yet very effective method: money. Giving people weekly cash donations, for 100 weeks with no strings attached, allows them to lift their families out of extreme poverty for good. Thousands of families worldwide have already escaped poverty through our program. As we scale up, so will tens of thousands more.  
IDH: IDH is a global organization transforming markets. IDH puts people, planet, and progress at the heart of markets by leveraging the power of trade to create better jobs, better incomes, a better environment, and gender equality for all. To create the greatest impact in the shortest amount of time, IDH brings together people within corporations, the global financial sector and governments that have the most influence over global value chains to co-create and co-invest.
Cargill: Cargill helps the world's food system work for you. We connect farmers with markets, customers with ingredients and families with daily essentials—from the foods they eat to the floors they walk on. Our 160,000 team members around the world innovate with purpose, empowering our partners and communities as we work to nourish the world in a safe, responsible, sustainable way. Cargill's Cocoa & Chocolate business provides high quality cocoa and chocolate more sustainably throughout the world. The Cargill Cocoa Promise is our program to enable farmers and their communities achieve better incomes and living standards while growing cocoa sustainably.