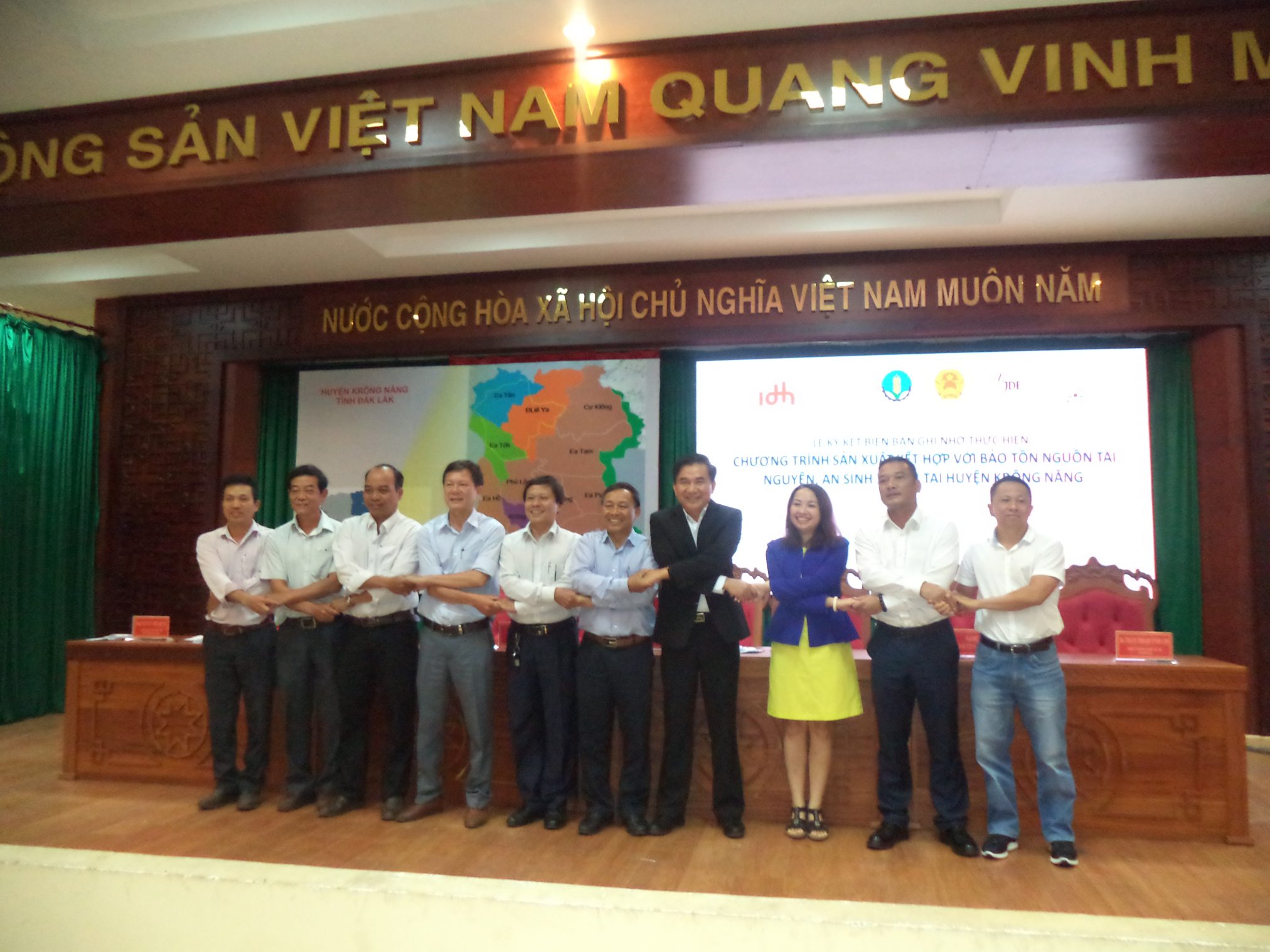 The Vietnamese government, together with leading international coffee company Jacob Douwe Egberts (JDE), the Vietnamese coffee trader Simexco, IDH and other key stakeholders have agreed to collaborate on reducing water, fertilizer and pesticide use in coffee production in the Dak Lak province in the Central Highlands landscape of Vietnam. This will help coffee farmers adapt to climate change and secure Vietnam's future coffee supplies.
By 2025, this Production, Protection, Inclusion (PPI) compact aims to make 100% coffee produced across 5, 200 hectares sustainable, to reduce water use by 25%, and agrochemical use by 15%. It also commits to increasing farmer incomes by 30%.
Simexco and the local authorities also signed a cooperation agreement to implement the PPI compact. By signing the agreement, Simexco has committed to procuring coffee produced in the PPI area.
This is the second PPI compact signed by IDH and partners in Vietnam. The first compact was in Lam Dong province, covering a 4, 000 ha coffee area, with the Dutch mission to Vietnam taking part in the signing ceremony in April.
Together, these compacts mark a milestone for public-private cooperation in the Vietnamese coffee sector.
The holistic PPI model was developed by IDH in multiple landscapes around the world to balance economic prosperity with protecting natural resources and including local communities in decision making.
Vietnam is the world's second largest coffee producer after Brazil. The coffee industry makes a crucial contribution to its economy. However, climate change and the strong fluctuation of coffee prices pose a threat to the coffee supply chain, especially to smallholder farmers.
The compact in Dak Lak province, which is located in the Krong Nang district, aims to address this by creating sustainable production models that enable farmers to adapt to climate change and to reduce their use of water and agrochemicals.
In particular, the compact will pave the way for:
A pilot of sustainable coffee mini-landscapes with an area of 440 ha that promote agroforestry and improving agro-chemical and water use;
Restructuring service delivery of pesticides, fertilizer and seedlings to farmers;
Piloting the agronomist related service, including a soil test and recommendations on agrochemical use;
Improving farmer capacity building for cooperatives;
Piloting innovative training for farmers on new technology.
The compact will be implemented through a public-private partnership consisting of local authorities, the People's Committee of Krong Nang District and the communes, IDH, JDE, the Vietnam Sustainable Agriculture Transformation Project in Dak Lak, Simexco Daklak Ltd., and local companies/enterprises, input supply companies, and commercial banks.
Hoai Anh, Chairman of Krong Nang District People's Committee, said:
"The sustainable landscapes program funded by IDH has resulted in significant changes in local awareness of sustainable and responsible production in Krong Nang district. Management officials of the district have attended various events and workshops organized by IDH and gained valuable experience in management. The District People's Committee will now focus on and mobilize all local resources for successful implementation of the PPI compact in Krong Nang".
Pham Cong Tri, Head of the Agriculture and Forestry Subject under the Western Highlands Agriculture and Forest Institute (WASI), said:
"After many years of researching and guiding the application of technology in coffee production, I can say that the new approach of mini-landscapes and public-private partnerships has brought about various motivations and favorable conditions for sustainable development. In the past, we spent seven-ten years on training and certification but the results were not what we expected. Now, with the consensus and joint efforts of all stakeholders, from farmers, buyers, local authorities, and IDH, I believe that we only need two-three years to achieved the set objectives".
Nguyen Tien Dung, Sustainable Manager of Simexco, said:
"IDH is one of key partners of Simexco in sustainable development. In 2018, together with the coordination of the experts, WASI, IDH and Simexco successfully piloted a 70-ha sustainable landscape model and supported capacity building for the Ea Tan Cooperative to improve coffee quality through improved post-harvest processing. This model has been highly appreciated by the agencies implementing sustainable programs, such as the VnSAT project. In the next two years, Simexco will cooperate with IDH and other partners to scale the models and continue to support capacity building for three cooperatives. At the same time, Simexco commits to buying all the coffee produced in the PPI area and plan to purchase other agricultural products including pepper and fruits in the coming time."
The PPI compact signing in Dak Lak was attended by 100 representatives from public, private sector (especially value chain companies), and cooperatives and farmer groups.
Find out more about IDH's work in Vietnam.