Juice is part of the wider IDH strategy on fresh and processed fruit and vegetables which is part of IDH's Fresh & Ingredients program. In the processed category, juice was chosen as the initial focus because of a strong demand for sustainability in the sector. Other sectors may be added at a later stage.
IDH works in the processed fruit and vegetables sector to develop more sustainable production and processing practices, contribute to better environmental management and ultimately improving the livelihoods of workers and farmers. For that reason we have established the Sustainable Juice Covenant.
Sustainable Juice Covenant
The Sustainable Juice Covenant is a global initiative to make the sourcing, production and trade of fruit- and vegetable-derived juices, purees and their concentrates 100% sustainable by 2030.
Under the coordination of IDH, leading European beverage and food companies signed a global covenant targeting 100% verified sustainable sourcing for their juices within the next decade. With the support of AIJN, the European Fruit Juice Association, they will work on the certification/verification of their supply chains, and jointly set up projects to address specific sustainability issues such as smallholder inclusion, working conditions, soil erosion and degradation, and climate resilience.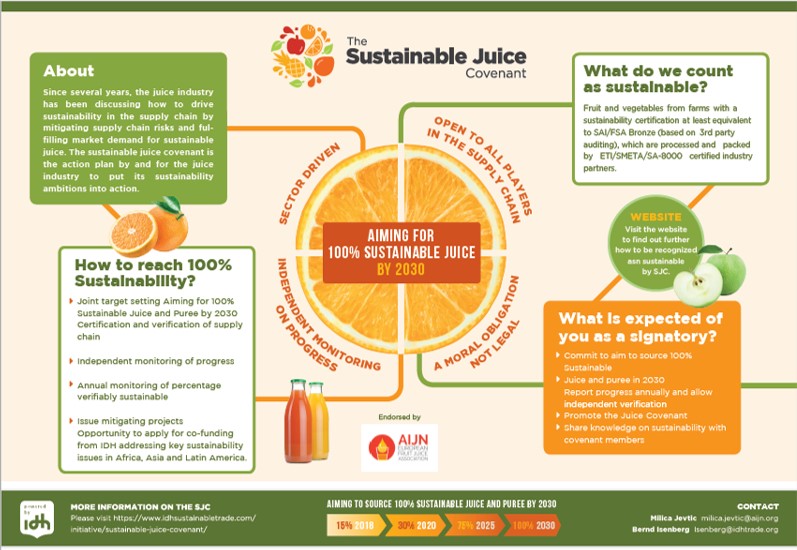 Fruit and Vegetables industry
The fruit and vegetables sector faces a number of sustainability issues along the supply chain. Farmers experience poor livelihoods, lack awareness of good social and environmental practices, and low yield and have limited access to commercial farming and international market requirements. Furthermore, working conditions require attention and continuous improvements in the processing and packaging level.
We realize that to overcome these issues, contribution from front-runner companies are needed. Private partners are expected to work towards establishing transparent supply chains. They will report on the progress of their supply chain towards the ultimate goal of having 100% sustainable imported products. Finally, a third party company is annually monitoring their progress.
Contact us for more information