It is becoming crucial for food traders, processors and retailers to 'know' their farmers and their production practices. Especially as there is growing consumer concern around food safety, environment degradation and providing better incomes for farmers.
Agriculture technology that was originally geared towards accelerating agriculture yields is shifting to target specific needs of farmers, crops or the soil. Stakeholders across the agri-value chain are realizing the potential of digital agriculture tools for many challenges beyond increasing yield, and a range of applications are gaining solidity in different regions.
At IDH Farmfit, we are thrilled to see agritech solutions move from a focus on high yields to building resilient, transparent and sustainable production models. This shift is partially driven by the benefits that resilience brings, by gains in operational efficiency and improvements to farmer engagement.
HOLISTIC SERVICE PROVISION OUTPERFORMS OTHER PROVISION PACKAGES FOR FARMERS A FEW YEARS AFTER BEING INTRODUCED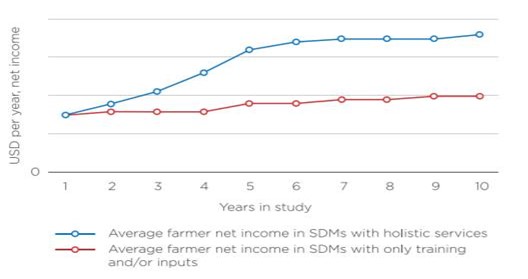 Analysis produced by IDH Farmfit showed that smallholder business models (SDMs – service delivery models), where holistic services are provided to smallholders, achieve an approximate 15% increase in farmer profitability versus models which only provide a few services. The initial increase in profitability is lower but rises for farmers after years of utilizing them.
For businesses, offering a broader range of  services comes at an initial expense, but by using digital technology and data to tailor services to different types of farmers, the efficiency of holistic service offerings over the long-term improves and business profitability increases.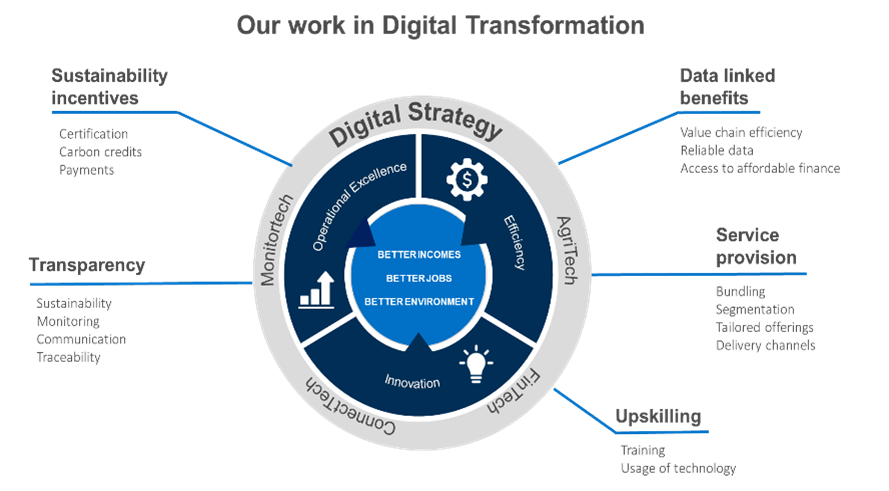 IDH Farmfit's Digital Transformation Analysis (DTA) also sees an overall upsurge in value chain actors moving towards digital solutions that improve visibility of their supply-chains and bundle tailored services for farmers.
These developments and more, have been captured in the Digital Agriculture Maps (DAMs) produced by GSMA AgriTech in collaboration with IDH Farmfit . DAMs is a new state of the sector report on digital agriculture tools for smallholder farmers in Low and Middle-Income Countries (LMICs) launched for industry practitioners and investors. It identifies key trends and emerging opportunities from GSMA's database of 700+ digital agriculture services operating globally with insights from IDH Farmfit's Digital Transformation Analysis (DTA). The analysis in the report have been broken down by region and use case and the trends are corroborated by service-level case studies to illustrate existing best practices.
Number of active digital agriculture services by use case, 2009–2019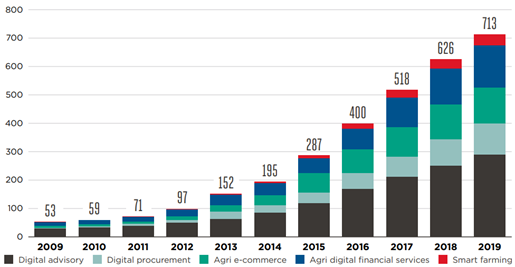 Sub-Saharan Africa has seen the most growth in the uptake of digital agriculture tools. Nearly half of all agricultural digital financial services tracked in Sub-Saharan Africa, including digital payments, digitally-enabled agricultural credit, saving and insurance, are available in East Africa.
In South Asia, some of the most well-established digital advisory services are in operation, along with some of the most successful agri e-commerce services in LMICs, especially in India. Agri e-commerce platforms linking farmers directly with consumer markets have benefited in the region from the presence of a few well-established companies and a larger banked population.
In Southeast Asia, digital procurement enterprise tools that digitise farmer and farm records in the last mile and enable efficiencies for farmers and agribusinesses are now as established as digital advisory, despite appearing much later. Digital agriculture in the region has benefited from the relative prevalence of structured commercial value chains and dynamic technology hubs.
In Latin American and Caribbean countries, agri e-commerce is the most established use case, driven by demand from urban centres, comparatively better logistics networks and a few well-established companies operating in multiple countries in the region.
We hope you enjoy this resource and we always welcome your feedback. If your business is on a journey to expand its digital offering, IDH Farmfit can help. Get in touch to find out the benefits and applications of agri tech for your business.