IDH – The Sustainable Trade Initiative and partners have developed the platform to enable a landscape approach to sustainable commodity sourcing.
Global brands Mars, PepsiCo and Unilever are among those involved in developing SourceUp – a collaborative online platform powered by IDH – The Sustainable Trade Initiative with the goal of increasing the sustainability of commodity producing regions.
IDH convenes companies, civil society organizations, governments and others in public-private partnerships to achieve sustainable and inclusive growth at scale in commodity sectors and sourcing areas. IDH and partners have developed SourceUp to meet the need for a landscape approach to sustainable sourcing.
Rather than brands focusing solely on the producers and regions in their own supply chains, this collective approach aims to improve the sustainability of entire sourcing regions.
Compacts
SourceUp links buyers to coalitions of farmers, producers, government and civil society in a certain region. These coalitions decide on shared sustainability targets and make a long-term agreement, called a 'Compact.' Each Compact has the power to transform agricultural production systems far beyond what individual producers, local governments, civil society organizations or traders can do alone.
SourceUp builds on the Verified Sourcing Area concept and has been developed in partnership with Conservation International, the Consumer Goods Forum, Grupo Amaggi, ISEAL Alliance, Jacobs Douwe Egberts, LKTL, Mars Wrigley, PCI, Mato Grosso, Pepsico, Proforest, the Stockholm Environment Institute, the Tropical Forest Alliance, Unilever, the US Department of State, the World Bank and the World Resources Institute. 
SourceUp is an exciting innovation in supply chain sustainability. Our hope is that it will allow PepsiCo and other companies to support credible local action and impact on sustainable agriculture, human rights and livelihoods in key sourcing regions," said Meghan Ryan, Senior Manager of Global Sustainable Sourcing at PepsiCo.
So far, there are 11 sourcing regions in Brazil, India, Indonesia, Liberia and Vietnam on the SourceUp platform; with commodities including soy, avocado, livestock, cotton and timber. Sustainability themes vary — from forests and natural ecosystems to livelihoods.
SourceUp is a game-changer," said Daan Wensing, CEO of IDH. "It is a supply chain sustainability solution designed for use by mainstream businesses, as well as sustainability leaders. It allows companies to use their supply chain to deliver on their corporate sustainability commitments, help whole landscapes become sustainable, and contribute to the Sustainable Development Goals. We can expect rapid growth during 2021 — with further Compacts in Indonesia, Vietnam, India, Brazil, Colombia, Liberia and Cameroon waiting to come on board; and a significant number of new commodities to be added.
Aceh Tamiang Compact
One of the Compacts already signed is in Indonesia's Aceh Tamiang District — where commodities including palm oil, natural rubber, pulp and coffee are produced.
Last month, Unilever and IDH committed a combined investment of over €1.5 million to support Aceh Tamiang in achieving its sustainable production, nature protection and social inclusion goals. The three-year program will increase forest protection and reforestation, improve monitoring, support smallholder farmers to increase its sustainable palm oil productivity by 30 percent, and protect an area within the region's Leuser ecosystem.
We are very proud to support this initiative," Dave Ingram, Chief Procurement Officer at Unilever, said at the time. "This investment is testament to our commitment to support smallholder farmers —the true stewards of the land — and to protect and restore natural habits in urgent need of protection, such as the Leuser ecosystem.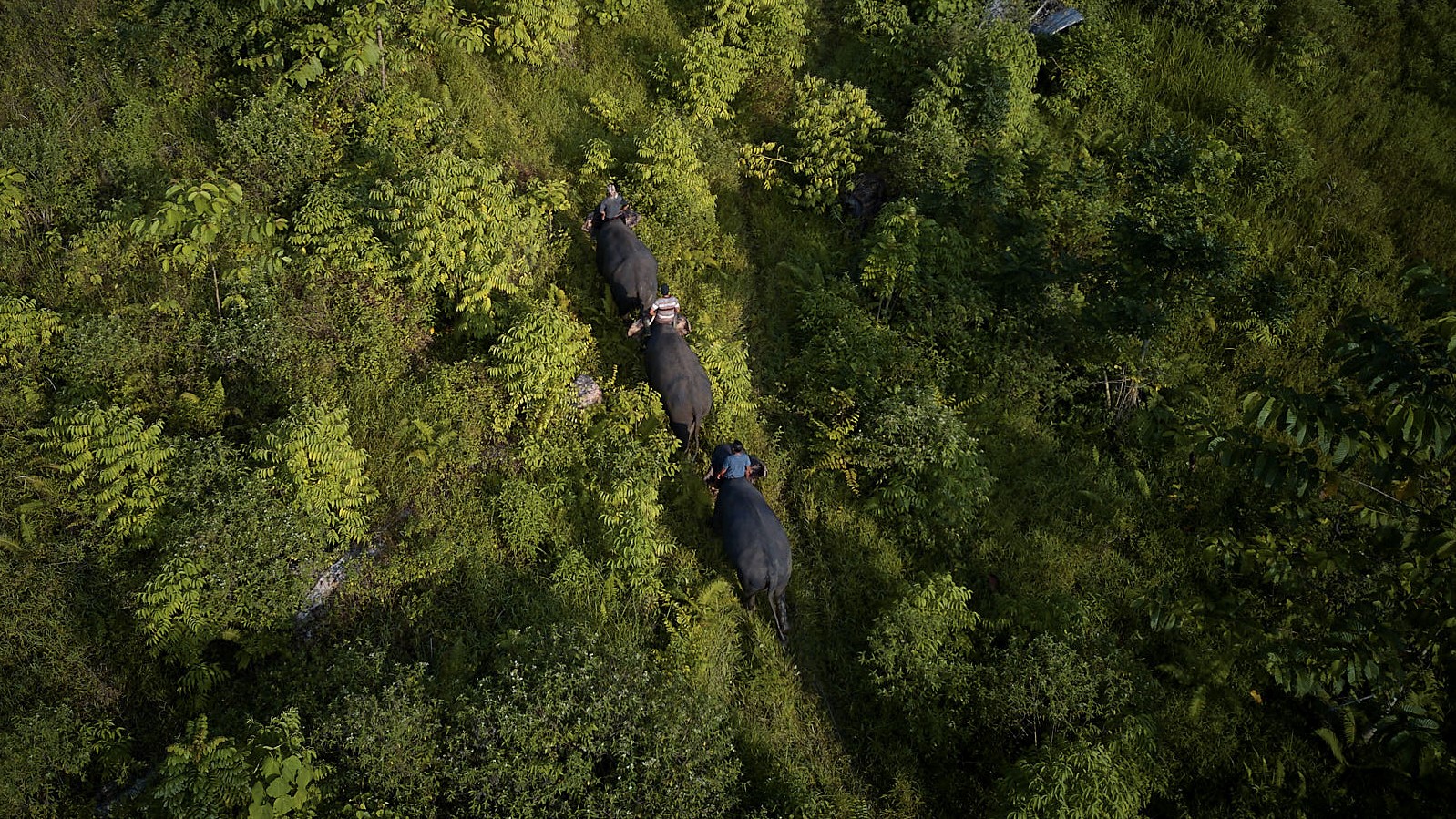 © IDH/BeawihartaThe Aceh province covers a large part of the Leuser ecosystem — home to endangered species such as Sumatran orangutan, Sumatran elephant and rhinoceros. In order to protect natural forests, especially the Leuser ecosystem, IDH brought together the key players in the region: the Government of Aceh Tamiang District; the Indonesian Association of Indonesian Palm Oil Producers (GAPKI) Aceh; the Leuser Conservation Forum (FKL); Yayasan Inisiatif Dagang Hijau; the Aceh Tamiang Farmers and Fishermen Group Association (KTNA) and the Forest Management Unit (KPH) Region III Aceh.
Together, they signed a Compact committing to sustainable palm oil production targets (sustainable crude palm oil production will be increased by 30 percent), protection of forest areas and the Leuser ecosystem (deforestation rate will be reduced by 50 percent), and improving the welfare of independent smallholders, to be achieved in 2023.
IDH connected government and public stakeholders to private stakeholders; with PepsiCo and Unilever playing a multi-faceted role in formulating the shared goals of the Aceh Tamiang Compact, investing in, and sourcing from the region. Their involvement through this collaborative Compact follows the SourceUp model, taking the whole district into account rather than focusing on a specific plantation.
SourceUp is particularly attractive because you have hard numerical targets set by the government and local stakeholders. That is quite impressive," Reuben Blackie, Manager of Sustainable Agriculture (APAC and AMESA) at PepsiCo, explained. "SourceUp's focus on local ownership and the involvement of other companies gives promise for success. IDH has convened a number of companies such as PepsiCo, Musim Mas (palm oil producer) and Unilever to all work in parallel, so you can start to develop the critical mass that is required for this level.
As more Compacts are agreed, they will be published on the SourceUp platform to help companies identify regions where there are Compacts and responsible producing commitments in place. Companies can then connect with Compacts either to source directly from the area, or to support with investment or expertise. Businesses who are already sourcing from a particular region can use SourceUp to find a suitable partner to implement a specific sustainability initiative.
This article was first published in Sustainable Brands.