IDH has been active in the tea sector for ten years. Over these years, pre-competitive collaboration has grown remarkably as companies are increasingly interested in safeguarding their reputation and/or their quality supply. IDH offers several "safe" platforms for multi-stakeholder cooperation that are relatively new to the tea industry and through which complex issues like living wages, living incomes and pesticides can jointly be addressed. We build joint roadmaps and work step by step in prominent tea producing regions in Africa and Asia on sustainable production, and on sustainable procurement in Western Europe and Asia. 
---

Due to unforeseen external circumstances, ETP and IDH have been reviewing the timing of TEAM UP and made the joint decision to postpone it to later this year.  We would like to offer our sincere apologies for any inconvenience caused, and will confirm a new date as soon as possible.
---
IDH is strongly committed to working towards living wages in key tea-exporting countries.
Key efforts of the IDH tea program are focused around the Malawi Tea 2020 program working towards a living wage. In other programs, such as in India, IDH aims to improve sustainability of the Indian tea sector and to improve the lives of people in tea communities, by addressing women and girls safety. IDH is also addressing gender & gender based violence on tea plantations in Kenya, through the multi-stakeholder Gender Empowerment Platform. The program is also active in Rwanda, Tanzania and Vietnam on smallholder inclusion and health and safety. In the South West Mau landscape, in Kenya, the landscape team works together with large tea plantations in the area to mitigate deforestation.
Over the course of 2018, IDH has started the conversation with a group of leading tea companies, both producers and packers, together with our strategic partner the Ethical Tea Partnership. With this global tea coalition, we continue to define and deploy a new global sustainability agenda for the tea sector.
Providing our new Plantation Roadmap
How to address sexual harassment and other forms of GBV
Following collaboration with our partners from the Gender Empowerment Platform, we are proud to share the Plantation Roadmap: a practical document that provides information to companies on how to recognize issues around gender based violence and sexual harassment, and to develop sustainable interventions to prevent and respond accordingly.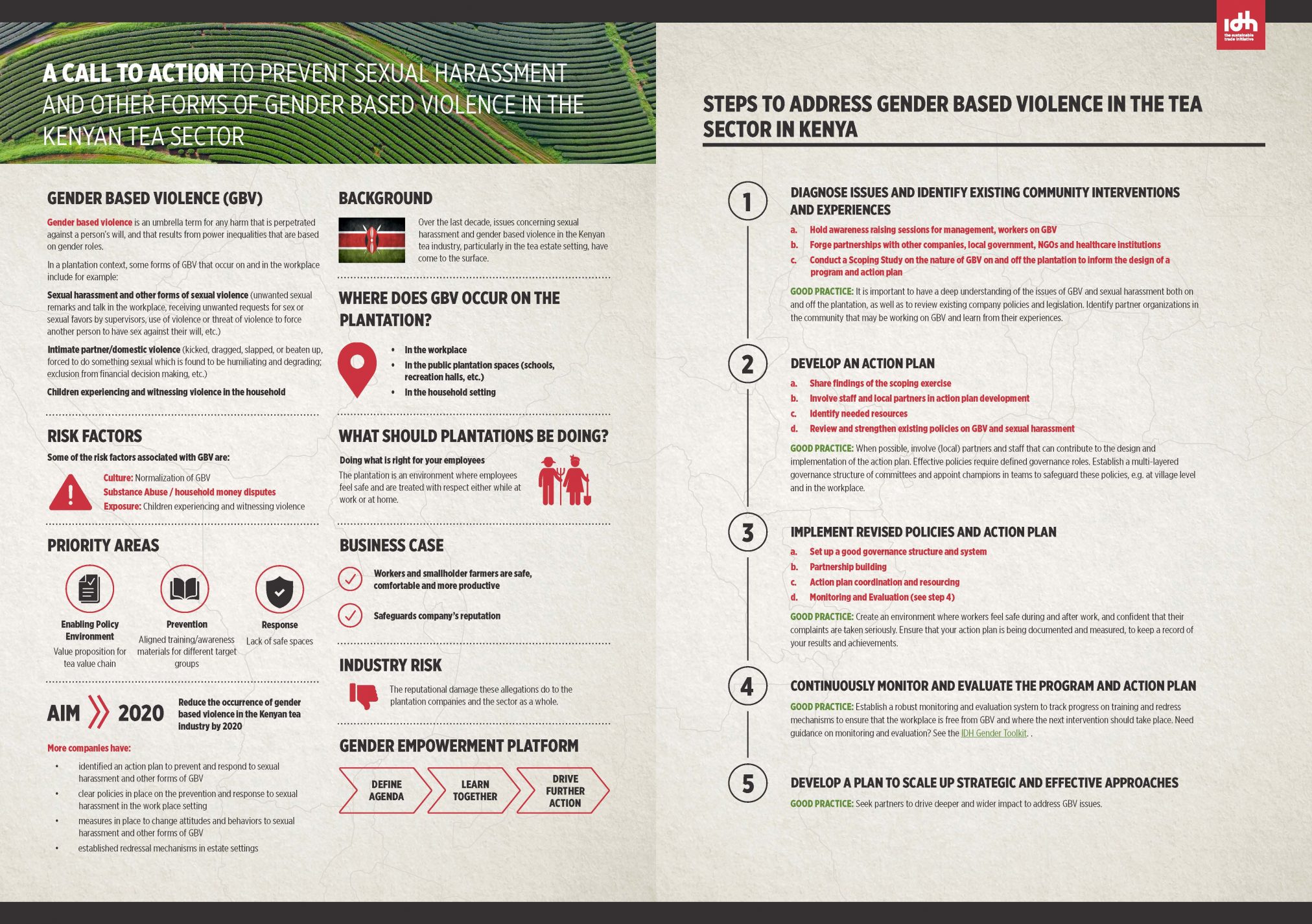 Market transformation
Over recent years, large tea packers and their suppliers have embarked on a market transformation journey in tea. In the early years of the IDH tea program the focus was on mainstreaming certification and training farmers through farmer field schools. Pre-competitive collaboration on sustainability issues was difficult; companies were not used to having discussions with competitors and civil society. By now, the industry has made a significant shift to becoming much more open to pre-competitive collaboration, to be able to handle issues that cannot be dealt with as a single company. This allows IDH to step in and play its convening role to further address sustainability in the tea value chain.
Living wage
After starting the journey towards a competitive and profitable Malawian tea sector where workers earn a living wage and smallholders are earn a living income, the Malawi Tea 2020 coalition is making progress. The coalition, which comprises companies all along the tea value chain including producers, retailers, unions, NGOs, and government agencies, has successfully narrowed the gap between current wages and a living wage. The net living wage gap closed with 25%. This means that tea workers on tea plantations in Malawi now get 40% more than the country's minimum wage (calculated by the Malawi Tea 2020 Wages Committee; Richard Anker & Martha Anker).
The current main focus area for the program is to provide a framework that can inform buyer contribution towards a living wage through a sustainable procurement model. The aim is to achieve an outcome rooted in the commercial realities of the tea industry, which is acceptable for both buyers and producers, while delivering a clear and measurable impact to tea workers.
Our aim is to address the issue sector wide and explore new areas of collaboration to put living wage on the agenda in producing countries.
Smallholder inclusion
IDH is working with its partners on addressing issues related to smallholder profitability, good agricultural practice and responsible use of pesticides. Through smallholder Service Delivery Model (SDM) analyses, IDH gains a deeper understanding how services are provided to farmers and how to further improve these models making them future proof. 
In Tanzania, IDH and Unilever Tea Tanzania are working on the Mufindi Outgrowers Project (MOG) since 2014. The objective of the project is to enhance the livelihoods of smallholder farmers in the villages surrounding Unilever Tea Tanzania (UTT) estates, as well as supporting the integration of the tea supply within UTT, through increasing tea productivity and quality, expanding the smallholder supply base and strengthening farmer organizations. As a result of our project, brownfield farmer productivity has increased with 55% and income has increased with 196%.
Through our SDM analysis with Unilever Tea Tanzania we found that quality bonus payments, coupled with training and strict quality requirements attract farmers to the SDM and improve loyalty rates. The service provision and commercial activities are closely integrated, which ensures internal alignment between activities and which allows UTT to use some of their resources and knowledge more efficiently.
The training on Good Agricultural Practices and input loans from IDH and Unilever Tea Tanzania help me to pluck on time, apply fertilizer and enable to infill tea at my farm. This improves the quality of my tea. Next to this, I have increased my production from 150 to 200 kg green leaf per acre per month to about 500 kg. The quality bonus payment increased my income and made it possible to pay college fees for my daughter. It also enabled me to purchase 5.5 acres of land, a tank, water pump and a generator and pipes for irrigating the farm.

Edina Joseph Mbinda
tea smallholder farmer in Mufindi, Tanzania
In Rwanda, IDH and The Wood Foundation Africa (TWFA) are working on a project that aims at strengthening the tea value chain. We are working with the Mulindi and Shagasha smallholder tea farmers through green leaf quality and yield enhancement, capacity development and training, and certification.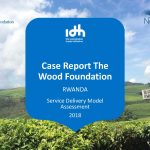 In our SDM analysis with The Wood Foundation Africa, we have found that through investing in direct relationships with the farmers, the factories reach real and direct results to farmer's income and positively influence farmer loyalty. The end goal of the project – handing over ownership to the smallholder farmers – ensured a professional and business focused model. Incentives are in place to improve yield, financial performance and governance. In this model, factories take ownership of ownership of capacity building at factory level and within coops, implementing best practice across all.
In Vietnam, IDH is working on health and safety issues that affect smallholder farmers. Through the establishment of an innovative model for responsible agrochemical management, the Agri-team model, farmers are provided with a proper set of agrochemicals, spraying services or monitoring farmers' spraying activities. Towards 2020, the Vietnam team will scale up these and other activities through a new partnership with the public and private sector. Read more about the activities in Vietnam here.
Gender
In Kenya, IDH has been working with tea producers to address gender and gender-based violence (GBV) through the multi-stakeholder Gender Empowerment Platform (GEP). With input from the GEP partners, IDH developed a practical Roadmap for plantation management to address GBV based on the best practices available, and one aligned Common Training Manual on addressing GBV. Another main goal of this program is, together with government and GEP partners, to establish a Safe Hub: a place in the community where survivors of GBV feel physically and emotionally safe and can find the appropriate support and help. Through field-level project with partners,  4,810 workers and 8,792 community members have been trained on GBV and human rights awareness, female leadership, financial literacy and entrepreneurship.
In Malawi, we, together with our partner TAML launched and support the implementation of the first ever gender policy in the  tea sector there.
The tea program in India focuses on making women and children less vulnerable and improving the livelihoods of community members. With the launch of the 'Improving the lives of women and children in Assam's tea communities' program (in collaboration with Unicef and ETP), tea plantations and the broader tea community in Assam are engaged to promote and integrate human rights to address gender-based violence within the business practices of the tea industry.
Domestic market transformation
trustea has been established as a domestic initiative to drive sustainability in the Indian tea industry. Based on industry realities and globally accepted sustainability principles, the program advocates the implementation of a voluntary sustainability code for the Indian domestic tea market. The program supports smallholders and estates in improving the competitiveness of tea gardens by stimulating continuous improvement and improving the livelihood of smallholders and estate workers. The communities associated with trustea are starting to feel these changes, but it is their personal stories that really show the impact made by the program in their lives.
See also our publication Stories from the Field, highlighting insights on improvements for factories, gardens, workers and small tea-growers brought about through the trustea program.
Mitigation of deforestation
IDH is working in the South West Mau Forest in Kenya to conserve and restore 60,000 hectares, as a crucial water tower to the tea industry. To date, we have built a strong coalition made up of the county governments, tea, energy and timber companies as well as a range of civil society and knowledge institutions. Together we have launched the Stawisha Mau Charitable Trust to ensure the program is sustained in the long run. Key field activities are the construction of a game-proof fence, and building capacity of local communities to intensify livestock production to reduce the pressure on the forest. So far, for example we have  piloted our livestock intensification work and rehabilitated over 200 hectares of forest.
Nutrition
The Seeds of Prosperity program, which focuses on nutrition and dietary diversity, in cooperation with GAIN and Unilever, has ended as per June 2018 for Kenya and India. In Tanzania, the program continues in 2019. IDH, GAIN and Unilever have published the results of the program, which can be read here. GAIN, Unilever and IDH are working together to design the next generation of workplace nutrition programs based on these findings, with the aim of developing an approach which can be adapted to suit different businesses and contexts.
Private-sector (sustainability) investment in the program (in million euros)

Cumulative target 2020

20.1

Cumulative result 2016-2018

16.7

Volume of sustainably produced tea (in metric tons) (trustea only)

Cumulative target 2020

600.000

Cumulative result 2016-2018

608.000

Number of producers/workers/community members trained on key subjects for sustainable production

Cumulative target 2020

340.000

Cumulative result 2016-2018

615.752
Contact us for more information
Senior Program Manager Tea

Bedanga Bordoloi

Program Manager,Tea

Marlies Huijssoon

Program Officer, Tea

Daisy Vakarathiwe Kambalame

Country Coordinator, Malawi

Sylvia Rutatina

Country Coordinator, Tanzania

Annette Mkwandawire

Program officer tea

Pham Thi Thanh Mai

Program Officer, Aquaculture and Tea

Niaz Tarmahomed

Senior Tea Coordinator East Africa
Working towards sustainable tea production and better livelihoods for smallholders and workers