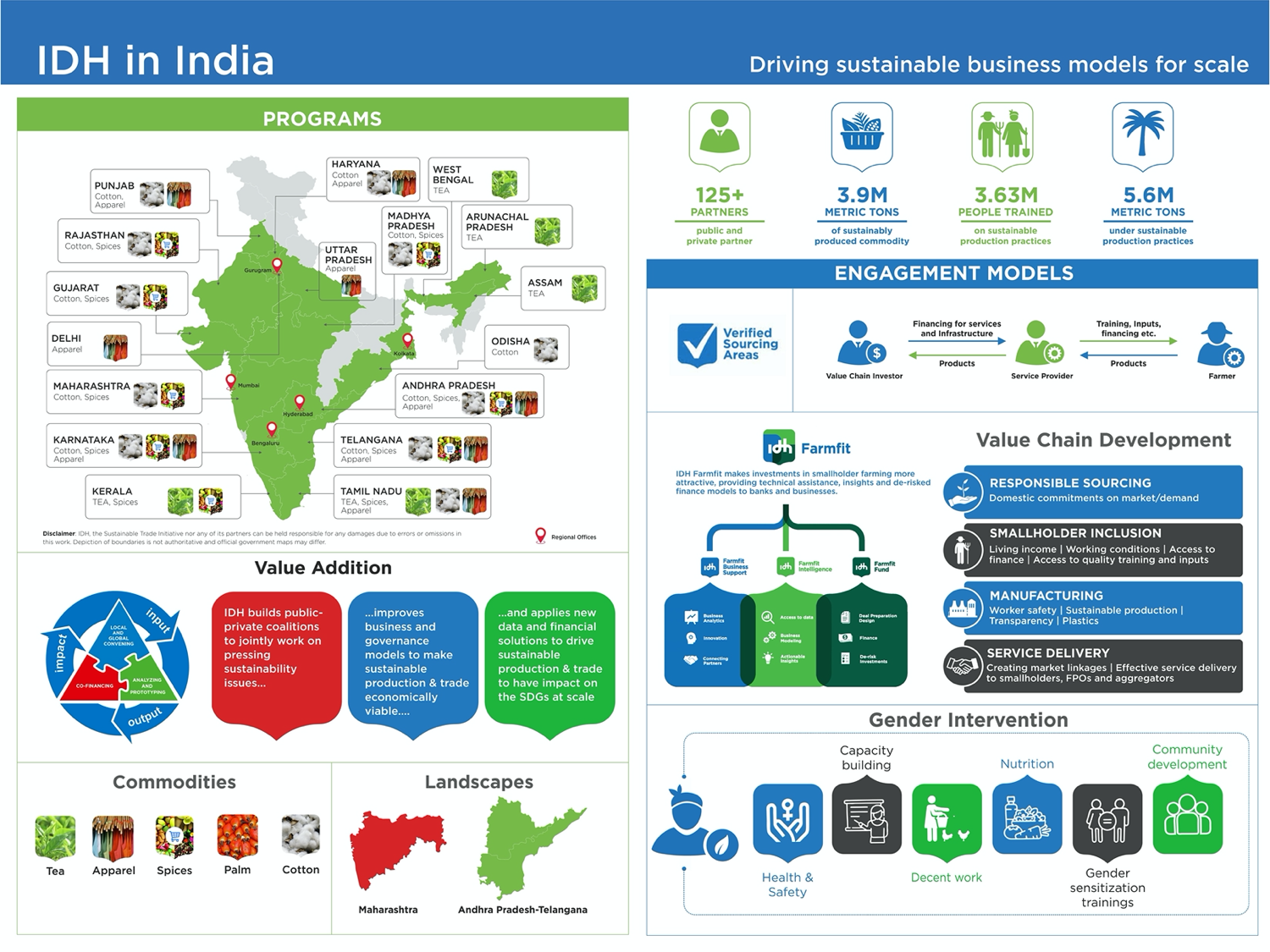 IDH, The Sustainable Trade Initiative has been working in India since 2009 to promote sustainable value chains across sectors including cotton, tea, spices, grapes, palm and apparel, by bringing together government, companies and CSOs in action-driven coalitions to jointly set ambitious targets and formulate co-investment plans that unlock scaling of sustainable production & trade to deliver large scale impact on the Sustainable Development Goals.
In the agro-commodities sector, we have worked with our partners to address issues related to responsible agrochemical use, smallholder inclusion and livelihoods, gender, sustainable agricultural practices and living income. Through promoting public-private partnerships, our projects aim to ensure quality of the produce and establish market linkages, as well as to improve smallholder farmers' income and livelihoods.
India is also one of the largest net importers of commodities associated with global deforestation including palm oil. IDH's market engagements in India work towards promoting responsible sourcing, through a commitment and disclosure from key market players, and collaborating with them to promote sustainable value chains. Our market programs have a direct impact on SDG12.
On manufacturing side, IDH is working with partners to address issues including worker safety and promoting sustainability in the apparel sector.
Businesses today recognize the impact that sustainable sourcing can have on their bottom lines. Transparency, traceability and ethical practices are becoming integral to business processes and IDH is engaging with different actors to design fit-for-purpose solutions to address sustainability challenges.
As a part of its ongoing engagement, IDH in India will continue to work towards creating an impact and bring in sustainable transformations across supply chains through program management, advisory services and investment services in agriculture, manufacturing and landscape programs.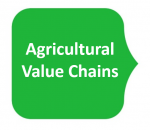 Agriculture will continue to be the backbone of Indian economy, and hence a key area of intervention for IDH in India. IDH works in agricultural value chains across commodities with a focus on smallholder inclusion, innovative governance, gender empowerment and disruptive technology to drive sustainability in the sector.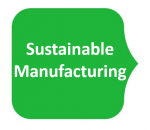 IDH in India is working in the apparel sector in the country promoting  safe working environment for the workers in the sector. Using this as foundation, IDH will work with local factories and supply chain actors to promote sustainable manufacturing in India by working towards better working conditions, living wages and innovative finance.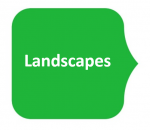 Leveraging IDH global experience and positioning as a convener in landscapes, IDH in India is implementing landscape approaches in India, with a focus on water quality and quantity, restoration of soil health and establishing compacts. In addition, we are also working to link the Indian market to convene and drive responsible sourcing.
IDH engages with different actors to design fit-for-purpose solutions to address sustainability challenges and create sustainable models building local capacity, shared responsibilities, transparent progress reporting, and optimizing leverage to drive and sustain progress.
Our Annual Report for 2021-22 summarizes our work for the year. While most of our work in India was aligned with our goals for the year, it wasn't immune to the impacts of the COVID-19 pandemic. The field-level work was impacted in varying degrees in different regions. Together with our partners, we stayed agile and delivered around the impact goals.
Read our Annual Report 2021-22 here.
Jagjeet Singh Kandal

Country Director - India

Jasmer Dhingra

Director Programs - India

Mrinalini Prasad

Manager - Communication

Vishal Gupta

Manager - Finance

Sarobindo Malhotra

Global Program Lead - LABS

Karanpreet Singh Bedi

Assistant Manager - FFC & Helpline (LABS)

Abhishek Singh

Manager - LABS

Ankith Hegde

Program Manager - LABS, India

Dipendra Singh

Program Officer - LABS

Saurabh Sinha

Senior Manager – Food, Crops & Ingredients

Vishnu Reddy

Manager - Farmfit Business Support

Jatin Bavishi

Program Manager – TEA

Ruchir Pareek

Manager, Food Crop & Ingredients

Pritam Kumar Nanda

Program Manager - Landscapes

Kanti Nandi

Assistant Program Manager – Tea

Senior Innovation Manager - Technology

Rishi Ahlawat

Senior Factory Coordinator - LABS

Mitali Joshi

Assistant Manager HR

Madhu K A

Country Manager - LABS

Keerthiraj Siddapura

Assistant Program Manager

Kamlesh Kumar Pal

Program Officer - Alternate Materials

Anjali Krishnan

Program Manager - Alternate Materials

Jayavardhan C

Senior Factory Coordinator - LABS

Kritika Gupta

Assistant Program Manager - Communication

Abhinav Sen

Senior Program Manager

Varun Sriperambudhur

Assistant Program Manager

Bishal Chhetri

Assistant Program Manager

Maryam Zameela

Program Officer

Sandip Dutta

Sr. Manager International Partnerships and Fundraising
Time Tower, Unit No. 318, 3rd Floor
MG Road Gurgaon 122002
Haryana, India